Having a train set for you or your kids does not end your train journey there. As you go further in your toy hunt, you wouldn't want to settle for a set without a train table due to the number of pieces a train set holds. Things will scatter around the living room or wherever they lay out their trains. In order to keep things organized any within your eye's reach, it is better to have a strong and sturdy furniture to where your kids can lay out their train set such as the Thomas the Train Table which aesthetically goes along with your children's Thomas the Train or Thomas and Friends train set.
In addition, train tables usually come along with a nice bin that can fit perfectly under or within the legs of the table. If none is included, then you can opt to buy a separate bin without exerting financial effort as they are very cheap and affordable. There are some with ready-made drawers underneath that provides more convenience. Also, train tables have elevated edges to keep your children's things on top or on the surface, most of which have built-in play boards that works as a theme for their set. The versatility of the table is also very practical. It can be used for other learning activities such as homework or assignments and for doing arts or crafts.
8 Strong and Sturdy – Thomas the Train Table
This is the Thomas the train wooden railway table that features the Island of Sodor. There is a built-in play board on top which adds design and fits to any types of wooden train railways. It is also double sided for an additional fun, giving your child more options with their Thomas and Friends adventures. The table have a nice elevated edge to keep things in place, a strong wooden construction and has a drawer for a great organization.
Your kid will have a great time laying a train set on top of a train table. Here is a short clip of how it actually looks like with a train set on top.
As you can see, the train table is large, with drawers and with an elevated edge to keep things on top and secure them from tipping off or falling down.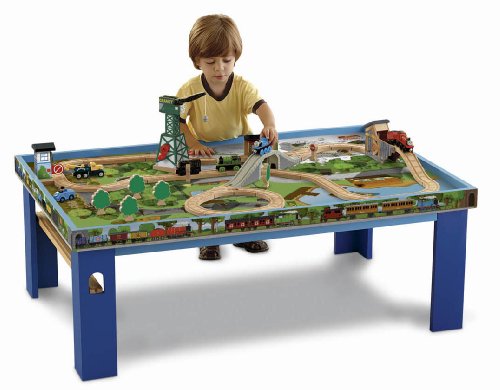 The next is a sturdy Fisher-Price, Thomas wooden train table. As most of you know, Fisher-Price has many Thomas the Train inspired play set. This is actually a complete set that includes a wooden Thomas train cars and railways. It includes a train tracks, accessories, train cars which all nicely fits on top of the play-board on the surface of the table. There are no storage bins or drawers included in the set but you can easily afford a plastic bin without any trouble as they are available almost everywhere.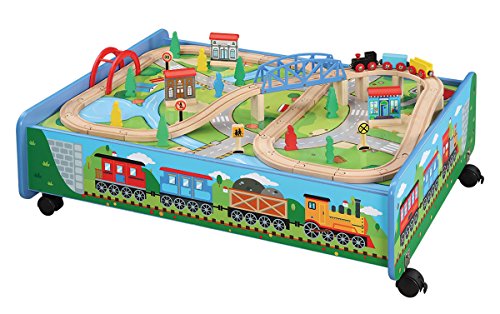 If most of the wooden Thomas train table does not go along with the budget you intended, then you can opt to have this amazing train set with a train table due to a cheaper price. The table does not hold any space underneath but it has wheels that act as a leg so you can easily move it across the room. There is also 62 pieces of train tracks, train cars and other accessories that are compatible with Thomas and Friends wooden set included in the package. It is great for starters or train lovers who is just about to have their first train set.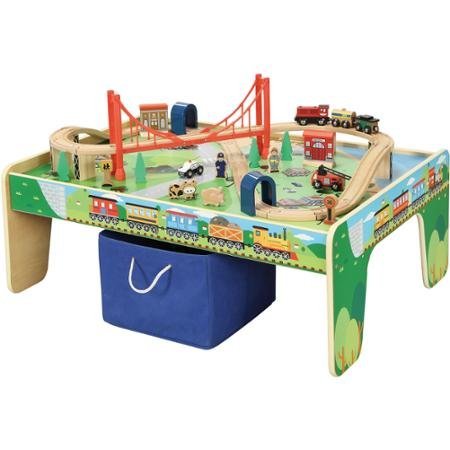 The next set has a table but does not actually have any Thomas the Train characters but works great as a Thomas the train wooden train table due to its compatibility. It uses standard train wooden tracks and a magnetic coupling system to allow you to fit and attach most Thomas the train wooden train toy. In addition, the table has curved edges to avoid any injuries during falls or accidents. The large red bin, as seen in the picture, is also included. The train table and train set can be purchase for a very reasonable price.
Another great table set from Maxim Enterprise, this is a Thomas the train wooden track table which is compatible with other major brands such as Brio and Chuggington. The set has a square type table rather than rectangular but with sufficient space for your child to move around. There is a large blue bin included that fits nicely under the table. The table has a few inch elevation to keep things organized on top and have curved edges for safety reasons.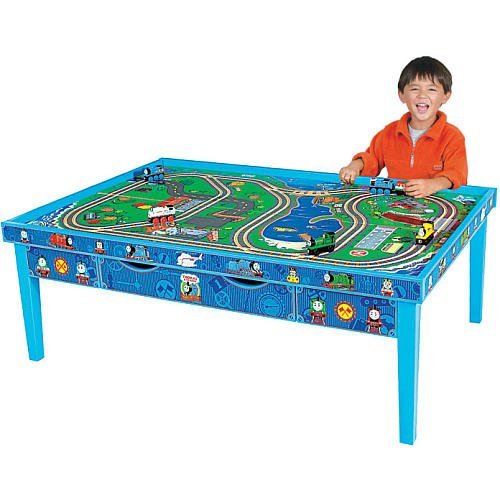 If budget or finance is not at all, a problem, then you might want to consider this amazing wooden Thomas the train table. It has a dual purpose design to where it can be used as a train table with a play board on top and an activity table, given its height and length. There is a drawer to where you can keep train accessories or school supply depending on your preference to which you use the table.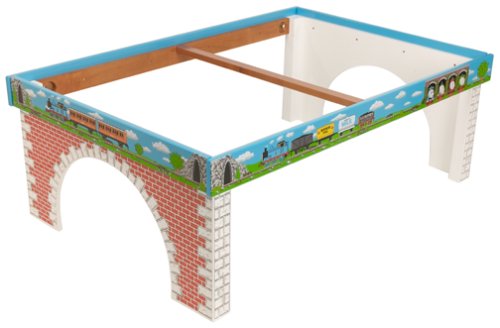 Another great but somehow, an expensive set is this Thomas and friends wooden railway train table from Learning Curve. It is actually a top of the line table that features Thomas. You can easily fit any play-board on top. The table features colorful drawings and 3D molded images of Thomas and friends. The wooden table is thick and large to be able to withstand great amount of weight and pressure as your little one play. The product is known to have great sturdiness and exceptional durability.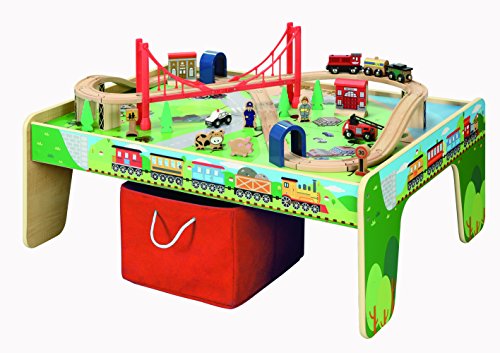 This is a 50 pieces train set that comes in with a table. It may not be an actual thomas wooden railway train table but it is highly versatile and very much compatible in being so. The wooden train railway set included uses a standard tracks that fits most major brands such as Thomas, Chuggington and Brio. It also uses magnetic couplings with its train cars for an easy connectivity. For a great and reasonable price, all this, including the large bin that fits nicely under the strong and durable table can be easily obtained.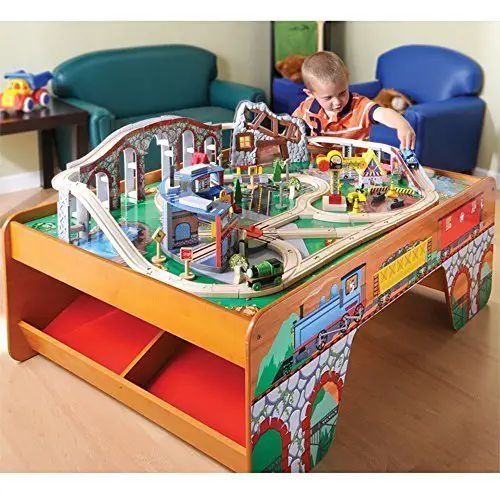 There are also some other toys that does not have a theme design of Thomas the Train but could greatly fit and Thomas train cars. This table here from Constructive Plaything comes with wooden tracks and accessories. It uses the same standard tracks for wooden Thomas trains, making it highly fit to make them run. There are a total of 100 pieces in this set which gives you a chance to expand your wooden train set and provide you with a strong and sturdy table. This is best for children of ages of 2 or higher.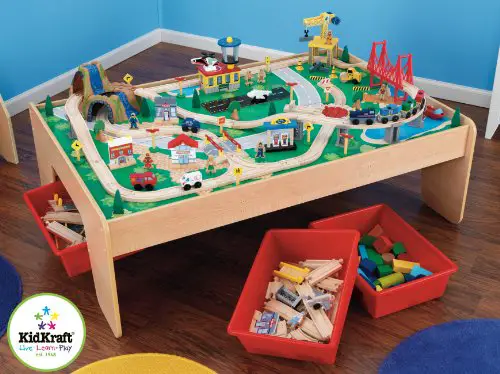 The next set is a wooden train table and set from Kidkraft. It comes with all the needed train parts and accessories to build a complete set. This is one of the best set you can get if you're a starter. The train tracks fits most wooden train cars from major brands, may it be Thomas, Chuggington, Brio and more. A great thing about this set is you can easily organize all the pieces included as it comes with 3 large, durable plastic bins. The table is made with solid construction. It can hold all the parts and even a weight of a kid leaning on without losing its stability. The set with all the parts and kits included comes at an affordable price.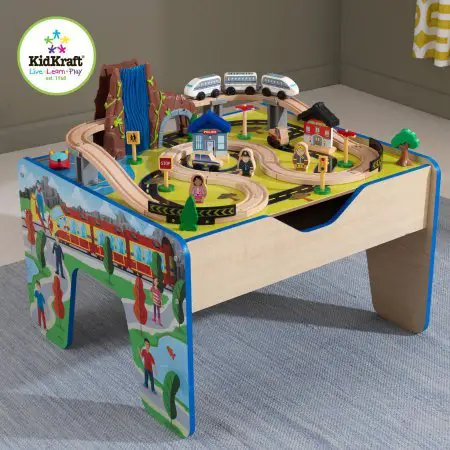 It may seem hard to find a specific Thomas the Train themed or inspired wooden train table but there are actually a lot of train tables and sets that could accommodate Thomas train sets and cars. This is a 48 pieces set from KidKraft. The set comes with its own train table along with all the necessary parts and pieces to start building a complete set. It uses standard size wooden tracks which could fit any wooden train cars from major brands, including Thomas wooden train sets. It is one of the cheapest, complete set you can get with a quality that could closely compete with expensive ones.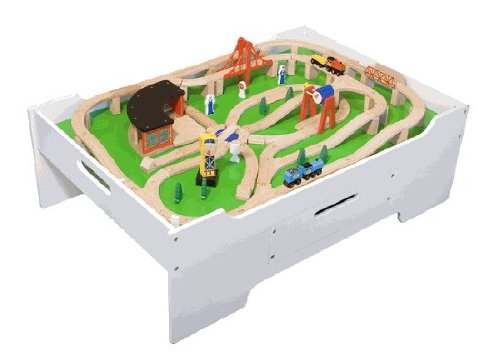 This table and wooden train set are from Melissa & Doug. It is one of the major brands/company of wooden toy sets. This product features a wooden train table that comes with a 130 pieces package of accessories and train pieces. It could work great with any wooden train toy from Thomas. This is a great set for starters as you do not need to think about how to build a complete train set. The table features a pull-out drawer where you can easily organize all the pieces that are not in use. The table holds great stability and built with reliable strength and sturdiness.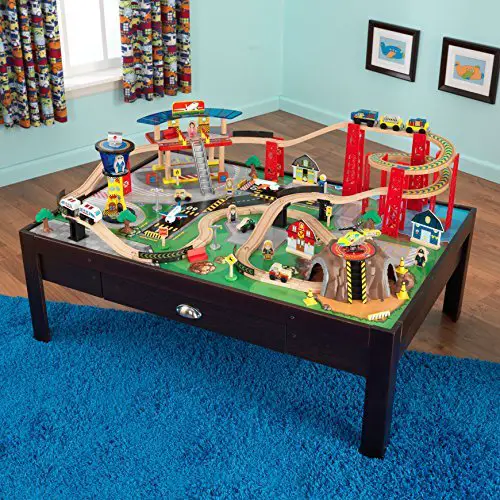 Our next Thomas compatible wooden train table is from KidKraft. The set does not have any Thomas inspired train car pieces or design but it could fit them perfectly. It also uses standard wooden railway tracks, compatible with all major brands, including Thomas. This table comes with so many train pieces, enough to build a large scale city train toy set. It includes several pieces of train cars, runways, helicopters, figures, houses and more that adds detail and promote imaginative play for kids.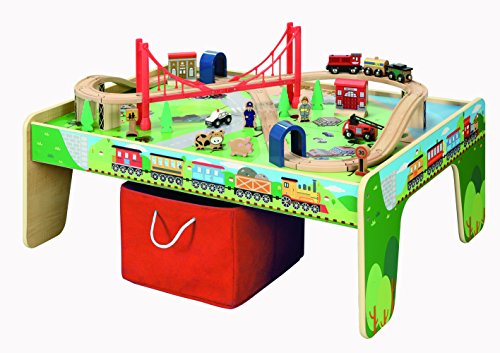 As you all know, Maxim Enterprise is also considered to be a large and major brand that produces wooden railway toy sets. This is there 50 pieces train set that comes with a large size play-table. It perfectly fits Brio, Chuggington, Thomas and Friends wooden toy sets. This table is ideal for people who look for a complete set. It saves you the trouble of looking for individual train pieces. This is also a practical choice compared to buying train wooden toys, piece by piece. This set greatly promotes an ideal, healthy, imaginative and creative play for kids. It helps them enhances their basic set of skills and reasoning.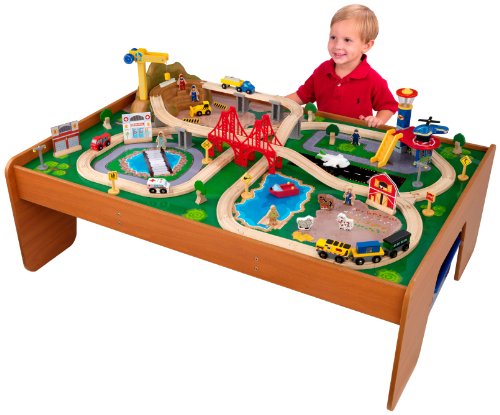 Another one of the best KidKraft creation of wooden train toy set is the Ride-Around set. It features a set of 100 pieces, enough to build a large and wide wooden train toy and track set. It includes pieces that adds details and for imaginative play such as airplane runway, airplane, helipad, helicopter, hospital, figures, cars, road signs, infrastructure and more. This say may not have any Thomas the Train characters but it would fit them all perfectly. It uses the same size of wooden railway tracks which makes it highly compatible and a perfect fit for all major brands of wooden toys.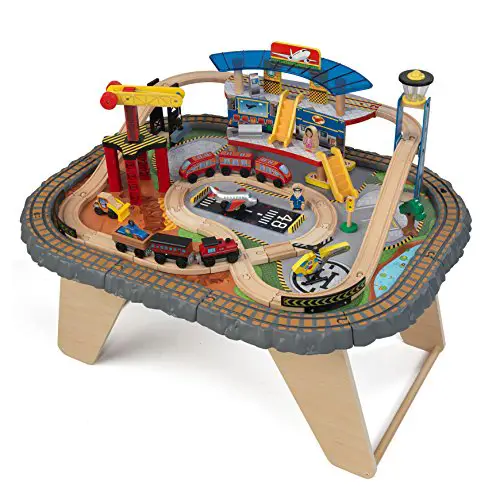 Lastly, this is small-medium size wooden train table from KidKraft. It's perfect for a small home as the set does not consume a lot of space. The table comes with a built-in play-board which creates a wonderful city theme set. It includes 58 amazing wooden pieces, complete with tracks and accessories that enhances and helps in the development of our children's skills and logical thinking. There are cranes, airplanes, cargo, figure, road sign, buildings and more. This table could also fit any wooden train toy of Thomas. This is also very cheap and affordable with quality in close comparison with expensive train wooden tables.