Lots of children often come across their first train table set at toy store demos. The amazement on their eyes as they follow a miniature wooden train loop through the tracks is enough to convince their parents that they need their own set at home.
One of the more popular gifts for birthdays and Christmas is a train table set. It is sure to bring joy especially if you bring home the right one. It will bring you about thousands of products and items about train tables and that is why I've made this Train Table Buying Guide to help you make a better decision on what should be the right and proper train table to choose.
What is a train table set?
A standard train table set is usually composed of a battery-operated wooden toy train that runs through tracks while pulling its cars with the help of metal hooks, hidden magnets or plastic wheels placed on metal axles. To bring the table to life, scenery could be created by placing cardboard buildings, trees and roads.
Adding manually-movable props such as cars or miniature people makes the table set even more interactive.
Why should I buy a train table set?
Some people think that the train table set is just a novelty display, picking up only the wooden toy train and maybe the train tracks if it's on sale, but having a complete set in your home has its own benefits. Laying down the train, tracks and the scenery is already a fun activity for the whole household.
Now imagine the adults having the luxury to sit down while they help build it with the children. Having the whole set on the table not only makes it comfortable, it also prevents anyone from tripping and makes moving around easier once playtime is over.
How do I pick the right train table set?
Choosing the train table set that's right for you is easy once you've noted down the two most important details. You need to know how much space you're willing to spare in your house and the type of detail you want on your set.
This train table buying guide will ensure that you're on the right track to having your own train table set display at home. There are few products that come on this Train Table Buying Guide that you might want to check out.
Train Table Buying Guide – Best Train Table Set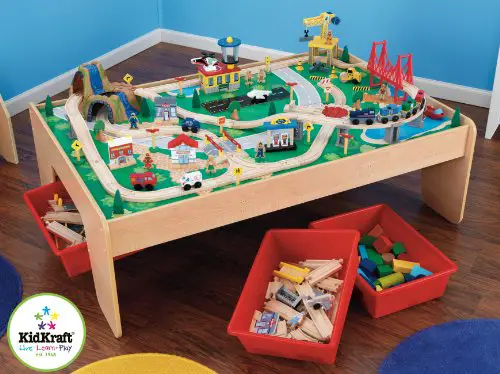 KidKraft's mountain train set and table will make learning more enjoyable and entertaining for kids. This spacious and interactive play table will bring out creative ideas from the imaginative minds of children during playtime. The colorful KidKraft train set comes with 120 safe and stable play pieces that compliments the highlighted waterfall mountain on the corner of the table.
An elevated track can also be placed above the painted lake in this well thought out layout. Kids can accessorize the areas surrounding the solid wood train tracks further by placing people, cars, trees, street signs, buildings and other props for hours of engaging customization.
Features
120 set pieces
3 storage bins
3 sturdy red plastic bins that can be slid under the table for easy storage
T-molded edges specially made to prevent chipping
Silk-screened landscaped play board
1" lip to keep the toys on the table
Robust structure
Composite wood table and accessories with solid wood train track and plastic accessories
Dimensions: 48.75"L x 34.5"W x 16"H
Pros
KidKraft's waterfall mountain train set and table is packaged with metal brackets pre-attached securely on the base pieces with screws and glue. That means there's no need for other tools to set up the table. The table's paint goes well with wood-themed rooms. The table top is fully interactive with a lot of spots left open for customization even after the track is set up. The red storage bins also make it easy to clean up any mess after the train table set is no longer being used.
Cons
Although the table is spacious, some roads can't be driven on manually with the provided toy cars since a section of the track is placed directly above it. This is more noticeable if a child has long arms or if they use a toy that's too big for these specific areas.
Conclusion
The ambitious layout of KidKraft's waterfall mountain train set and table definitely makes the experience great for children while adults don't have to exert too much effort in piecing together and maintaining it.
This sizable play table is the right pick for kids' train sets. The table comes with a multi-level track already built-in which makes for hours and hours of interactive playtime and creative learning experience. Adults don't have to worry about taking too much time setting up the set since the track is already molded in with seven pre-placed bridges which means children don't have to wait too long to get on in the fun.
The design makes sure that no pieces get lost since they're always intact. Storing the table is very easy and its height lets children play while standing up and looking over the play set.
Features
One-piece hardboard lid easily converts the it into an activity table while the white side makes it easily blend in its surroundings
Accessories can be stored with relative ease in a spacious tray
3-piece train set with varying accessories
Durable structure that can last for years
Scratch-resistant surface can be cleaned easily
Pros
The tracks are already attached so nothing will get lost or misplaced even when children are not closely supervised during playtime. Other toys such as Thomas train sets fit just fine on the tracks with no adjustments necessary. The durability of the structure makes it safe even if children climb on top of the table to reach for something.
Cons
Depending on preference, the pre-defined layout of the train and track table set can be frustrating for children who want to have a more flexible experience when they feel creative. Since there are no adjustable parts, replay-ability might be shortened if a child feels like the whole set is a routine and not a creative activity.
Conclusion
The pre-defined setup of the table can make or break the experience for a child, but there's no doubting that it's very easy to manage for adults once it's taken out of the packaging. Minimal maintenance is required for this tidy table set.
Providing you with visual information to further make this train table buying guide more helpful, here is a video of the Deluxe Train set and Table:
How lovely is it that the train set is securely installed on top of the train table. You can actually see the kid in the video, having a good time playing with the set.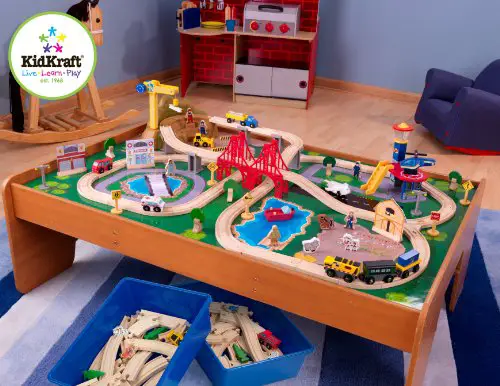 Another entry from KidKraft, the Ride Around Town Train Table and Set improves children's management skills and experience what it's like to be micromanage an entire community. The elevation of the table makes it perfect for an imaginative playtime at an eye level of the child especially with the amount of detail carefully crafted on the table top.
The colorful table set gives a real-world vibe on a miniature level with its engaging locations and creative props. There's a bridge connecting two major areas of this melamine-coated board, lakes, multi-level roads and even an airport runway for young pilots wishing to take off and go beyond the table.
Features
100 brightly colored pieces
Airport has a runway and helipad
Hospital with an ambulance prop
Spacious table lets multiple children play at once in different areas
Compatible with Thomas & Friends wooden train sets and Brio wooden train sets
Two bins for easy and convenient storage
Sturdy wood structure
Pros
The entire train set and table is simple to put together and its pieces are easy to store in the bins when the children are no longer using them. It has great attention to detail on both the scenery and the table. The buildings add a feeling of authenticity letting children's imagination run wild on how they want to run their miniature city. It even has an airport and a crane.
Cons
Some Thomas & Friends wooden train sets do not fit particularly well so it's best to confirm whether the particular train set is supported by the table. The amount of detail might make it intimidating to set up and play with at first.
Conclusion
If your child ever wanted to run his own city, this is the right table set to get. KidKraft's Ride Around Train Set and Table make it easy for children to channel their imaginations onto the table with the amount of detail already available in front of them. The storage bins under the table also make it easy for adults to keep the toys and props in a safe area whenever the table set is not being used.
This expansive train table and set from KidKraft provides tons of fun playtime and educational interactions with aspiring young conductors. The city-themed set has 100 pieces complimenting its stationary scenic designs: a two-tier bridge, mountains, accessible tunnels and even an airport with a helipad.
There is also a train set installed on a wooden stand. It's crafted with birch wood, plastic and medium-density fiberboard at a height to give children relative easy access to everything on the table top. Under the metropolis is a spacious sliding trundle which can be used to store all the pieces and props when playtime is over.
Features
Train table set with an espresso coat on a solid wood frame
Spacious sliding trundle for easy storage
100 interactive set pieces
2-tier bridge
Mountains with a drive-through tunnel
Airport with a helipad
46.5" L x 32.75" W x 26.63" H
Pros
A busy metropolis-themed table set is the right choice for kids who have always wished to be an administrator of a city. It brings in hours upon hours of imaginative and creative playtime with its interactive set pieces letting kids take control of an entire city. The multi-level areas make sure that children aren't too focused at one place in particular during their playtime. Once the table set is no longer being used, the large bin under the bustling tabletop metropolis makes it easy for adults to keep all the toys and props in one particular storage area.
Cons
A busy city might make it intimidating for a child to enjoy the table set at first since there are so many things going on at once on the eye level. Setting up some pieces has also proved to be confusing even with the comprehensive guide included in the packaging.
Conclusion
If your child ever asked you what it felt like to be a conductor, this is the right table set for him. The table is also proven to be compatible with the majority of Thomas & Friends train sets available in the market making the experience even more personalized if your child already enjoys their Thomas trains.
This 50-piece Train Table Set fits right in with your child's toys. It can be used as a train set, for block play or even take playtime off the tabletop. This wonderful train table comes with a train set with numerous accessories to let your children be as imaginative and creative as they can to accessorize.
The train table set comes with a storage bin to store the 50 pieces of toys, props and the wooden train set when playtime is over. The tabletop can be a host to many block-based buildings or even be colored with their crayons.
Features
Perfect for playing with train sets, blocks or even other toys kids already have
50-piece wooden train set with several accessories
Compatible with Thomas and Friends wooden train sets and Brio wooden train sets
Easily-accessible storage for easy clean up after playtime
Surface can be customized with blocks, colored with crayons and other types of activities
Pros
The simple setup of the table set makes it easy for adults to bring out of the package and get it ready for children. Blocks can be placed in several areas of the tabletop to emulate buildings around the train tracks. The flexibility of the play table makes it compatible with Thomas and Friends wooden train sets and Brio wooden train sets. Children can let their imaginations run wild with the accessories and endless activities to do with the play table.
Cons
Depending on the amount of toys the child already has, the train table set might be a little plain especially without preexisting toys to play with on the tabletop.
Conclusion
This simple yet functional play set can be setup, played with and cleaned up with relative ease. It's the right choice if your children already have toys, but you want them to play in a particular area in your home. The added experience of being able to color the play table with crayons is also a bonus.
The Thomas and Friends Wooden Railway Play Table give your child the opportunity to create his custom layouts. A table where he or she can build on pre-defined sets. It features a two-sided wooden playboard with locations recognizable from Thomas & Friends. There are racks installed to store the engines.
This table set will make sure your child has hours of imaginative playtime. A strong and sturdy table with enough support under the table set preventing it to collapse even when leaned on. A ledge can be found behind the track to keep the train sets from falling off if they get knocked over.
Features
Features the Island of Sodor and beyond
Children can use their imaginations to create different kinds of track layouts with no limitations whatsoever
Features recognizable graphics from the well-known Thomas and Friends locations
Racks on the side of the table to store engines
Customizable and authentic Thomas and Friends experience
Pros
Associating itself with the popular Thomas and Friends brand will make it easy for kids to get interested on this train table set. Unlike some sets, there are no limitations on what layouts children can come up with as long as they let their creativity take over the play table.
The underside of the table has a compact storage room which makes clever use of the spacious area. Trains and their cars are kept safe with the edge being structured in a way that prevents anything from falling off.
The height of the table is perfect for kids around the age range of 3 to 5 in terms of height, but the replay-ability of the play table alone is enough to keep it for a much longer time especially if there are plans to buy newer tracks and train sets.
Cons
The table doesn't come with any basic train sets, so those must be bought separately. With a solid wood base, the table set is a bit heavy once it's all put together.
Conclusion
If your child loves the Thomas and Friends brand, then they will love this train table set. There's enough space to work with and the options of how they want to set up their train tracks are limitless. There will be areas that they recognize which is a bonus if they're a big fan. Just make sure that you buy a train set as well or there won't be anything running on top of the table.
Concluding the Guide
There are a lot of train table sets similar to the ones listed above. If they're a fan of a certain train they've seen at the store or on the television, it'd be better to buy a branded train set. That is to enhance their experience. When they're a little more on the creative side, then an expansive tabletop and limitless train track would be the right fit. On the other hand, if all they want to do is to act as the conductor of their own small neighborhood, then city-themed play tables are the ones to get.
A lot of planning is also to be made with the sizes and dimensions of the train table sets. It's important that you pick the right one not only for your children, but for your home. You should ask yourself whether the table's particular color blends in with the rest of the room or if its theme fits with the child's playroom at all.
You also don't want a table that you'd have trouble managing. If you'd prefer an easy setup, go for the train table sets that only need a little tweaking. A train table set that requires little maintenance at the cost of customization. If you prefer ambitious, go with the larger and more spacious play tables that contain more pieces and props.
Personalization also enhances the experience for the children. Most of the time, they want something unique to them. It is having the correct accessories in the sides of the train or the right building in the right area. They can even place a house in a particular area and imagine that as their own miniature home.