There are several train tables to choose from and it usually comes in as a set. You can choose between a plastic train set and a wooden train set. A train set is a fun and interactive way of letting your children play. A train set is a playful toy which develops a child learning capabilities and enhances brain activities. You can usually see it installed in child school or any learning centers. It is best to look for the right and proper train and table set for your kid.
It has been given some thought and there are some train sets that doesn't quite catch the drift. This guide came down to a short list of 3 best train sets and tables that will help you sum down the products to look for. If not with this guide, you might end up buying a train set that often derails when turned on. You might even get a table set that won't be compatible with other train sets. It is just right to find the right train for your kid. This will help your children grow up better and with an active brain.
However, the 3 products listed here still have its ups and downs. Not every train product is perfect. There are always advantages and disadvantages that come along every product. It's just a matter of how the product fits your preferences. An example situation would be, there is a good train table set that is perfect for your taste but it won't fit your living room or child's room. There are also instances where it is "just okay" but goes nicely with your Christmas set. Small and tolerable ups and downs if you look at it.
3 Best Train Tables and Train Set for Kids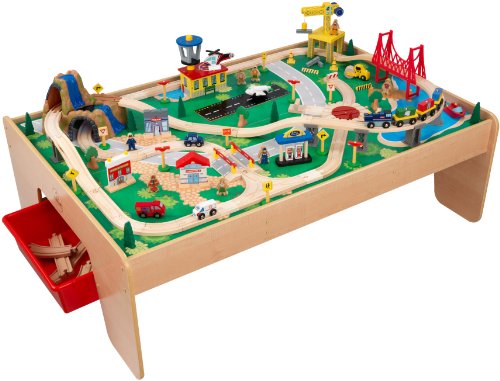 The KidKraft Watefall Mountain Train Set and Table promote fun and learning. It offers your children a wide and generous play table giving him enough space to move around. The train sets help develop your children's creativity. It is bright and colorful, catching the attention of your kid's ideal for imaginative play.
The table set has a 3 pieces durable plastic storage bin. It is nice to have something to put other train and table stuffs you are not using. Prevents you from losing some accessories and scatters.
Features
The set is silk-screened making the play board and the landscape smoother.
It is very sturdy. It can hold on a weight of a child leaning on it.
There is a special molding that prevents it from chipping off.
Storage bins are provided to hold unused train accessories.
Pros
The tables have metal brackets on the base secured with screws. It makes a remarkably strong and sturdy table.
Paths of the train cars are well thought out. Train cars can travel long and well, circling around, back and forth consuming all table space.
The packaging is very good. Every piece is wrapped with foam. Brackets and tables are wrapped separately with a card board preventing it from damage and damaging others parts.
It is very durable, giving your children a long lasting fun and excitement. The set is a worthy and practical spending.
Cons
The tracks seem to be a little loose. It shakes off every time the train runs.
You have to be very gentle with the train cars or they'll fall off the tracks. For toddlers who touch stuffs more often, a loose train car would likely to fly off.
There are reports of missing screws and damaged pieces.
Conclusion
This is a good train table and train set. It is highly durable. Your money will give your children a long lasting fun and learning with trains. Even thou the train cars does not fit perfectly, it can run on its own provided that your child won't keep on touching it during the run.
The table is very sturdy. The metal bracket makes it stronger that it could hold up a certain amount of weight on top of it. The table is also very wide. it can give enjoyment to several kids. The storage bins is also a very handy feature. It helps me keep track of things. You could easily store the parts or an accessory that was not installed or keep things like spare screws or spare train cars. This product is of high rate for it will give yours and other parents' children a fun satisfaction.
This set is an eye catcher. Their train car features many tantalizing colors providing the youth with a real life environment alike. Natural details such as bridge, lakes, mountains and runways are coated with melamine. Train cars are almost compatible with other train sets. It can easily be replaced if you lost or anytime you feel like it.
The table is wide enough to cater your train set. It can stand up to 16 inches high enabling your children to interact with the set well. The table set measures 49 inches long and 34 inches wide. It has a nice T-molded edge that provides your kids a smooth and safe surface. It also prevents it from chipping off.
Features
The train and table set is large enough for multiple kids to enjoy.
It is compatible with other train product lines such as the Thomas and Friends and Brio Wooden Train sets.
The table is built with great sturdiness and can hold the train set firmly.
It is composed of 100 pcs. of colorful train pieces and accessories.
The set comes along with a hospital and an ambulance for more interaction.
Pros
The complete set takes only about 15 to 20 minutes to assemble.
A table can hold a kid standing on it. It simply shows how sturdy the table is made.
It includes many carts and mobile figure accessories. The set comes with a two train cars and a train engine. It also has an airport which includes an airplane and a helicopter.
The set is highly detailed with life like environment good for the kids.
Train tracks are easily put together. (possible to attach without instructions)
Cons
Some parts of the sets tend to derail or fall out of the track.
The train tracks don't hold well making the trains stuck.
In some cases, some support beams of the table don't have screw holes.
Conclusion
In general, the train is right in its price. It's not a very expensive train and table set. It functions accordingly well with what the specification had intended and does fit nicely with the children.
Most of the customers are pleased of the product and gave it a high rate. It has some minor lapses but compared with the previous ones they've got, this is much more satisfying. It will prove to you your money's worth. Many children always have a fun time with it. Most of their parents love watching them spends a great time with it. The table set fits perfectly on your living room and can hold children leaning on it.
To add more visual into one of our featured train tables – Here is a very short clip of the top-bottom appearance of the train table set:
As you can see, the size of the table is enormous. The length and width offers a wide space for your kids to move around the train set freely. It will provide more play time and fun.
The Metropolis Train Table and Set is also a product of KidKraft. This is an indoor train set that is good in your living room or children's bedroom. It offers a lot of imaginative play. Your little conductor will be kept entertained by its interactive features. It is a 100 pcs. City themed set. It has bridges, mountains and tunnels making the train ride much more exciting and fun to watch.
The train table is a nice birch wood. It is partly made of plastic and medium density fiber board. The table is set to stand at a right angle that level with your children. The table has a built-in compartment. It is well crafted with the table designed to hold bits or parts of your train set to avoid losing it or prevents your train set from scattering around your living room.
Features
The train set has a nice, sturdy and solid wood frame.
There is a wide rolling compartment good for storage.
The set comes in with a 2-Tier bridge, mountain and tunnel to maximize the route of your train cars. It provides more interaction and fun.
It has an airport and a helipad.
The train and table set have a step-by-step instruction making it easier to assemble.
Pros
All pieces is not cheaply made. Every bit or parts of the train and table set are built to last. It is very durable.
The table is by far the most wonderful table that comes with the train set. It is nicely made and very sturdy.
It has a wide storage compartment large enough to keep the dismantled train set.
The table size is just right. It is wide but not wide enough to empower your child's room.
Train routes will give your child greater fun and enjoyment. It crosses many intersections, bridges and a tunnel.
Cons
Some of the tracks are in bad shape. It does not fit well making it a bit loose.
Solid and durable as most of the parts are, the train cars are a bit flimsy and probably won't last long.
The price is a bit costly compared with other train tables and train sets or with the previous two.
Conclusion
If money is not of any issue, then this train would definitely make you and your child experience a whole new level of train fun and excitement. It does not come cheap fairly because most of parts are very durable.
This train is one of my nicest purchases. The features alone are sufficient for its price. You can assemble and dismantle it at any time without reading deep with the manual or instructions. Parents can easily store parts of the dismantled train set in the storage compartment built together with the train table with drawer. This purchase will enhance your kids mind and make their brain more active.