Toy Train Center History in the Making
I'm Voicu Mihnea Simandan a train lover from Romania and the Owner and Chief Conductor of ToyTrainCenter.com. In short, OCC of TTC! I've been living in Asia since 2002 and I'm currently stationed in Beijing, China.
But before I tell you the story of how my passion for trains has evolved over the years, I first want to share with you my vision, mission, goals, objectives, and planned activities here at Toy Train Center.
Vision, Mission, Goals, Objectives, and Activities
The Toy Train Center VISION is to be the leading educational and informational platform on everything related to trains.
The Toy Train Center MISSION is to introduce parents and children to the wonderful world of toy trains, to assist model train hobbyist in their passion, and to provide resources to railways enthusiasts.
The Toy Train Center GOALS are to provide unbiased and well-researched product reviews and recommendations, create educational resources for parents and teachers, and synthesize information about the history of trains and railways.
The Toy Train Center OBJECTIVE is to create a user-friendly and trustworthy platform with all the information you'll ever need about the educational benefits and entertaining factors related to toy trains, model trains, brands, books, movies, and other train-related stuff.
The Toy Train Center ACTIVITIES wish to go beyond the world of online interaction by engaging with parents, teachers, children, hobbyists, and train enthusiasts in the real world too. We send out a weekly email with a free train related coloring page and coloring contests for your children. In the far future, I'll bring details on the very first trip to the Darjeeling Himalayan Railway, a UNESCO World Heritage Site and Toy Train that you can ride to India's highest railway. There are also plans of organizing train trips to the Great Wall of China!
Editorial Policy and Affiliates 
ToyTrainCenter.com began as an affiliate website in 2016. The first article ever published, Best 100 Train Jokes, Railway Puns & Funny Laws, is still one of the top 10 most read article on the site. Most of the review articles published contained Amazon Affiliate links, which may earn a commission (at no cost to the buyer) if a purchase is made.
In November 2019 I purchased the website from Human Proof Designs and now I have full control over the project's editorial policy. I am in the process of reviewing every single one of the 98 articles written by the previous editorial team and you'll be able to recognize my own articles from the byline. Everything that I write will be under "Voicu Mihnea" and all the edited articles will be shown under the name "Toy Train Center".
The great advantage of being an Amazon Affiliate partner is that website owners can maintain their independence and review and recommend only the products they consider worthy. Although I do not own most of the reviewed items, writing a product review article takes days and involves extensive research. My purpose is to validate both the quality of the product and its educational benefits while considering both the pros and the cons.
I hope that as the project grows and ToyTrainCenter.com becomes the ultimate guide to the world of toy trains, model trains, and railways, I will be able to establish collaborations with toy trains and model trains brands. I see such collaborations as benefiting to all the stakeholders: our community (through gifts, vouchers, and special deals), our partners and sponsors (through exposure and interaction with the fans), and the Toy Train Center project itself (through sponsorships, collaborations, and affiliates).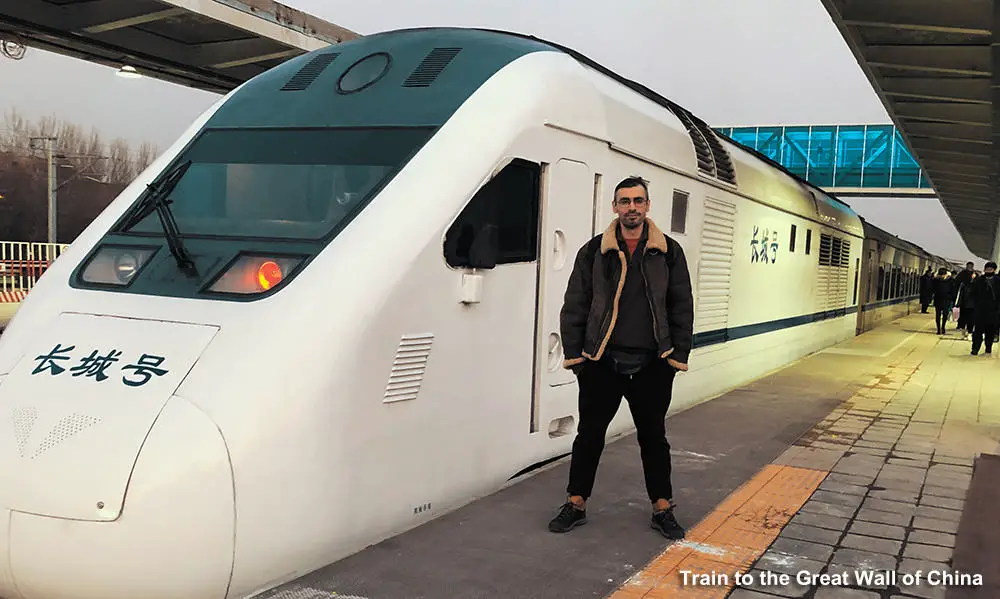 My Personal Love Story For Trains
I was born in Communist Romania in Arad, a small city in the western part of Transylvania. My fascination with trains, according to my parents, started from a very young age when I was presented with a hand-me-down wooden train set. If rotary dial telephones would have had the features of today's smartphones, my parents could have immortalized me playing on the carpet, pushing the wooden locomotive with its three cars round and round for hours.
I was 11 years old when the Communist regime fell in 1989 and my world opened to things that I never even knew existed. And thus I became obsessed with model trains and whenever I had enough money saved, I would buy another set of tracks, another train car, another piece for my model train set. We didn't live in a big house but rather in medium-seized two-bedroom apartment and me and my brother shared a room. So, I could never have the model train out indefinitely and build my dream landscape step by step. But the fun and excitement of taking the trains out of the box, setting up the tracks, and building the landscape from pillows, chairs and whatever household item I fancied, was the perfect weekend activity.
When people ask me how it was like to grow up in Communist Romania, I tell them that I was a happy boy, playing with wooden toys inside and running around and climbing trees with my friends in the neighborhood. Since there was nothing to watch on TV, I picked up the habit of reading.  (Every Sunday at noon there were only 20 minutes of cartoons on the national television but the time also coincided with my city's time for saving electricity and the power supply shutdown for one hour…) One author that I really enjoyed was Jules Verne and soon "The Adventures of a Special Correspondent" became one of my favorite adventure novels set on the Grand Transasiatic Railway connecting the Caspian Sea and China.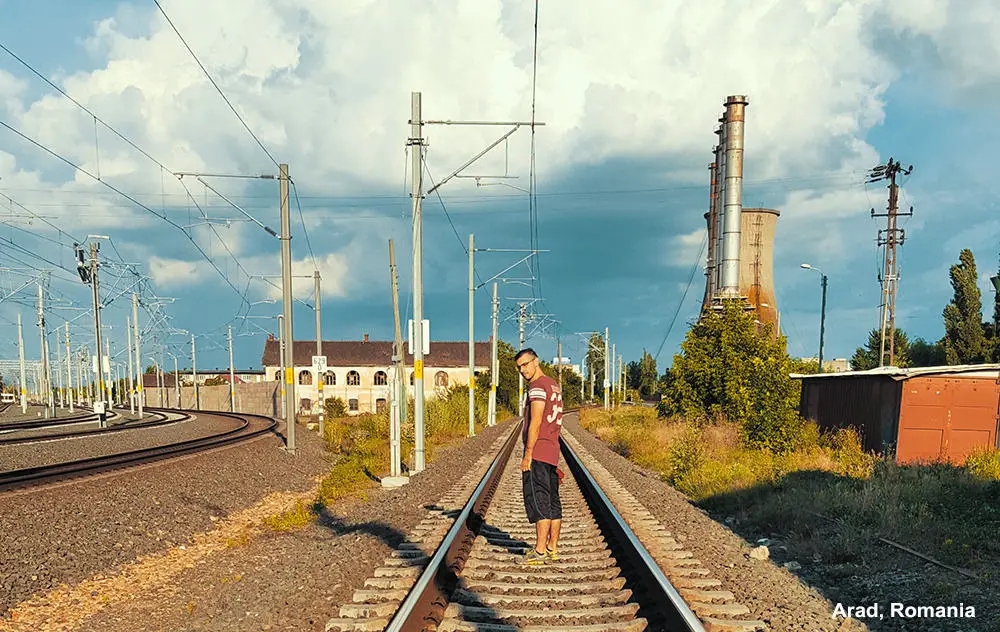 Our apartment building was located very close to the city's main railway station and you could actually hear the locomotives' whistle sounds from my parents' bedroom. The tracks leading into the station passed by our neighborhood so, together with my friends, we did quite a lot of trainspotting. It was not something my parents condoned, as we sometimes liked to cross the train tracks, but there was nothing more exhilarating than watching a freight train passing by and counting how many cars it pulled. (There was a constant debate among my friends after, as we all had counted to different a number!) Even today, when I go back home, I wander by the train tracks and hope that a train will just show up at that exact moment…
My family didn't own a car, so whenever we traveled as a family we took the train and when I was old enough, I travelled a lot by train with my brother and my friends. Whether it was going to nearby cities for the day, going hiking in hills surrounding my county, or long overnight trips to the mountains of Transylvania or to the beaches of the Black Sea, we always took the train. It was exciting and it was cheap. Actually it was free!
My mother worked as an accountant at a high school that had a partnership with the National Railways of Romania and each employee received a small booklet with 24 free train rides every year, while their immediate family members received 12 free rides. In return, the school prepared the engineers and locomotive pilots of the future. The high school courtyard had real train track switches and it was a mini-universe for any train lover. While the tracks are still there today, the partnership has long since been abandoned…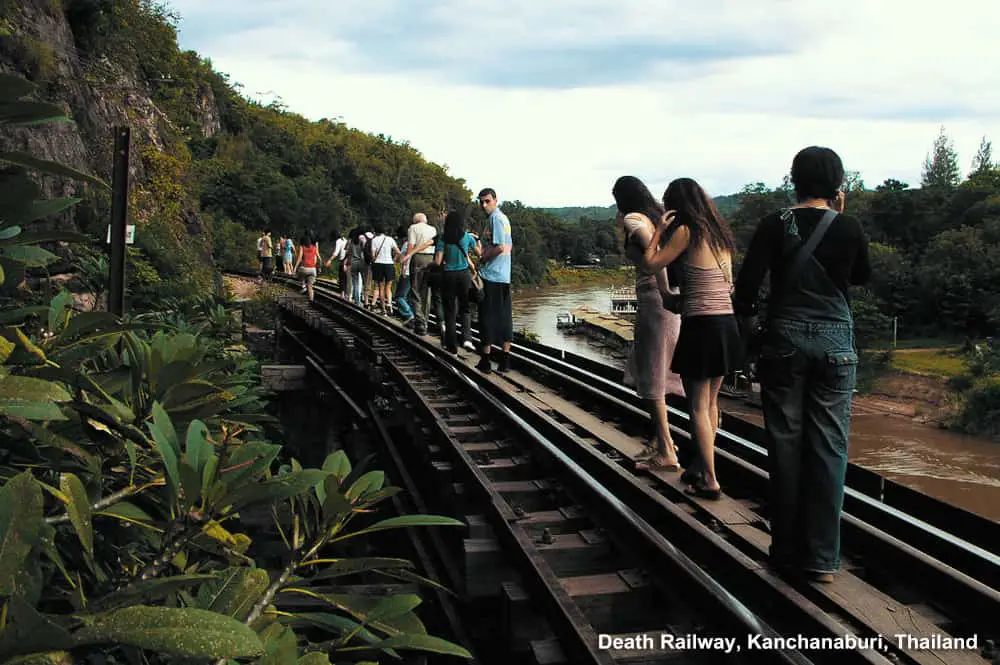 In July 2002, at 24, I left my native country and moved to Thailand to work as a teacher.  During my time in Thailand, I have travelled extensively by train with my two most favorite train trips in Thailand being the ones I took from Bangkok to Chiang Mai in the north and from Bangkok to Hat Yai in the south.
My favorite Asian destination has always been (and will forever be) Japan, so it should not be a surprise that I've explored almost the entire Japanese archipelago, from Hokkaido in the north to Okinawa in the south by train. From the Shinkansen bullet train to the local train, from the metro to the monorail, Japan has it all and… I tried them all. Japan is any train lover's ultimate destination!
In 2015 I married Upashna, a wonderful woman from Darjeeling and, to no-one's surprise, she is also a train lover. How could she not be when the most amazing train trip in the world is on the toy train of the Darjeeling Himalayan Railway?
Right before we got married I sold my car and, together, we decided that, instead of being stuck for hours in traffic in Bangkok, we should make better use of our time and explore the world. And so, in 2016, we embarked on the trip of our lifetime and explored the European continent on the EuroRail. Every single ride, every single destination, every single stop involved a train trip. We made some of our best memories on this journey and we often reminiscence the great time we had, including Upashna forgetting her brand new fancy hat on the Train à Grande Vitesse (TGV) to Paris.
What Am I Doing Right Now?
In August 2018 me and Upashna moved to China where we both work at an international school in Beijing. Settling down in a new country takes time, but we adjusted well.
Needless to say that our favorite means of transportation in and around Beijing is by metro train and our favorite destination is the Great Wall of China. So when you combine the two, you have a winner combination: Train Trip to the Great Wall of China! Now, wouldn't you like to do that?
For many years I used to teach Social Studies and my focus area was the history of the United States, of Asia, and of the European continent. You can imagine how many great projects I had with my students on the history of the railway. While I was the teacher, I did learn a lot from the students. I realized that I was not the only one fascinated with trains and that even the younger generations idealize and prefer rail travel over communing by car or even flying. Our "train trips back in time" fostered and cemented even more our love for trains and the history of railways.
Staring 2016, I switched my teaching and research focus to psychology and I have been teaching AP and IB Psychology ever since. This allowed me to look at the world of education from a different perspective and now I'm convinced more than ever that the role of play in the social and cognitive development of children and teenagers is crucial.
Such "educational tools" as wooden toys, building toys, STEM toys, coding toys, and engineering toys have become a must if we want our children to be prepared for the world of tomorrow.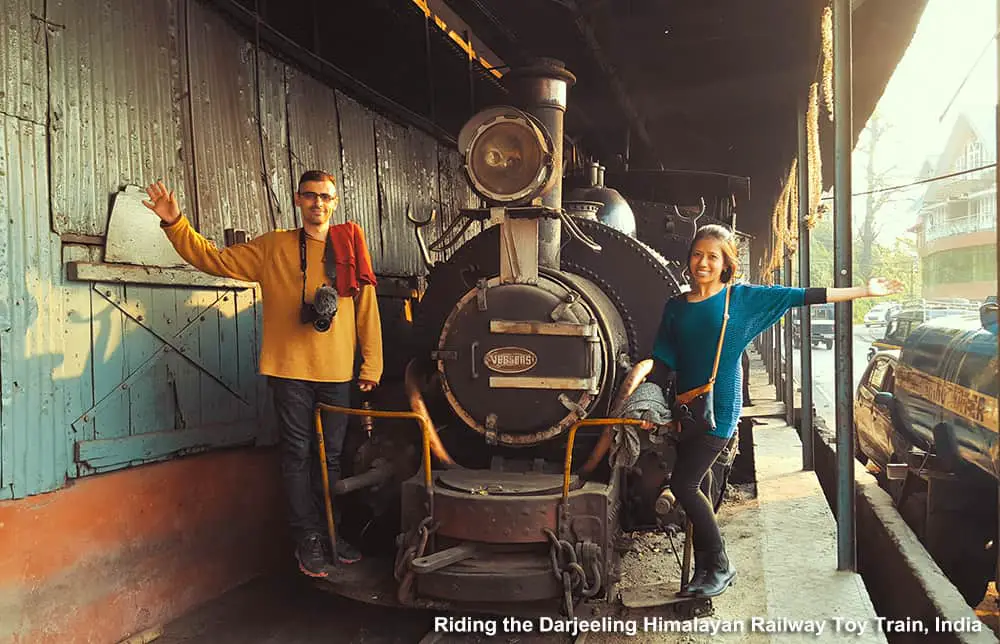 The Re-launch of ToyTrainCenter.com
I have been writing about education, sports and travel on my personal website at simandan.com since 2009 and I'm now bringing that experience and my passion for trains at the Toy Train Center.
I will use my understanding and research of education alongside my passion for trains to bring you the best product reviews and recommendation of toy trains. I will create engaging content that will bring value to both the beginner and experienced model train hobbyist. I will open the wonderful history of trains and railways to likeminded people.
I plan to do this in an ethical, engaging, and entertaining way so that we can build a platform where children, parents, hobbyists, educators, historians, travellers, and brands can all feel at home.
How to Stay in Touch?
Find out how to stay in touch on our Contact page.
With friendship,
Voicu Mihnea Simandan
Chief Conductor