What could be more fun that having a wooden train toy set? Add some train set accessories such as train costume, whistles, vehicles, car collection, and trees? The list goes on. All of those things are highly recommended as they promote role and imaginative play-style for kids. The problem would be, that the kids might get bored of them pretty fast and won't play with their set anymore. That is why it is also highly suggested to have battery powered wooden train car or engine car to add some movement to their set.
All those things that enhance creativity and imagination would be a waste if they won't play with those toys and accessories. On the other hand, a battery powered wooden train can extend the fun and entertainment, making your kids wanting more time to play with their set. The interaction of a moving train as it roams around the tracks independently, greatly catches the interest of a child. Although it is a little bit costly than non-motorized train, it is actually quite a good investment if you really think of it. The long term effect of it could save you more money than buying a new toy at the shortest time that your kids will get bored of their set.
In addition, a battery powered wooden train will use your train track set to its optimal purpose. What is the use of having a wonderful train track layout if your kids will have to push their wooden train toys as they play. A motorized train toy can push all your train cars in any loops, elevations and tunnels without the need of pushing. Also, some battery-powered train toy set includes sound and light features to make the set life-like or realistic. The children can imagine and picture out an actual train which could also help in developing their imagination and creativity.
Worrying about battery expenses and maintenance, a battery operated train is very durable. It is usually made from solid wood and die-cast materials which allow it to withstand a play-style of a 2 year old. Most of this battery powered wooden train toy uses only a single piece of battery. You can purchase a re-chargeable set and it could last for a long period of time without the need of replacing or buying a new one.
29 Battery Powered Wooden Train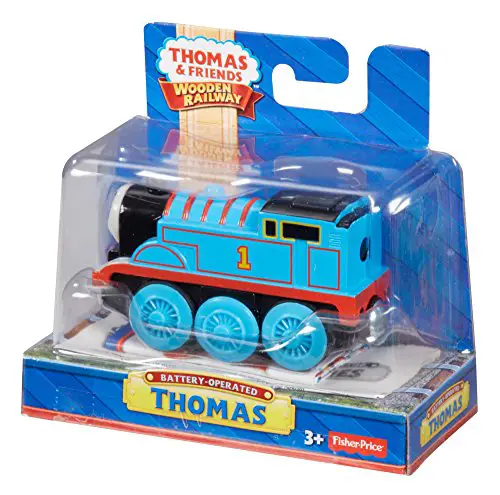 Starting our list of battery operated wooden train set with one of the best-selling product, Thomas and Friends Train from Fisher-Price. It has the capacity to move on tracks on its own and has a motor power that could pull several train cars. Although made with die-cast engine, this toy is called a wooden train toy or set due to the fact that it runs only on wooden railway system. The same goes for most battery-operated trains. The train uses magnets to connect but it's not visible as it is installed discreetly under the durable plastic made, front and back part of the train toy.
Describing all about this amazing battery operated wooden train set seems not enough. Below is a short unbiased review about the train Thomas toy.
https://www.youtube.com/watch?v=LXxlzAio5qY
This will now open your children's eyes to a whole new kind of Thomas the Tank train. They will not now experience how it is like to have a moving train on their wooden train track layout.
This is the battery powered wooden train, Percy from Fisher-Price. Percy is a well-known character in Thomas and Friends. Compared to its wooden and non-battery powered version, this die-cast Percy toy has higher sharpness in colors and highly comprehensive details. It uses magnet couplings which enables it to work great with Thomas and Friends wooden railway set and other major brands as well. It is cheap and affordable but holds good rating and reviews in terms of performance and quality.
Percy is also a popular choice among many wooden train set. This die-cast battery powered wooden train is built to run on wooden tracks and pull around the rest of your kid's train cars.
See your kids have enormous amount of fun and educational play time. It will further increase their sensory, motor and some other skills discreetly as they have their amusement.
Fisher-Price also has the slick, battery powered wooden train, Hiro. It has a longer design compared with other battery-operated trains. It uses a black and gold color combination which makes an elegant looking design. The set comes with Hiro and a coal tender, both of which are compatible to fit with other wooden railway set. This die-cast toy train is not made from wood but only runs on wooden tracks. Its price is reasonable and very affordable, a great way to expand your train collection.
A wooden train set battery engine to help develop your kid's sensory, reasoning and motor skills, the Fisher-Price Battery Operated – Victor Train. It captures the essentials of the actual train in the animated series of Thomas and Friends. This toy will not only improve your children's set of skills but will also provide them with a long period of entertainment and train fun. It can be paired to almost any wooden railway train sets which makes expansion quite easy.
Do you want a complete and ready-to-run train set instead of buying a single train car or toy? Then Fisher-Price would gladly introduce you to their battery operated Thomas the train wooden railway set. The set comes with wooden tracks that form a medium size oval track layout. It also includes a mail depot to where Percy delivers the mail as he carries it behind his cargo car. The complete set is easy to assembly and could almost instantly be played with by your child. It has realistic design and remarkable details, all for a great and affordable amount.
This is Spencer, battery powered train for wooden track made by Fisher-Price. The design and details captures the  true likeness from the actual TV series, Thomas and Friends. Spencer has a little more length compared with other character train cars and does come with a neatly made coal tender. It has great compatibility that it could connect to almost all wooden toy train sets. This motorized toy will help in the development of children's thinking skills, sensory skills and motor skills.
There is nothing else more fun but to have a battery powered train for wooden track. It seems a little bit boring if your kids have a complete train wooden set but needs to push them around all the time.
This set right here will give them more time to interact and role-play instead of wasting so much time trying to make their set move by pushing them around.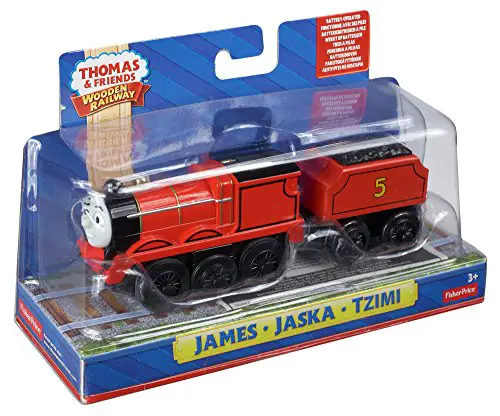 Introducing another great battery operated wooden train to have, James character train from Thomas and friends, brought to you by Fisher-Price. James has a train engine motor that could easily move himself around the track carrying wooden train cars. It comes in a nicely made coal tender which is attached at the back of James using magnet couplings. This type of train toy coupling allows the set to expand easily as it could fit in most brands of wooden train toy set.
This is a special edition battery operated Thomas the train wooden toy. There are only a few of this made and stock will be out of order soon. It has a special turn on and off button on top, not like with the usual power button of a motorized train toy. It features Thomas that carries around a tank car. The set comes into two pieces, both of which are made from die-cast resources or materials and is guaranteed to provide kids with endless amount of fun and promotes imaginative, role play.
The next one here is wooden railway battery operated train that not only moves on its own but also lights up and produces fun train sounds. You will seldom see a battery operated toy train fully packed with all the features needed by your kids. For a low and affordable price, you can avail a motorized train engine car that lights up and with sound features. It also comes with a small coal tender. The set features realistic details and great compatibility.
You possibly have noticed that all the previous product where train engine cars. Well the next wooden battery powered train features Toby. He is one of the few characters in the animated train series that is a passenger car. This train toy uses long lasting and non-toxic paint. It is constructed from a combination of die-casted materials and the finest wood. It has realistic color and details as well as standard magnet couplings.
Just to be more clear and to add some entertainment to our review, here is a video of how a wooden battery powered train can change your kid's perception of a wooden train track set.
The train toy car offers a child-friendly switch so they can easily turn it on and of as they please.
This is a ready-to-run, easy to assemble, battery wooden train set from Thomas and Friends. It saves you the trouble of purchasing each items individually. It is a complete set that you would want to save time and effort. The set includes a wooden train track with a cross bridge. The tracks form a figure-8 shape. It has a fair size and compatible to connect with standard wooden tracks of any brand. The set features a boulder which further adds a fun imaginative play. It is recommended for children with ages 3 and higher.
You might confuse this Thomas the train wooden battery operated trains set with other characters in the series. This is Gordon. He has the color and a close design to Thomas. The set is made from a combination of durable plastic materials and real wood. It has shiny colors and remarkable details and comes with a small, two wheeled coal tender. The battery operated train toy is very cheap but quality worthy. It gives you the opportunity for a low expense to expand your children's collection of train cars.
Out next wooden battery operated train toy from Fisher-Price features Salty. The large, bulky train has the capacity to carry several pieces of train cars and move around the track independently. It has an on and off switch and crafted using die-cast resources. This perfectly work with other Thomas and Friends train wooden cars but could also works with other brands of wooden railway set such as Chuggington and Brio, provided that it uses standard magnetic couplings to allow attachment or connectivity.
This is Diesel, a battery operated wooden train engine car from Fisher-Price. It is a large and bulky train engine toy car with the capacity to move on its on and a motor-engine with a strength to carry your wooden train toy cars. It has an easy on and off switch and user-friendly. The toy is made of durable plastic and some parts wooden. This affordable toy gives you an opportunity to extend your children's train car options and be more playful with their set.
Nothing beats the entertainment and fun of a wooden train set with battery train toy. This is now the time to upgrade your wooden train engine cars to a battery operated train to add movement and make your children's wooden set livelier. The battery operated train has a metal chassis and a body made from durable die casted materials. It is recommended for kids ranging from 3 years to 5. It is a user friendly train toy that will provide your kids with more train options as they watch their set, independently circle around their track layout.
This battery operated Thomas wooden train toy features Charlie. Some of you may have not heard of Charlie. He is one of the train characters in the series that aired in several episodes. This toy set is considered to be a collectible that may explain why it is a little expensive compared to other Thomas and Friends toy train cars. It is made of die-cast materials, metal chassis and body. It has an easy-to-operate power on and off button. It uses special kind of magnet to maintain a smooth travel on the tracks.
Every child wants a birthday themed Thomas the train wooden railway battery powered to celebrate their special day. Not only that it will give movement to your set, but it will also play the favorite Thomas theme song for your child's birthday. The set comes into two pieces, one of which is a cake cargo car that carries a large yellow cake. It uses an easy-connect magnetic connectors to efficiently help your child in expanding their world of Thomas and Friends.
Luke here is a wooden train battery powered toy that makes train whistle sounds. It was constructed using only the best and high quality woods available. It has magnet connectors to let you attach it on other train engine toys or tenders. Other than the sound, it also has light features to make it more realistic and could be played with, even at night. It helps in the development of young children's motor, thinking and sensory skills.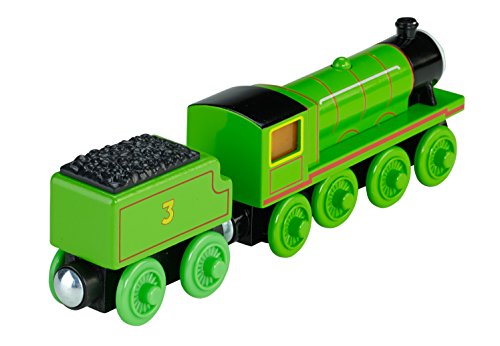 Never confuse a train toy character that uses the same color to another train toy character. This green battery powered wooden train engine car is Henry. It looks the same as Percy due to the colors used but Henry actually has a different design, shape, length and train face. This toy set, Henry, along with a medium size coal tender is made using premium wood and die-cast plastic materials. It is motorized and battery operated. This set can easily make your wooden train set run and move on its own.
What about a battery powered Thomas wooden train that does not move on its own, instead, plays a lovely Thomas and Friends, theme song. This toy train features a caboose. It is nicely paired with another battery powered train engine car. Together, they would make a livelier and more entertaining set as the train cars move and amuse them with its song. The musical caboose is made of solid construction of wood and has an easy-connect magnet connectors for compatibility.
Going off from a list of Thomas inspired battery wooden train toys, cars and sets, here is a good Railway toy product from Hape. It's not a character train car but it is fully compatible with most major and popular brands of wooden railway systems. It features a strongly functioning, battery powered train motor. The train engine car is large and is made from durable and safe materials. It uses non-toxic finishes and with great details. This set is recommended for 3 years old kids or higher.
An affordable set that features a Whistling Jamaes, a character from Thomas and Friends, this battery wooden train engine is very affordable. Unlike those main character themed train toys, you can easily have James for a reasonable amount. James is made using nothing but the finest wood and installed with magnet and metal at end to end to allow attachment to other train engine car or tender.
A rather pleasant battery train for wooden track set. The set includes 3 pieces, a "muddy" Thomas the Train engine car, a small size box-car and a cargo car, all of which carries livestock animals. This is made and inspired from one of the actual episodes of Thomas and Friends, "Flash, Bang, Wallop" episode. The toy set produces fun sounds and phrases. It uses the same standard magnet and metal coupling that works great with other Thomas train set and popular brands of wooden railway set.
This is Gordon. A blue battery operated wooden train that closely looks like Thomas. It is possible that many people confuses this wonderful toy train character with Thomas is due to its color. If you look closely, Gordon has different design, shape of face and length. It also has a number-4 imprinted at the side of his coal tender. Gordon here gives life to your set as it voices out funny phrases and entertaining sounds. Gordon also fits very well with other wooden railway set due to the magnet and metal couplings.
The next Thomas wooden train battery character toy features Percy. Unlike the other Percy toys in the list, this one is dubbed, based on the actual episode of Thomas and Friends, "Percy and the Calliope". It is a musical, theme song train set that comes with a calliope. It has an easy-push button to turn the music on and off. The calliope is gracefully attached to Percy through the magnet connectors. It is also responsible for making the set versatile and highly connectable to other wooden train sets. This affordable and amazing musical train toy is constructed from real and durable wood.
Other than a musical and motorized, battery powered Thomas train wooden toy, Fisher-Price also has a set that lights up. This features Sidney celebrating a Holiday Special. It bright up your set and give your children, countless moments of fun, play and creativity. The set comes in two pieces, Sidney and a cargo car which is responsible for brightening your tracks. Both pieces have great details and comprehensive designs. It is affordable and cheap but is respected to hold remarkable style and quality. It is one easy way to expand your child's train adventure.
This is an exclusive battery Thomas train for wooden track. It is one of the most valuable item and collectibles your kids must have. This set features Thomas with a shockingly looking face, filled with excitement. It comes with a large cargo car that contains a large heavy tube. The train Thomas engine car uses die-cast metal. The body and the chassis is very sturdy. It can run stably and freely on any wooden tracks and could easily carry around many train cars behind. The set uses an easy-to-operate power on and off button and is recommended for kids with age range from 3 years to 6.
This is Jack. It is an exclusive wooden train battery toy that features a retired Jack. This toy right here uses a non-manufacturer packaging. Instead, it is packed loosely with a bubble wrap. The set has a large scoop that with a simple push of a button will carry any magnetic cargo. It works great as an accessory toy to provide an imaginative role-play as well as discreetly developing your children's basic necessary skills such as motor skills, sensory, color identification, counting and more.
An empire, exclusive battery powered train toy from Learning Curve, features Whiff. This toy is handmade and crafted using nothing but the finest quality of durable wood. The great crafting skills made a realistic look and design. The colors are durably painted and use non-toxic paints which are safe for your kids. The length of width, if you will notice, is far lengthier compared to other wooden train toys. It has magnets to enable attachment with other Learning Curve vehicles but will also work great with major brands of wooden railway toy set such as Brio, Chuggington, Fisher-Price, etc.