Rail travel is becoming one of the most popular choices of public transport in the world, and it's certainly one of the fastest. There is more than just the number of platforms contributing to what makes these stations not just physically huge but culturally important also. This list contains the largest, busiest, and tallest stations in the world as well as some notable transport hubs.
Here are the Top 10 biggest train stations in the world in no particular order:
#1 Grand Central Terminal (New York, USA)
Grand Central Terminal Midtown Manhattan is easily one of the most culturally iconic stations for Americans and is incredibly famous to the rest of the world too. This station has appeared in so many movies, TV shows, and documentaries that it is probably one of the most recognizable stations to most people. It is iconic for two reasons: it's beautiful and it's huge. This station has 44 platforms that will put it at the top of the most platforms of any train station in the entire world. Around 750,000 passengers pass through here every day.
#2 Gare du Nord (Paris, France)
The Gare du Nord is not just one of Frances's biggest and busiest train stations, and it is one of the most important in Europe. This station accommodates 520,000 passengers per day and is one of the oldest stations in the world, being built in 1846. Gare du Nord is the mainland side of the Eurostar train between England and France.
#3 St. Pancras Station (London, UK)
St. Pancras Station is a bit of a different style than many of the other stations. It is far more Gothic looking and considering it was finished in 1868, this is particularly special. This station is one of the major transportation hubs for the whole of the United Kingdom. The connection with the underground is what has managed to drive its daily passengers to around 170,000 a day. St. Pancras is the UK-side station serving the Eurostar, meaning it gets all the passengers going to and from France through the English Channel tunnel.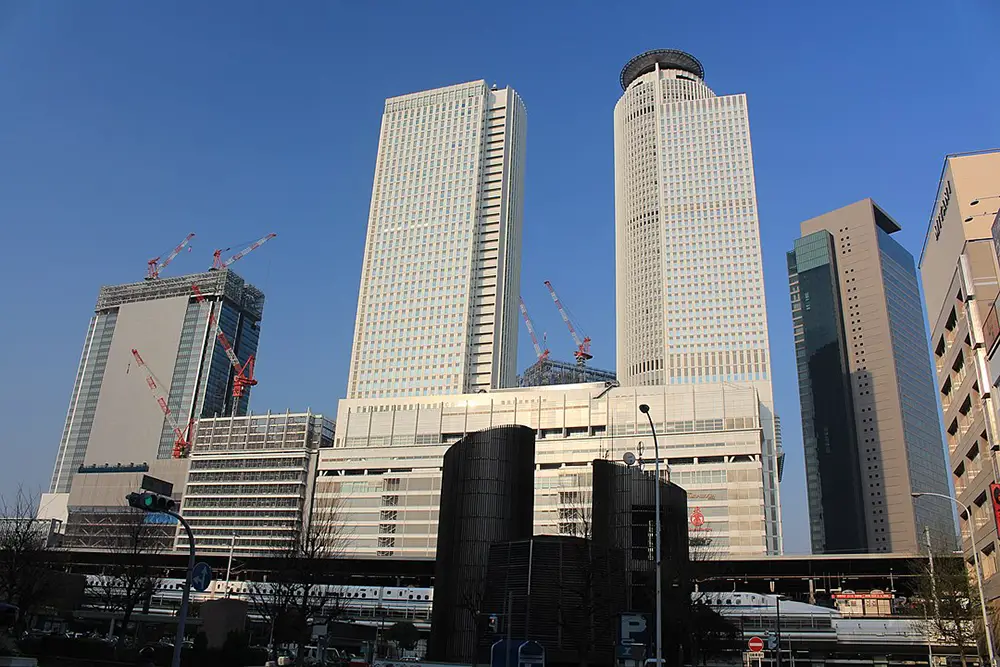 Photo source: Wikimedia Commons
#4 Nagoya Station (Nagoya, Japan)
This station holds the record for the largest area of any station at 446,000 square meters. Nagoya Station may be the largest physically, but it only accommodates 1,200,000 passengers per day. It may be the largest in size, but it is only the 6th busiest station in Japan. Nagoya is one of Japan's older stations and was built in 1886.
FIND OUT MORE about the history of Japan Railways and the Skinkansen, the Japanese Bullet Train!
#5 Clapham Junction (London, UK)
Clapham Junction may not be the largest in size or serve the most passengers, but it does accommodate the most trains passing through it. Almost 2,000 trains pass through a day and, at peak, up to 170 trains/hour can pass through this station. The reason is that it is a hub for southern London and all the main stations (such as Waterloo) must pass through here when going into the city or up, out, and beyond into the rest of the country. Although only a small percentage of the trains stop here, it had to be designed to be able to host 100s of trains an hour which translated to 17 platforms. As many as 400,000 people pass through a day during the workweek but most never set foot off the train.
#6 Shinjuku Station (Tokyo, Japan)
This station may not be as old and artistically designed as some of the Grand European Stations, but it more than makes up for it in practicality. Shinjuku Station has more than 35 platforms in use at any one time, serving almost 3,500,000 passengers every day. It is an absolute wonder of modern engineering. This station is so well designed that the average delay is about 40 seconds. Per train, per year. Astounding.
#7 Penn Station (NewYork, USA)
Penn Station may not be as "grand" like Grand Central but it does serve just as much of a purpose. This station is home to over 600,000 passengers every day. This station is almost completely underground and feeds people from the subway to the rest of the major east coast hubs: Washington, Boston, etc. Penn Station isn't quite so old as some of the other stations on this list; it was only built starting 1905 and didn't open to the public until 1910.
#8 Tanggula Station (Tibet, China)
This station is slightly different than all the rest, as it has its own claim to fame. It may not be the biggest in size but it is the biggest in height. This station is over 5,000m above sea level giving a breathtaking view of the surroundings. Tanggula Station is a major transport hub for the whole Tibet region of China. One of the platforms on this train boasts a length of 1,250m long, which when you are that high up, is very impressive. This station is easily the youngest of this top 10, being built as recently as 2006.
#9 Helsinki Central (Helsinki, Finland)
Helsinki Central is one of the city's most important landmarks both culturally and practically. This station is incredibly beautiful and incredibly old, being built in 1862. This station deals with 200,000 passengers a day, which is a lot on its own but if you consider that the entire population of Helsinki itself is only 650,000, that makes it so much more impressive.
#10 Flinders Street Station (Melbourne, Australia)
Flinders Street Station is one of the most culturally iconic landmarks of Melbourne and a real hub of public transport. Melbourne is connected by a high-quality tram network and this tram network connects to Flinders Street Station. It thus allows the people of Melbourne to have access to the rest of the state of Victoria. Flinders is a beautiful station that has been designed to accommodate up to 100,000 people that pass through it every day.
It is hard to make direct comparisons to stations sometimes, after all, some are bigger in size but deal with fewer passengers. Some are very densely packed but have some of the largest amounts of foot traffic each day. For this list, I have chosen the stations I think are the biggest overall in both sizes, passengers, and in some cases cultural importance.