As kids grow and develop they become very curious and are constantly trying to learn new things whenever they can. Train sets offer a good opportunity for kids to learn new things and to try to figure out how things work. Train sets keep their minds actively engaged while creating a level of excitement that is very healthy for their developing brains. You can have yourself look into the best wooden train set.
This learning process also involves trying to take apart anything that comes their way as they try to figure out what is on the inside of any object that they come across. This curiosity is very healthy but can be very expensive if it results in damaged items around the house. It can also be dangerous as broken items can become choking hazards.
This is where wooden train sets come in. Wooden train set pieces are sturdy and can't be taken apart easily. Wood also makes these toys very durable which means you won't be replacing damaged train sets or pieces.
Three Best Wooden Train Set For Kids
The Melissa & Doug Deluxe Wooden Railway Set comes equipped with nearly 100 wooden track sections and supports and more than 30 accessories including a freight train, passenger train, and suspension bridge. This train set is designed for children ages three and older and comes with simple instructions for four different configurations. Some adult assistance is required for set up, providing you with the opportunity for some quality time with the kids.
The set does have a few parts that are made out of plastic as well as some steel screws but it is primarily constructed of wood.
This set is available on Amazon.com for less than $90.00 including free shipping.
Pros
Has four different track configurations.
Has 100 track pieces and bridge supports to keep the set interesting.
Compatible with other popular wooden railway systems.
Cons
The raised parts on the track do not hold together very well
This is a solid train set that offers variety at play time ensuring that your kids have a different experience each time they play by changing the track configuration. This keeps kids from getting bored by playing with the same old set up every day. Overall this is a good buy.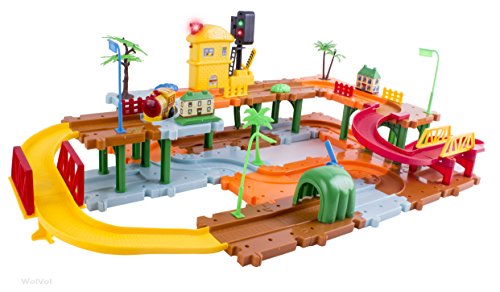 The WolVol Big Train Tracks Set comes with a self-operated mini train with an upper level and a lower level as well as tunnels, bridges, traffic signs, fences, trees, and mini houses. This set is easy to assemble, and play time is made interesting by the traffic lights that stop the train when red and allow it to move when green. The set operates on three AA batteries for the traffic light and one AAA battery for the train.
The bright colors of the train set create excitement from the word go. Assembly of this train set requires adult participation which can give you some quality time with the kids while you teach them how to get things done.
This train set is available at Amazon.com for less than $40.00 with free shipping.
Pros
The set is well sized, fitting well into any space.
Does not require instructions to put together.
This set is sturdy ensuring long-lasting fun.
Cons
Batteries mean extra running costs for the train.
Batteries not included.
Although the packaging may make the train seem small, the train set is large enough to offer hours of fun yet small enough to fit in any play area. The combination of materials used construct this set make it a durable choice for hard-playing kids.
Due to its cheap and affordable price while maintaining a good quality, this product set is considered to be one of the best wooden train set in the market. To help you get a clearer view of the product with all its specification and features, we added a short video below.
It has a fairly large and decent size provided that it is very affordable. It is made from hard and durable plastic which will provide great longevity.
In this set of two train pieces, Thomas hauls a very important shipment—a birthday cake! The Thomas and Friends theme song will keep your child entertained and excited during playtime. This set features Thomas, the number one blue engine from Thomas and Friends. The cargo car holds a birthday cake that is lit up as it plays the theme song while Thomas is festively dressed creating a good combination of color and sound.
Thomas and the cargo car connect to other Wooden Railway engines and vehicles with magnet connectors. This set includes two LR44 batteries. The train set gains its inspiration from the Thomas and Friends episode "Happy Birthday Sir."
These train pieces are available at Amazon.com for less than $17.00 with free shipping.
Pros
Battery costs are low as they only power the lights and the music from the cake.
The train is quite sturdy making it hard to damage.
Works great with any Thomas and Friends Wooden Railway set.
Cons
This train is sold on its own, and the track is sold separately. This, however, is no problem as the train is compatible with all the Thomas and Friends railway systems. This can be a good addition to the sets you have already purchased, adding another train to your kids' collection. This is a good buy.
Conclusion
The choice of the best wooden train set easy to determine as the Melissa & Doug Deluxe Wooden Railway Set easily carries the crown with its quality construction and its various configurations that help make playtime interesting.
The WolVol Big Train Tracks Set comes in as a close second as the best wooden train set in terms of performance but beats the Melissa and Doug Deluxe Wooden Railway set when it comes to price.
Bought together with a track Thomas the Train Wooden Railway Happy Birthday will easily be the best wooden train set. Since you have to buy tracks separately, it loses out to its competitors. The train can be added to an already existing set to keep playtime interesting.