The best way to educate your kids and help them learn and improve their skills is when they are young and through fun play-time. Directly trying to tutor them about what they have to do will easily bore them out. This is why many parents opt to look for a good wooden toy train sets as it is educational and helps in the development of young children's skills. It is considered, the same with block wooden toys, to be one of the few learning kits you can have for your kids. It discreetly improves their intellect, skills, imagination, self-esteem, creativeness and more. They can barely notice that they are already learning due to the amount of fun a wooden train toys provides.
Another great thing about this type of toy, other than being a top educational toy, is the durability. Wooden toy sets are harder, solid and more durable compared to plastic toys. It is also natural and crafted with no toxic materials such as plastic or rubbers. Although there are some wooden toy train sets that has plastic, metallic or rubber parts, most likely that those parts are non-toxic and safe for kid's use. This is because most wooden toy sets are accredited by safety and security credentials such as CPSIA and ASTM testing.
In addition to its benefits and credibility, wooden toy train sets are usually large. You would not worry about a toy, being a choke-hazard to your kids. These sets also just require minimal supervision from parents or guardians. There may be some assembly required in some sets but it nothing that your child could not handle. Assembly is actually a part of their training in skill enhancement while they have a wonderful time of connecting each piece.
19 Wooden Toy Train Sets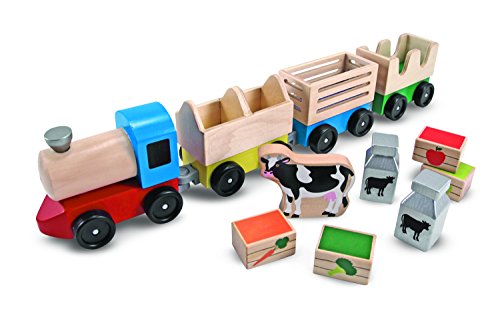 A great way to start your wooden toy train plans is through purchasing a train car set that comes in many pieces. Individual or specific purchase would be great if you are targeting a train toy car you really want. But for starters, this classic wooden toy here from Melissa & Doug would fit your needs really well. It features a farm set that comes with a wooden train engine car and 3 pieces of linking cars. It also includes animal, fruit and milk figures.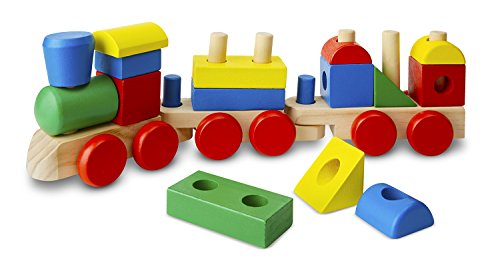 Not all wooden toy train sets refers to the set that can run on wooden tracks. There are starter sets that are made from blocks with the sole purpose of educating your children. This set discreetly teaches your kids color and shape identification as well as enhancing or developing certain set of skills such as fine-motor, sensory and hand-eye coordination skills. It also promotes imaginative play. It is perfect for kids aging 2 years and up.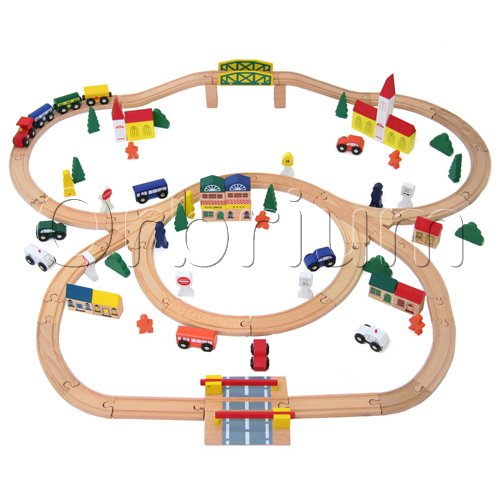 Moving up to a large wooden toy train kits, this is a 100-pieces set from Orbrium Toys. The set features a triple-loop wooden tracks and a lot of wonderful pieces and accessories that could complete a set. It is actually a ready-to-run set. It only requires some assembly skill and effort in building it up. The set is compatible with Thomas wooden set, Brio railway set, Chuggington and other popular brands.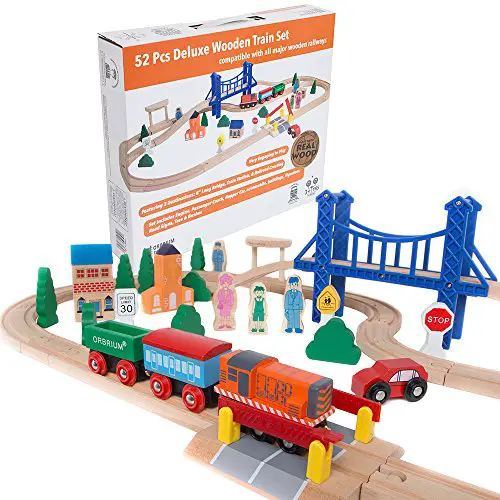 Another great way to expand your wooden toy train patterns for your track layout is with these 52 pieces, Deluxe set from Orbrium Toys. It is very attractive and engaging for kids. It has all the train necessities needed to build up a large size train wooden set. The set includes many pieces of wooden train tracks, bridge, railroad crossing and a train station. It also has many train cars, figures, structures, trees, signs and more, included in the set.
Showing you how incredible it would be for the 52 Pieces Deluxe Set to expand your wooden toy train patterns, here is a short clip of how awesome it is.
As you can see, all train cars, tracks and accessories are compatible with all major brands. Which makes it very useful into whatever pattern you want to achieve.
How about several pieces wooden toy train engine car to complete your kid's collection of train cars? This is a 12 pieces wooden train cars and train engines collection from Orbrium Toys. It is actually quite cheap and affordable. You would save a lot of money with this set instead of trying to purchase the train cars individually just to extend. It comes in a cool wooden frame/box. The set could highly fit to all major brands of wooden train play railway set.
Another train car collection from Obrium Toys features zoo animal wooden train cars, the 12 pieces train wooden engines and cars collection. Who needs a large wooden toy train set if you only have several pieces of train cars to run around the tracks? This offers your kids a chance to have many train car options and be more imaginative as they play. It also provides them role-playing options as they can choose what theme they want having a large train car collection.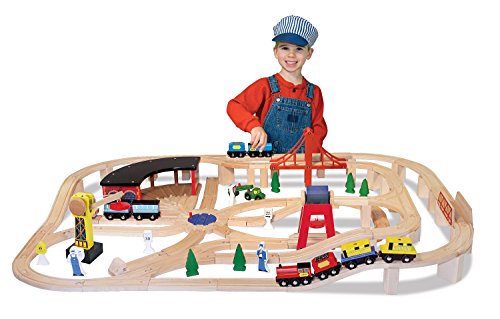 This is a deluxe railway wooden set from Melissa & Doug. The set includes 130 pieces, consisting of wooden toy train cars, wooden tracks, bridge, station, trees, figures and more. This is one of the best starter train set you could have for your kids. It will provide a long time of playing. You will never worry about your kids getting bored as this large train set, could still be expanded to become larger as it is able to connect with all popular brands of wooden toy train railways.
The best wooden toy train sets for toddlers that focus more on educating and enhancing their skills is the Stacking Wooden Train Toy from NimNik. It features a Pull-Along train toy with blocks and painted with different colors. It uses a non-toxic paint and comes in large pieces which make it safe for kids to play with. Children can learn color and shape identification and enhance their hand-eye coordination, motor and logical skills.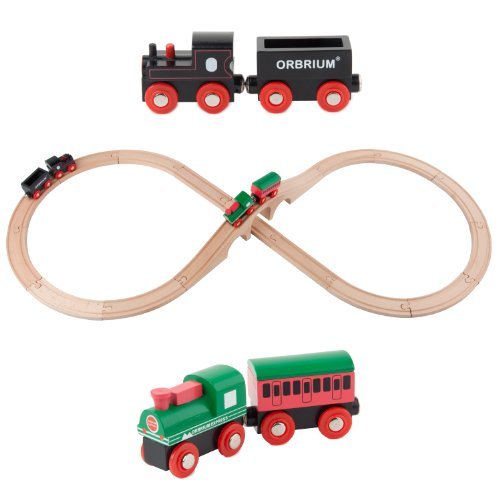 This toy set is a simple toy train wooden set from Orbrium Toys. It features 3 different arches bridge and train engine car that could fit and connect with other wooden Thomas the train toys. It could also connect with Brio, Chuggington and other brands of wooden railway train toys that use magnet connectors. The set includes a train tracks with a figure-8 layout. The 2 train engine comes with a coach car and a hopper car, giving a total of 4 wooden train car pieces.
The next set is one of many toys wooden train set that is dedicated in teaching your kids numbers, shapes and color identification. This is a Digital Small Train Wooden set that includes wooden number figures from 0 to 9. It highly cultivates your children's interest in numbers while they discreetly have enormous amount of fun. The length of the train set is very long and each train cars carries ascending number order.
There are so many tips you can find in the internet on how to build a wooden toy train toy for kids. But are you capable of giving such effort? Or do you have the equipment and tools to craft it? If none and you would not want to waste time and energy, then you can choose to have this amazing stacking train wooden set from Sealive. It is a puzzle/block train wooden toy that greatly increases your kid's potential.
This is one among the few Disney inspired wooden toy train sets your kids can have. It is a great starter set that features Mickey Mouse and his friends, Minnie, Pluto, Donald Duck and Goofy, riding along behind him. This is a great train wooden product which is nice to be collected. The set on the other hand, would have some problem connecting or fitting other wooden railway set as it does not use magnet connectors.
One of the few collectibles you can have for your kids and for them to play with is the wooden toy train sets that features Disney Characters. Below is a video that will give your kids a ride to Disney World.
Who wouldn't love Disney characters integrated into a train set? The love for trains and the love for Mickey mouse combined will give your kids plenty of joy and happiness.
This is a wooden train pull toy from Imagination Generation. It features a Push-n-Pull Barnyard wooden train set consisting of 7 pieces of wooden wonders. There are 4 train cars and 3 animal figures. Your kids can load up the farm animals and carry them at the back of the cargo car. It has thick, durable strings that run through each wooden train cars. The wheels are smooth which makes it very easy to pull.
Another wooden toy train kits that will provide many train options to your layout and will promote imaginative play is the Carrier Truck from Melissa & Doug. The carrier truck includes or carries 4 cars. It is set to deliver the cars around as it runs on track. The set is compatible running on any wooden train tracks but could not be able to connect to any wooden train engine car as it does not have any magnet connectors or couplings.
One way of trying to expand your kid's train car collection is by providing them with wooden toy train kits such as the Carrier Truck from Melissa & Doug in the video Below:
They are vehicles that can run on wooden train tracks or can also be used as decorative set to encourage imagination and creativeness as they play.
Like with the previous toy wooden train sets, this is also a a load-up truck that carries 4 pieces of cars. This wooden truck loader from Melissa & Doug is fairly large and with most parts made from real wood. It features a magnetic arm used for loading cars. The set offers great fun time and provides your kids with great interaction, role-playing and imaginative play. It can run efficiently on any wooden tracks but could hardly connect as it does not have any couplings.
This is a magnetic car loader worthy for your long collection of toy wooden train sets. Below is a video of how interactive the loader could be, integrated in your kid's train set.
This can open their mind up to a whole new game-style, role-play and tends them to be more imaginative with their toy set.
This is wooden train toy box or blocks. ACOOLTOY brings you a wooden train set that features geometric blocks. The blocks go through the poles at the back of the train wooden cars and stacks on top of each other. All parts are made and crafted from high quality wood. It contains many bright and lovely colors, all from water-based paint which is very safe for kids. The set is even built in large pieces to avoid choke-hazard but it is advised for children aging 18 months or higher.
This is a large wooden toy train cars that features building blocks. It is an animal set, train wooden cars that comes in 12 pieces. The set is very affordable and designed to enhance our children's set of skills while offering them great and nurturing fun time. The great thing about this set is that it can connect with standard wooden train cars and tracks. It uses standard magnet connectors which could fit with Brio, Thomas, Chuggington wooden train sets and other popular brands.
You can easily search some tips and tutorials on how to make a wooden toy train but at expense that you need to spend some time with it and will require you to have some set of crafting tools. If none is available, you can then opt to just purchase the toy as it is cheap, durable and made from high quality wood to save you the trouble. The most fitting would be the Stacking Cargo Train from Bookid Toys. It features blocks that stacks up behind the train car. It promotes color and shape identification and developing motor, hand-eye coordination and reasoning skills.
The last item in our short list of the best toy wooden train track and car set would be the animal wooden train set from Maxim Enterprise INC. The set comes in 7 pieces, consisting of 4 train cars and 3 animal figures. It is a perfect way of changing your train set's theme from a metro to a zoo or safari set. All of the pieces is compatible with other wooden railway train toys and could efficiently run on wooden tracks.