Train sets have been around for generations and have withstood the test of time even as new types of children's toys continue to be released on the market. The Brio line of train sets brings joy and ensures hours of fun as the kids enjoy recreating what they have seen on their favorite TV shows and also what they see in the world around them. This Brio Train set review will give you some ideas of the kind of train along with their advantages and disadvantages.
The grown-ups are not left out as there is something nostalgic about train sets that wakes up the inner child in all of us, no matter our age. This nostalgic feeling is often accompanied by vivid memories of those carefree days when growing up and listening to the sound of trains clanking on their tracks or a train whistle blowing.
The beauty of train sets is that they give you the chance to share a part of you with your kids that still has a passion for toys. A train set purchase is probably for the children, but let's be honest, you will probably enjoy it as much as they do and everyone will be left with a smile on their face. As your children grow older you can upgrade from the train sets designed for the younger kids and move on to more advanced train sets.
Brio Train Set Review: Types of Bio Train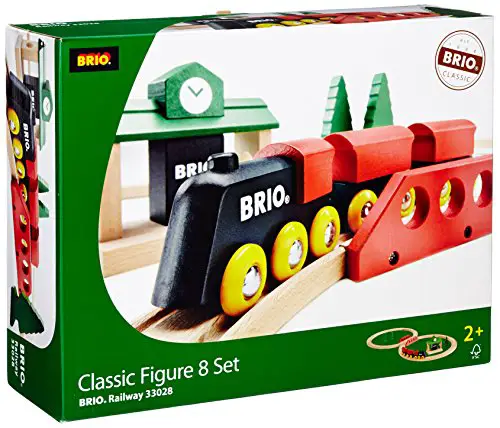 The Brio Classic Figure 8 Set is designed with the timeless Brio standards and is a quality wooden train set that is built to survive the hands of many children over its lifetime.
The set is designed with both fun and education. It is the expected results of every interaction that your kids will have with this set. The wooden design is meant to ensure a quality train that will deliver value for its cost. It can easily be handed over to younger kids as the older ones grow up. The set is aimed at engaging play and learning.
The Classic Figure 8 Set is made from solid beech wood and does not require batteries or motors as it does not have lights or sounds. The set is completely powered by creativity. The set has 22 pieces including 14 track sections, a special crossing bridge, an all wood Brio station, and three trees.
This set is available on Amazon.com for less than $50.00 with free shipping.
Pros
No battery expenses.
Has numerous parts that form a variety of activities that promote creativity.
Made out of solid wood ensuring durability.
Cons
The lack of lights and sounds may limit the excitement.
Conclusion
This set offers a combination of play, educational value, and good pricing ensuring that you get your money's worth. The durability of this train set makes it possible to pass the set on to younger siblings.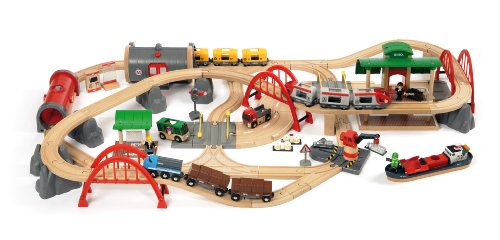 This set is designed to let kids engage in learning as a part of their playtime, growing with them through their various phases of development.
The Brio's ultimate railway plays experience with a complete working city. This set allows the child to drive a motorized city train around the city. Your child can pull into the metro station to pick up passengers through the sliding doors on the train. This set is battery powered and the engine is equipped with lights and sounds. It also has a second passenger train that your kids can take into the two story station to pick up passengers who can disembark and then move to the lower level using the mechanical elevator.
The Brio Deluxe Railway Set is available on Amazon.com for less than $260.00 with free shipping.
Pros
Lights and sound give the train an authentic appeal.
A mechanical elevator and crane make playtime exciting.
Made of solid Beech wood ensuring durability.
Cons
This set is not designed for children less than three years old.
Battery replacement adds to the cost of the set.
Conclusion
This set provides a wide range of activities to engage children and reduces boredom. The price might be a bit on the high side but the price is justified by the quality of the pieces.
Just for fun and to give you a better visual information of the product – Here is a short video of the 33052 Deluxe Brio Train Set.
It shows a detailed narration of what your kids can do with the set and shows you all the features of the 33052 Deluxe train set from Brio. 🙂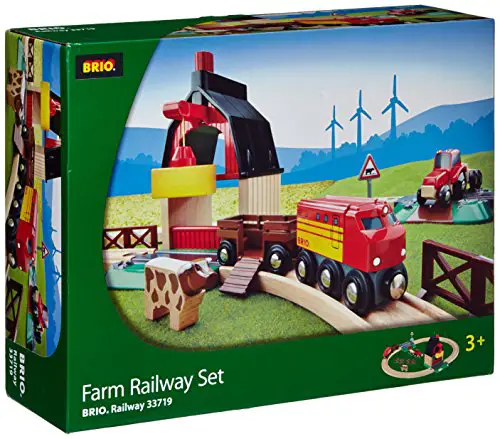 The Schylling Brio Farm Railway Set is designed to be easy to put together. This set has no flashing lights, sounds, or battery operated motors and relies entirely on the kids' energy and imagination. The pieces are small enough to fit the hands of young children and are solidly built.
The set has 20 pieces. It includes a train engine, cargo car, and a farm tractor with trailer. There is also a two story barn, a track crossing, a cow, a horse, a hay bale, and fencing. The kids can store their hay in the two story barn loft, unloading it using a mechanical, magnetic barn hoist.
This set is designed for kids ages three and older.
The Schylling Brio Farm Railway Set is available at Amazon.com for less than $60.00 with free shipping.
Pros
Not battery powered, saving on operating costs.
Made out of solid wood ensuring durability.
The set has eight track sections and a special track crossing for expanded off track adventures.
Cons
It lacks lights and sound.
Conclusion
This set is a basic train set but there is nothing basic about what it delivers with advanced parts like the mechanical crane which will fascinate young ones as well as numerous activities that your kids can undertake when playing with the set. The set offers a good mix of simplicity, quality, and good pricing offering you value for your money.
SUMMARY
The Brio Deluxe Railway Set is the ultimate Brio train set. It should be your number one choice if you are not working with a limited budget. The solid wood construction and features like lights and sound makes it a good choice for kids.
If you are looking for a countryside theme for you then the Schylling Brio Farm Railway Set should be your number one pick. Complete with animals, fencing, and a two story barn, this train is sure to delight the children in your life.
If you are on a budget you should consider the Brio Classic Figure 8 Set as it combines quality, simplicity and fair pricing.