A child in their development stage can benefit a lot from toys. It gives them the right amount of brain stimulation, excitement and eagerness to learn. However, you should not get just about any type of toys for your children. There are toys that do not have any educational benefits as well as not fitted for any age range within toddlers. Looking for a specific type of toys that would be great for your child would sometimes come in hard and would require you some effort. That is why we have decided to help you in some of your decisions by providing you the best toy trains for toddlers at different age range and the specific skills the toy targets to enhance.
The importance of varying the toy by the age of your child is to gain optimal benefits and reduce some dangers from inappropriate toys. A good example would be a toy set for 6 years old with small parts given to a one or two-year-old. Young toddlers at that age still have some biting and swallowing reflex and they might end up choking on their toys. It would put your children at risk. In addition, the toys that are intended to a 6 years old may not be that beneficial to toddlers at a younger age as some skills has not yet been developed so therefor enhancement is not yet possible.
Looking for the right and appropriate toy will also save you a lot of time and money from spending something that does not even provide any gains for your child. Some toys that are not fitting to their age could easily bore them and would less likely be appreciated. You'd probably end up purchasing a new toy just about after you have bought the first time just to keep them educated and entertained at the same time.
Best Toy Trains For Toddlers
This guide will provide you with some insights about train toys that are appropriate and fitting for your child's age. These are a long list of the best toy trains that could really help your kids as they grow by assisting in their development and enhancing specific skills while at the same time having some fun. Toy trains are among the best toys for kids and considered to be one of the greatest educational and learning tools and toys for kids.
Best Toy Train For 1 Year Olds
For 1 year olds, this would be one of the best toys you can get for your child. This is the Vtech Alphabet train. It combines the love and natural attractiveness of the train with some sound features that teaches your kids the alphabet. This interactive toy train can get your child to familiarize the alphabet through sound while having some fun. It secretly teaches children the basics of learning without them even knowing. The toy train has also some bright and vibrant colors as well as different shapes to help them with shape and color recognition. This set only requires 3 double-A batteries to operate.
Showing you how fun and educational this toy train for 1 year old is, here is a short video review of the product:
Not only that it enhances and develops children's thinking skills, it also improves their physical skills as they held on and walk with their train toy set.
Next is the Lego DUPLO train set from Lego. This is not like the usual small brick and block toys from Lego that comes in small pieces. This toy is perfectly safe for kids as each part and accessories are large enough to keep them from choking. There are 10 bricks with numbers from 0 – 9. The bricks and train set is painted with different colors. This toy helps them get to familiarize colors, numbers and shapes at a young age while keeping them absolutely entertained. This is also a great way to keep them started on their train set journey as they grow.
This is Eyotool's Three Digital Wooden Train Set. The train set features a wooden train toy set that teaches children shape and colors as well as enhancing some set of skills such as fine motor, hand-eye coordination and more. You child can play with the train set as they push it around and stack some shapes on top of the train. The shapes have different colors to get familiarized with colors. The toy set can withstand the play style of the child due to the durability given by the wooden construction of the set.
Next is the Roll and Pop Train Toy. This toy set features a ball popping out of the train's smoking stack. Instead of smoke popping out, the idea was to replace it with a ball as it will provide more interaction as well as keeping it safe for a 1 year old. The train has a mechanism where the ball being placed inside the smoke stack will keep it moving forward as the balls be popping out of the stack. This toy also features sound melodies and lights. It adds some excitement to the set that keeps your child from being bored.
Best Toy Train For 2 Year Olds
Going for a good train set for 2 year olds, it's not time to upgrade into a medium size set. By this age, kids are now ready to have something out from the basics. This train set features a tower that sends two vehicles going to the top and down. This set is built from different colors. It greatly enhances child's creativity as they play with the set. This may also require some assembly and adult supervision in doing so. The interactive set includes interchangeable tracks, a gas station and a car wash. This greatly promotes a creative and imaginative play.
This is a wide track set from Vtech, the Go! Go! Smart Wheels Track Playset. It features interchangeable tracks where it enhances your kid's imagination and creativity. The tracks feature 3 different smart locations where in if the vehicle reaches the point, it will trigger a sound and phrase feature. The tracks are also made wide and colorful. There are a total of 30 tracks included but this set requires you to purchase the Go! Go! Smart Vehicles separately. This is one of the best and innovative toy creations of Vtech!
Showing you how innovative this train set's design is, watch the short video below:
The video will show you some important points and a general review of the product along with the features it includes.
This is Lego Duplo toys for 2 years old. It is a great accessory for the previous Duplo set from Lego. You can use this set to extend the train set Duplo as it will provide your child with more play options as well as keeping their imagination and creativity stimulated through imaginative play. This set has at least 36 pieces of cars, trucks and other accessories. That's more than enough to keep them entertained for a long period of time. This is one of the great things of a Lego Duplo set. Just add some more set as they grow to provide them with more choice and options and never get them bored.
Apart from your kid's initial train toy set, this 6 pieces of powered die-cast vehicles can be a great additional accessories for your children. This adds more play options and imaginative plays for your kid's current train set. It makes a child picture out a city train and a nice working environment. This set includes 6 pieces of durable, die cast vehicles consisting of 2 airplanes, 2 firetrucks, a police car and a train engine car. The vehicles have a nice movement mechanism where a small push can keep the vehicles going far enough to reach where your kids want it to go.
Best Toy Train For 3 Year Olds
Growing old one more year, children at ages of three can now start to enjoy a train set that comes with tracks. They can now also enjoy Lego's main creation of attaching and stacking bricks and blocks. This Duplo Push Train features a toy that requires some assembly. The assembly varies to your kid's imagination and creativity. It is a buildable toy based on how your kid's perceive environment. The set includes many parts and accessories such as a wagon, level crossing, trees, train tracks, hinged roof and more.
Next is a classic battery operated train set from Best Choice products. This set can now be appreciated by three year olds. The train set features a wide oval plastic tracks and 4 train cars. The train engine car is battery powered. It can move forward on its own with a simple push of the on and off switch. It also has sound features that imitate the sound of a real train. The color combination used in the train cars represents that of Christmas Holidays which makes this set a perfect gift for Christmas.
This is Paw Patrol's adventure railway train set. It features a train set with exclusive vehicles. It includes 2 train cars, box creates, mini pup, train tracks, tunnel, a battery operated motorized train, mini train station, guard rail and more. Kid's need more interaction with their toys as they grow and a moving train could greatly suffice the needs. This set can move around the tracks steadily and at a nice pace, all thanks to the battery engine car it has. The set still promotes a great imaginative and creative play like with the other sets. This is one of the best toy trains for toddlers you can have.
The next set is a medium size classic wooden train set from Cubbie Lee Toy Company. The train set is mostly made of high quality wood, making it more durable than those plastic train sets. It includes a simple 8 figure wooden tracks with some tree, figures, signs and more. A wooden toy set is widely known to be the best educational toys for kids and integrating it with the idea of trains just makes it more awesome for your kids. The wooden tracks and the train cars are highly compatible with other brands of wooden train sets such as Brio, Thomas, Chuggington, etc.
Best Toy Train For 4 Year Olds
Another great and one of the best toy trains for toddlers, specifically for for year olds is the Deluxe Wooden Train Set from Orbrium Toys. This is a much larger set compared to the previous 3 year old train sets. The pieces and accessories included are a lot more and it comes at a larger and wider wooden tracks. This train set is mostly made from solid and quality wood and is highly compatible with other wooden train tracks and sets from known brands and manufacturers. This set conforms to the standards of the ASTM and CPSIA which makes it highly safe and guaranteed for your kids.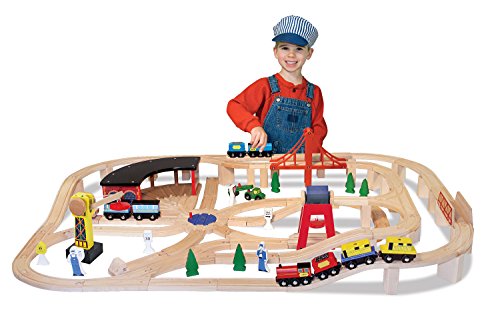 Melissa & Doug is a well known company that manufactures wooden toys and furniture for kids. This is the company's wooden deluxe railway set that is ideally best for children with ages 4 or higher. It has over 100 track sections, supports and accessories. This is a large set that could provide countless imaginative plays and will greatly expand your kid's creativity. This also covers a lot of skill enhancement such as color and shape recognition, hand-eye coordination, fine motor skills and more. This is definitely one of the best toddler toy trains.
The next large set is from Orbrium Toys. This is a company that is also widely known in the toy industries. The set features a triple loop train wooden set with over 100 pieces of train parts and accessories. Most of the parts are made from strong and solid wood, making it highly durable and sturdier compared to plastic train sets. The train tracks and cars along with other accessories can be paired to other wooden train set brands. The compatibility makes it easier for you to expand as your child grows an age or two.
This is KidKraft's Bucket Mountain Top Train Set. The great thing about this set is the innovative design. The storage bucket to where the set is packed uses a lid that is actually part of the train's layout. It makes storing and playing fun at the same time. There are a total of 61 pieces included in this set. All of which are compatible with other wooden train set. The large number of train parts and pieces included provides more options for imaginative role play for kids. From assembly to playing, the set will greatly enhance children's set of skills.
The compatibility of this product is just great. This video shows a fun set integrate with Brio trains:
This train set from Kidkraft will totally guarantee fun, learning and entertainment for your kids as they slowly build and connect their train layout.
Best Toy Train For 5 to 10 Year Olds
For children aging 5 to 10 years old, growth is now inevitable. At this age, it is advised that kids should start playing in the right body angle and posture wherein they can now benefit with playing on top of a train or activity table. This is one of an ideal set, the Qaba Wooden Kids Train Set and Table. This is a bundle set that comes with both train set and table. This will save you the trouble of looking for a table and a train set separately. It is more like a starter kit that has all the things your kids need in order to play his or her train set.
Bigjigs Rail also has the best toy train for toddlers. This is the City Train Set and Table. The set features a wide and simple train table, enough to accommodate all 59 pieces of train set parts and accessories on top of the table. Bigjigs wooden train set is compatible with major brands of wooden train set such as Chuggington, Brio, Thomas, Kidkraft and more. This is ideal for kids aging 3 and higher but the table itself can really benefit a 5 year old and older as they sit on a perfect angle.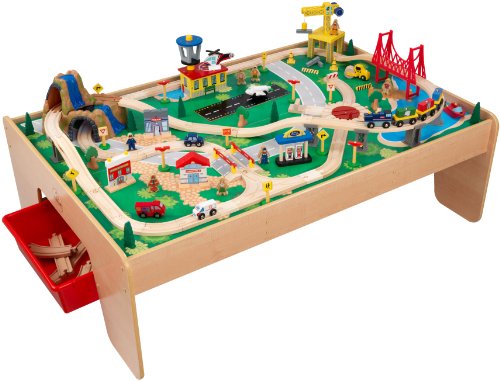 This is the KidKraft Waterfall-mountain train set. The train set can only be purchased in a bundle that comes with a train table. The train table perfectly fits all the parts and pieces of the train set. There is large number of tracks and accessories included that builds a complete set. It also includes a plastic storage bin to keep your kid's things organized, neat and clean. The table is made from strong and sturdy construction of wood. It can withstand pressure, force and a beating of a child regardless of your kid's play style. The set greatly promotes imaginative, creative and an active environment.
Down to one of the famous and well known product of train table and set, this is KidKraft's Metropolis Train Table and Set. This product is one of the best creations of KidKraft when it comes to trains. It features a large train set layout, all complete with the necessary train pieces and parts your kids need for long hours of educational and imaginative fun. The train set lies perfectly on top of the espresso finished train table. The table has a wide and spacious rolling trundle or train table drawer for storage purposes. It is a table that can support and store your train set conveniently. Most of the parts of the train table and set are made from solid wood, making it more durable and long lasting compared to other plastic and plywood set.