As kids grow and develop they become very curious and are constantly trying to learn new things whenever they can. Train sets offer a good opportunity for kids to learn new things and to try to figure out how things work. Train sets keep their minds actively engaged while creating a level of excitement that is very healthy for their developing brains. You can have yourself look into the best wooden train set.
This learning process also involves trying to take apart anything that comes their way as they try to figure out what is on the inside of any object that they come across. This curiosity is very healthy but can be very expensive if it results in damaged items around the house. It can also be dangerous as broken items can become choking hazards.
This is where wooden train sets come in. Wooden train set pieces are sturdy and can't be taken apart easily. Wood also makes these toys very durable which means you won't be replacing damaged train sets or pieces.
10 Best Wooden Train Set For Kids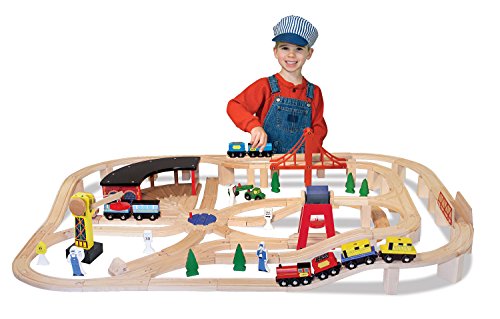 The Melissa & Doug Deluxe Wooden Railway Set comes equipped with nearly 100 wooden track sections and supports and more than 30 accessories including a freight train, passenger train, and suspension bridge. This train set is designed for children ages three and older and comes with simple instructions for four different configurations. Some adult assistance is required for set up, providing you with the opportunity for some quality time with the kids.
The set does have a few parts that are made out of plastic as well as some steel screws but it is primarily constructed of wood.
This set is available on Amazon.com for less than $90.00 including free shipping.
Pros
Has four different track configurations.
Has 100 track pieces and bridge supports to keep the set interesting.
Compatible with other popular wood train set railway systems.
Cons
The raised parts on the track do not hold together very well
This is a solid train set that offers variety at play time ensuring that your kids have a different experience each time they play by changing the track configuration. Below is a short video summary of this amazing wood train set:
This keeps kids from getting bored by playing with the same old set up every day. Overall this is a good buy.
The WolVol Big Train Tracks Set comes with a self-operated mini train with an upper level and a lower level as well as tunnels, bridges, traffic signs, fences, trees, and mini houses. This set is easy to assemble, and play time is made interesting by the traffic lights that stop the train when red and allow it to move when green. The set operates on three AA batteries for the traffic light and one AAA battery for the train.
The bright colors of the train set create excitement from the word go. Assembly of this train set requires adult participation which can give you some quality time with the kids while you teach them how to get things done.
This train set is available at Amazon.com for less than $40.00 with free shipping.
Pros
The set is well sized, fitting well into any space.
Does not require instructions to put together.
This set is sturdy ensuring long-lasting fun.
Cons
Batteries mean extra running costs for the train.
Batteries not included.
Although the packaging may make the train seem small, the train set is large enough to offer hours of fun yet small enough to fit in any play area. The combination of materials used construct this set make it a durable choice for hard-playing kids.
Due to its cheap and affordable price while maintaining a good quality, this product set is considered to be one of the best wood train set in the market. To help you get a clearer view of the product with all its specification and features, we added a short video below.
https://www.youtube.com/watch?v=6eZX-_kI5B0
It has a fairly large and decent size provided that it is very affordable. It is made from hard and durable plastic which will provide great longevity.
In this set of two train pieces, Thomas hauls a very important shipment—a birthday cake! The Thomas and Friends theme song will keep your child entertained and excited during playtime. This set features Thomas, the number one blue engine from Thomas and Friends. The cargo car holds a birthday cake that is lit up as it plays the theme song while Thomas is festively dressed creating a good combination of color and sound.
Thomas and the cargo car connect to other Wood Train Set Railway engines and vehicles with magnet connectors. This set includes two LR44 batteries. The train set gains its inspiration from the Thomas and Friends episode "Happy Birthday Sir."
These train pieces are available at Amazon.com for less than $17.00 with free shipping.
Pros
Battery costs are low as they only power the lights and the music from the cake.
The train is quite sturdy making it hard to damage.
Works great with any Thomas and Friends Wooden Railway set.
Cons
This train is sold on its own, and the track is sold separately. This, however, is no problem as the train is compatible with all the Thomas and Friends railway systems. This can be a good addition to the sets you have already purchased, adding another train to your kids' collection. This is a good buy.
Our next product is beautifully manufactured and crafted train set from Kids Destiny. It is just one among their many creations that comes at an affordable price. The set features 100 pieces of wood made train parts and accessories. This is the best rain set for kids who is just about to begin their first experience about train toys. It saves you the trouble of looking for an individual piece of train parts and tracks as it comes with all the things you need to build a complete train set.
It is complete with coaches, bridge, station, vehicles, trees, road signs and all other accessories that add detail to your tracks and train cars. This accessory also expands your children's imagination, idea and creativity. They could choose between following the original layout or create their own as it comes with lots of track pieces. It is also compatible to go along with major brands of wooden railway toys and tracks.
Pros
It is made from real and durable wood which makes it far more durable compared to plastic train toys.
The set offers bright and vibrant colors to make it more fun and attractive to kids.
The compatibility of the set makes it great for expansion. You can later on add some more parts and tracks easily.
Cons
This wooden train set from Kids Destiny is a little large and it is best to have it on top of a train table which unfortunately, is not included in the set.
The Deluxe Wooden Railway Set is one of the cheapest, complete set you could get. The price being low, you'd get high quality and premium made train cars and tracks that could be in close comparison over larger and more expensive sets.
This amazing train wooden railway set it from Fisher-Price. It features a race-day-relay set that gets children excited as they race through the finish line. This is also a complete train set with tracks and accessories. It is a Thomas the Train set where it includes Thomas and Gina, the lead character and the beloved green train character from the original series of Thomas and Friends. This set is also compatible with leading and major brands of wooden railway toys. The tracks could connect and the train toy cars could easily run through. It can be easily expanded and alter the layout depending on your kid's design preference of an ideal train wooden track.
Pros
The elevation/bridge is high. Not like your usual train set bridges. It adds more fun and excitement to the set.
There are 2 train engine cars included, both of which are Thomas and Friends character train car.
The design features a lowering bridge that allows the train's direction, going both ways.
Cons
It has a large Thomas and Friends train cars but is not motorized or battery operated.
There are no light or sound features which could further heighten your kid's senses.
It is one of the great products you can buy if your kids have yet to experience any train toy action. Here is a short video review of the Race Day Relay Set from Fisher Price:
This is highly recommended for starters and/or beginners as it comes in a complete set. It will reduce your effort in searching for the train cars, tracks and accessories individually as well as save you some time and amount.
Cubbie Lee Toy Company also brings you its very own version of an outstanding wooden train toy set. This set includes a total of 70 pieces of wooden made tracks, figures, cars and buildings. There are also accessories that add details to the set. These are your trees and road signs. The total layout of the set if you assembled all the tracks measures to about 43 inches by 26 inches. It is best for children of ages 2 and higher. The train cars included uses magnetic couplings which make it easier to attach with other toy train cars from other brands as it is the standard coupling used for wooden train toys.
Pros
It is far cheaper compared to other wooden train sets.
It is considered to be one of the best due to the set being complete, making it a ready-to-run train wooden set.
The manufacturer offers 5 years warranty for this set. Giving you the feeling of security.
It is also very strong and durable. The 5-year warranty would tell you that the manufacturer is confident with their product's sturdiness.
Cons
The set is fairly simple. It has no self-sustaining movement from a motorized train engine car or battery powered train car.
It has a great dimension but it does not come with a stand or at least a simple train table.
This is a perfect gift for your kids or young relatives who has the love and passion for train wooden toys. They could start their experience with this set or it could be used as an expansion set to expand their current or existing set, all for a great and affordable price.
Our next wooden train toy set if from KidKraft. It is a small but one of the best wooden train set for a cheap and affordable cost. The set may be small in size or dimension but it does include 75 pieces of amazing train parts and accessories to have a complete, ready-to-run set. It brings back the train setting into nature. This farm set makes a perfect gift for your child's birthday and/or on any child events or occasions.
Pros
Each of the pieces is brightly colored. It also uses assorted colors. This is to keep children entertained and attracted.
The set is slightly small but it does have a long winding wooden train tracks.
There is a mountain tunnel which gives your child more imaginative options.
The set actually includes farm animal figures to simulate a real farm.
Cons
Some of the vehicles included can run through wooden tracks but it does not have any couplings that you can attach to the main 3 train cars.
This is a complete set which is ready-to-play, right out of the box. It does not require too much skill and effort in assembling. This could be easily assemble if a short while and have your kids play with it. Just follow the instruction manual or assembly guide included in the package.
Maxim Enterprise is one of the known manufacturers of wooden toy train set. This set here features 60 pieces of train parts and accessories. It comes with 3 pieces of train cars, a suspension bridge for a good elevation for your track design and wonderful pieces of wooden tracks that form a simple 8 figure layout. The picture above shows you all that you will get. There are accessories that add detail to the set. These are you trees, figures, stations, road sign and tunnels. The set is mostly made from strong and solid wood. The compatibility is great as it uses standard wooden tracks and train couplings, making it possible to connect or attach to other brands of wooden railway toys.
Pros
The set is backed with a lifetime guarantee from Maxim Enterprise. It is very strong and durable that it could last to serve different generations of children.
Even though it only has a simple figure-8 layout, it still has a moderate dimension of 34 inches in length by 29 inches in width.
It is good for younger children with age of at least 3 years.
Cons
The set includes so many choke-hazards that it is not recommended for ages 3 or less.
There are no motorized, light or sound features.
This is a wonderful set at an affordable rate. You can simple snatch a purchase at any time you want. It is best for parents who need to have a practical toy investment for kids. The set is durable and strong where you do not need to replace in just a short time.
The next best wood train set for kids is brought to you by KidKraft. This set comes with a large train table. It is perfect for those who want to have a layout on top of a train table. It has a dimension of about 49 inches in length by 35 inches in width by 16 inches in height. The table is fairly large and has special edges to keep the train parts and accessories contained at the top of the table. It has curved or rounded edges. This is to prevent any injuries from falls or accidents. The set comes with a free, 3 pieces large plastic bins. This saves you the trouble from storing or keeping the pieces neat and organized.
Pros
The table top comes with a built-in playboard. This allows your train set to have more details and will further provide your kids imaginative options.
It is a complete set where it only needs minimal amount of skills and effort in assembling.
This is great for newbies or starters.
The table also works as an activity table if it is not used for your kid's train set.
Cons
It's a little expensive. This is not a good set for someone who is just looking for a budget train set as the price covers the train table.
The set comes with so many small pieces that could be a choke hazard for younger kids.
This set saves you the trouble in looking for an appropriate spot for a train set. It is kind of messy to just have your kids play with small pieces of toys around the living room with no play table, whatsoever. Smaller pieces and accessories tends to get lost easily. This set comes with a train table that contains all the necessary parts and accessories on top.
Lastly, another wonderful and one of the best train sets from KidKraft. This features a bucket top, mountain train set. The name of the set is based on the design of the bucket top. It is a dual purpose piece that serves as an enclosure to the storage box where all the train parts and pieces are stored and is also part of the train track layout. It is actually an innovative design which makes the set more fun. There are a total of 61 pieces included in the set. There are also tracks that form a long-winding layout or design. Other than the train cars, the set also include other forms of vehicles that could run through the tracks, but sadly, could not attach or connect to the 3 main train cars as it doesn't use standard magnet couplings. A great thing about this set is its organization. You can simply gather all the pieces and throw it all in the bucket and use the mountain bucket top to close and you can store it right away. It is quite convenient.
Pros
It is very easy to store. The set is actually portable due to the storage bin being part of the train set layout.
The set is affordable but has good durability, built with great sturdiness and on a moderate size.
The completeness of the set will keep children entertained for a long period of time.
Cons
It comes with no train table, no light, sound and battery operated features.
The mountain top bucket is the only elevation of the track layout. it does not have any suspension bridge or other means of making the track layout more fun.
This set is amazing for kid's who want a unique kind of wood train set. There are only a few set that has a storage unit, being part of the original track layout. Not to mention that the set is very cheap and affordable.
Conclusion
The choice of the best wooden train set easy to determine as the Melissa & Doug Deluxe Wooden Railway Set easily carries the crown with its quality construction and its various configurations that help make playtime interesting.
The WolVol Big Train Tracks Set comes in as a close second as the best train wooden set in terms of performance but beats the Melissa and Doug Deluxe Wooden Railway set when it comes to price.
Bought together with a track Thomas the Train Wooden Railway Happy Birthday will easily be the best wooden train set. Since you have to buy tracks separately, it loses out to its competitors. The train can be added to an already existing set to keep playtime interesting.