Lionel train sets are some of the oldest, most impressive, and most valuable train sets on the market. They have a rich history and have only increased in value over time. Many people struggle to understand how, and why, these sets have such a high value.
This short article will explain everything you need to know about a 1955 Lionel Train Set Value.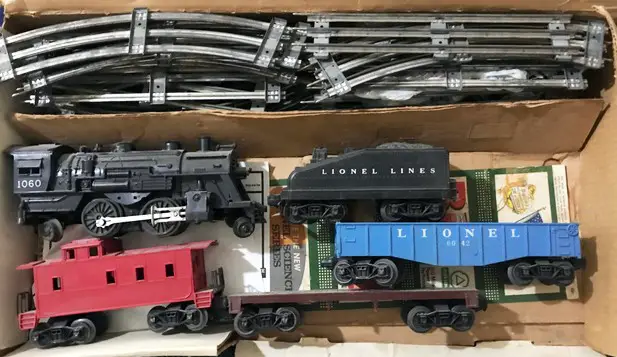 Who are Lionel trains?
Lionel trains started producing model trains, model train accessories, and everything else that you might need for a complete model train set in the early 1900s. A train enthusiast by the name of Joshua Lionel Cowen founded the company in his home town of New York City and launched his first electric model train in 1901. The company has been producing exceptional model trains ever since. Over time, some of the sets produced in limited capacity gained renown, popularity, and skyrocketed in value. This has led to Lionel trains becoming one of the most sought after brands of model trains out there.
If you want to read more about Lionel trains, this article contains some great information about their history.
How valuable are they?
1955 Lionel trains are some of the most popular, and most valuable. There are essentially two eras when it comes to collectible Lionel trains; Post World War 2 and pre-World War 2. The value of post-war Lionel trains, which the 1955 models are, can vary drastically. For example, a very rare Black Lionel 2360 Vagell GG1, if in mint condition can sell for as much as $15,000 US. Or as little as $10. It all depends on the condition the item is kept in. Smaller pieces such as track, scenery, or signals can sell for as much as $250 US.
Why can some model train sets be so expensive?
Model train sets, like any collectible or antique, can have very complex price structures. So much of the price is determined by what the community as a whole deems the item to be worth. All of the 1955 sets are no longer being produced, many have been lost or damaged, and those that remain are spread throughout the world; making them hard to come by. This has lead to the only way of purchasing one being either through a collector or an auction. Auctions are largely responsible for the huge prices.
During an auction, collectors will bid against each other to purchase the item. The reason the prices for these 1955 Lionel train sets are so very high is that there are so few available. Wealthy collectors will purchase trains in good condition for a hefty sum, as they are determined to be one of the only people to own one. It is all supply and demand, there are far more people who want these train sets than train sets available to purchase.
If you are curious about how the auction process works, you can read more about it here.
Conclusion:
Hopefully, this article has given you an insight into how much 1955 Lionel train sets cost and why. Not all items from this era are worth a small fortune, but many are. If you own one and are curious about how much they are worth, you should get them appraised by a professional. You may have been sitting on a fortune and didn't even realize!
For further research in Lionel train prices, see our main source here.