The best thing you can do once you've started collecting model trains would be building a model layout. For one, it can be for different sizes or scales, for another one, it can be for different types of model trains.
However, there are others who would want to have a model train layout for specific model train brands such as Lionel Train Layouts. This means that you'd build a model layout using different train models, parts, tracks and detailing made by Lionel.
This type of layout would be amazing. Not only that you'd create wonderful scenery for your model trains, but it would also be easier for you to connect and assemble different parts and accessories as it came from one supplier or one brand.
It may be a little expensive thou. Planning to build a layout all made from branded model train products would cost you way more than looking for alternative parts to use. However, model trains made by known brands such as Lionel are flexible enough to be compatible with other brands as long as it's on the same scale.
The problem would be is the reach of your imagination. So if you'd been trying to look for a model you can use as a reference to help you with your creative skills when it comes to building model layouts, below are some breathtaking model layout you can derive your work to.
12 Model Train Layouts Below ⇓
1. Big Al's Layout Tour – 2016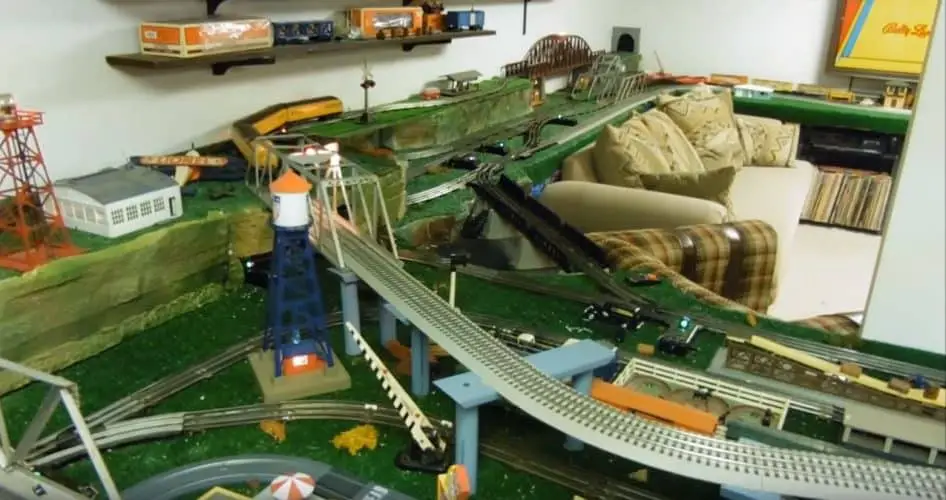 Image Src: Allan Reizman – Youtube Channel
This layout was built a few years ago, January 2016, by Allan Reizman. It has 6 trains running the entire layout. It takes up a lot of space but the view is totally worth it.
It includes several bridges, tunnels, and interchangeable tracks to avoid collisions.
The entire layout or canvas is detailed from trees, rocks, mountains, buildings, cars, and other decorations.
Below is a short video of Big Al's Layout Tour:
2. Lionel Train Layout – Built for Delivery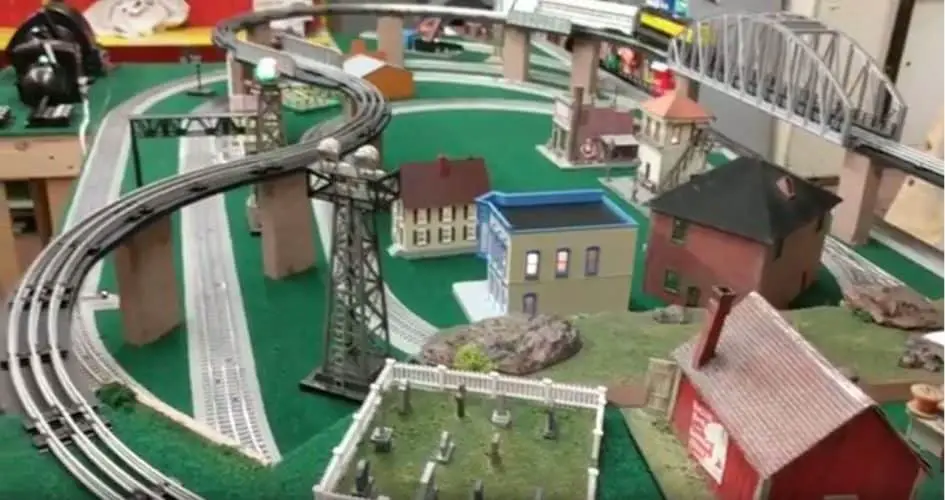 Image Src: Hobby Masters – Youtube Channel
This custom train layout build is a Lionel O-scale layout which includes many high-end accessories such as remotes and clickers.
Some features include a loading and unloading car, a detailed homeless people figures, a playground, lighted houses, a tower, tunnels, and bridges.
Most parts and accessories used are from Lionel, but of course, when it comes to other details and figures, whichever works for you would be okay.
It's fairly simple and easy to build but requires some time and patience.
The outcome is highly satisfying and would be great for both adults and children. It can also be used as a custom décor for holiday themes as Christmas.
Below is a short video description of the Lionel Train Layout – Built for Delivery:
3. Postwar Lionel Train Layout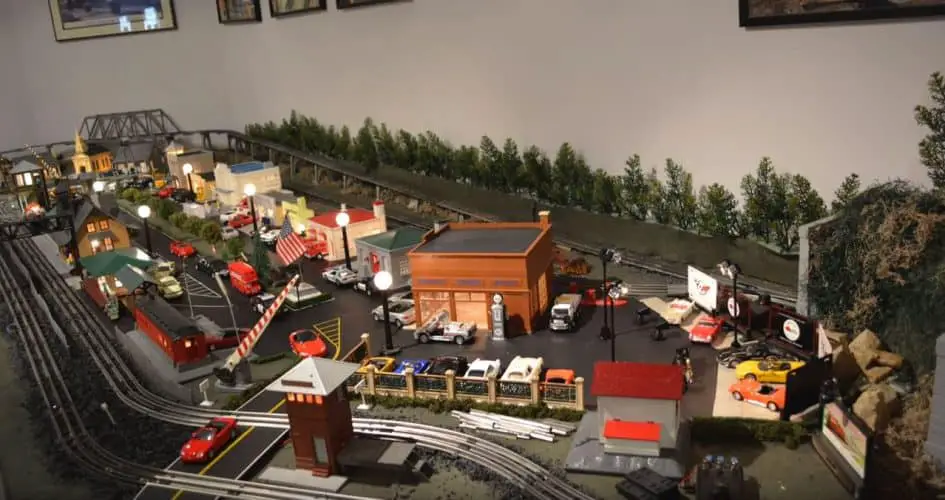 Image Src: Train Wizard Productions
This is a classic, after the war, train layout theme or concept. The thought is that trains are relative to the growth of the industry during and after the second world war.
It is a layout that requires a lot of space. So It could really fill up the entire living room if you plan on mimicking this idea.
The layout is highly detailed, filled with so many figures, houses, trees, train cars and more.
Even though it uses simple track loops, this train layout features a lot of tunnels which your train can pass through. There are also many bridges and crossways.
It is also complete with Lionel DC controllers, lightings and sounds.
Check this short video below for the brief discussion of Postwar Lionel Layout:
4. My Lionel Trains Layout – 2017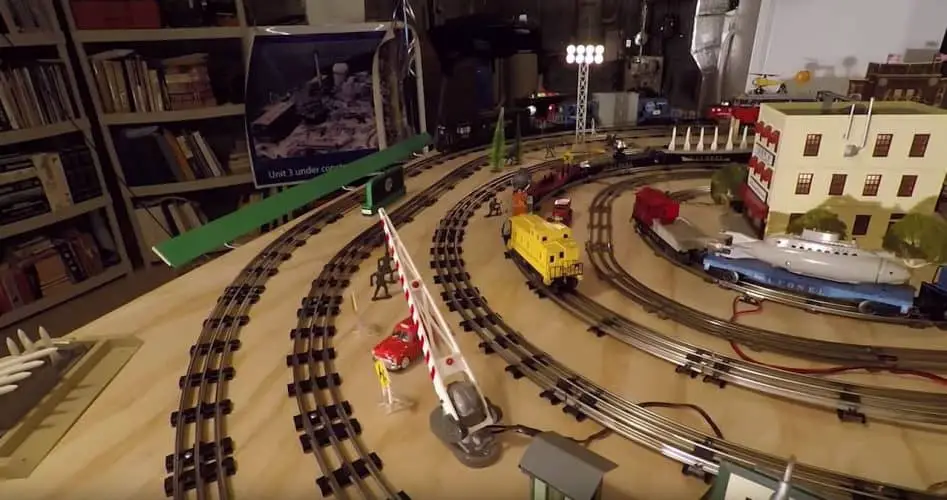 Image Src: Brian Vangor
asdsad
For a quick view, here's a short video:
5. Curto family – Lionel Train Layout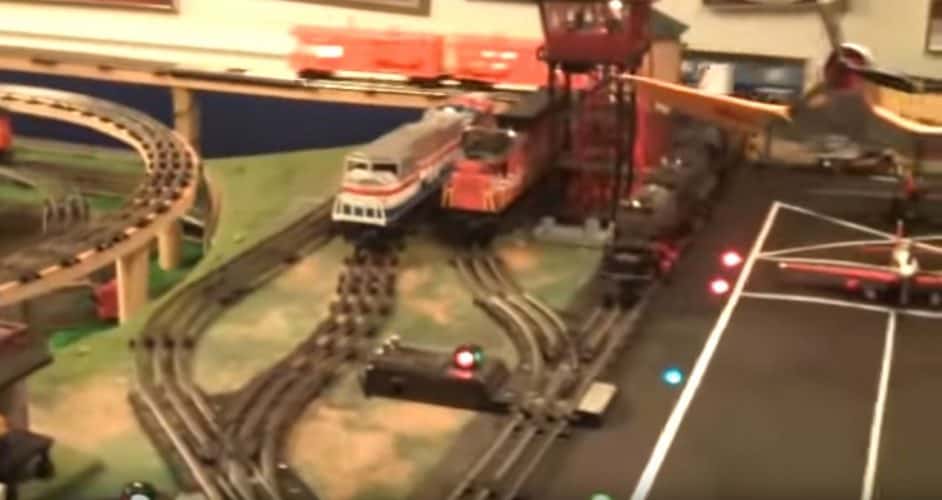 Image Src: Bob Curto
This is a family favorite, Lionel inspired, train layout from Curto Family. It was personally made by Bob Curto for the benefit of amusement for him and his family.
It's a great build for those who want to create something that a family can enjoy.
The scenery is amazing and the trackwork is outstanding. It will, however, require you some patience and effort to build this Lionel train layout.
It features multiple model trains running on different looped tracks simultaneously.
Check his amazing work on this short video below:
6. Private Model Railroad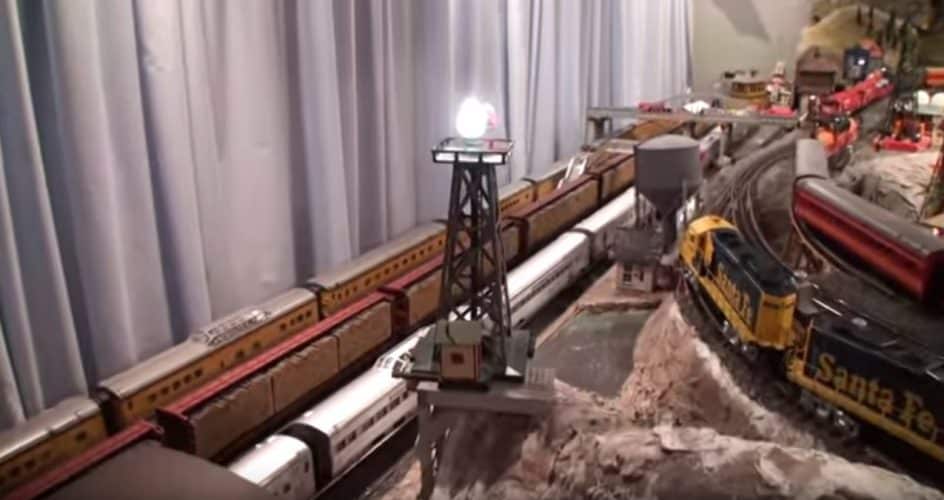 Image Src: Lou Costabile
This is a private model railroad layout made for personally by Lou Costabile.
It is a very huge layout that features a rocky and snowy mountainous tracks which are very detailed and realistic.
This model layout is more for those enthusiasts rather than those who just want to have a model layout at home.
It consumes a lot of space but is highly satisfying once it's all set and done.
The layout features multiple Lionel Model Trains such as Santa Fe Train. It's built using O-scale standards.
Watch the short video below for full details:
7. 5'x9′ Lionel Train Layout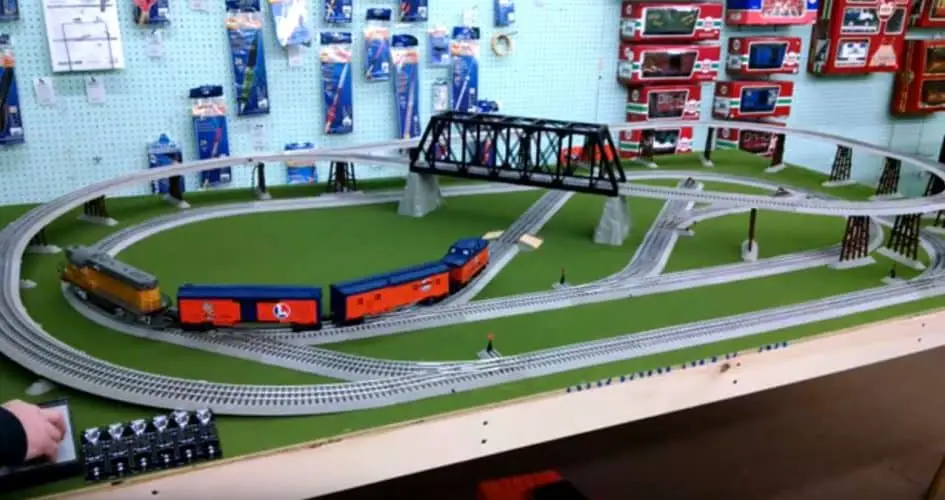 Image Src: Hobby Masters
This again was made by Hobby Masters. It is a simple yet elegant, 5 x 9 feet oval track layout with basic loops and features a single bridge at the middle.
It is a great layout at home. The design is fairly basic and simple. It doesn't consume a lot of space and can easily fit through a rectangular, long table.
This would be amazing for people who want to have train entertainment at home to enjoy along with the kids if they happen to have one.
The parts used are mostly available from Lionel. Ranging from tracks, controllers, train cars and more.
This requires no heavy detailing as it really doesn't have a lot when it comes to view and scenery but still fun and satisfying.
Check the video below for more details:
8. O Gauge Lionel & MTH Train Layout Operations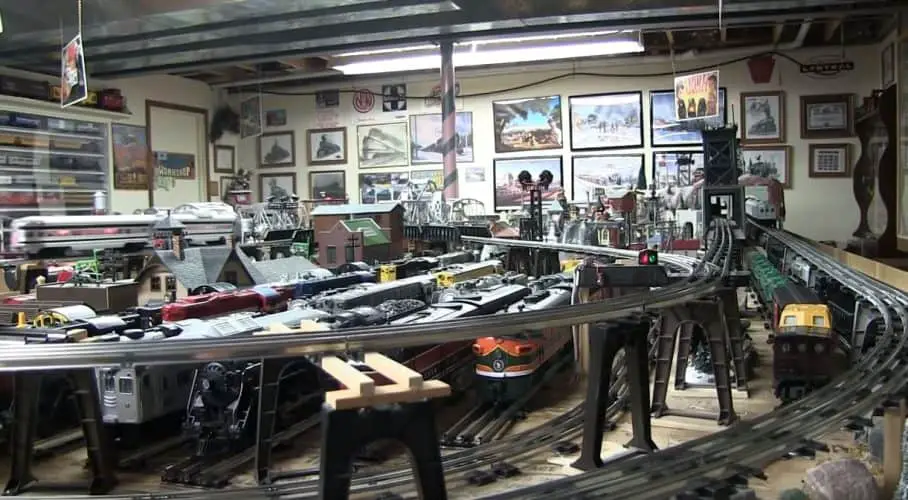 Image Src: The Steam Channel
Next is a huge O-gauge Lionel Train model layout from The Steam Channel. It features several train sets moving simultaneously. This, however, is combined with the MTH trains of the same size or scale.
The great thing about Lionel is the compatibility with other brands. As long as it is on the same scale or size, it will work perfectly with other model train brands.
This would be a little hard to build at home but if space is not of any issue, then there's nothing to worry about.
The overall size alone would consume an entire living room.
It features so many bridges along with a downtown setting which makes it a classic scenery to be mesmerized with.
Find out more about the O-gauge Lionel Train Layout below:
9. Lionel Trains Halloween 5 Track Layout 2012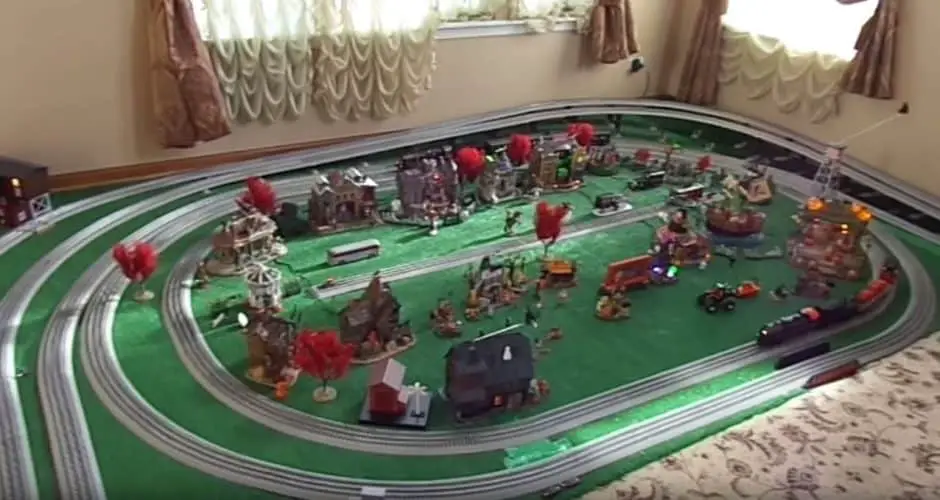 Image Src: alstrains60560
The great thing about model trains is that there are so many designs or themes you can follow. The popular choices would be a Christmas themed layout or a Halloween themed layout.
This right here is perfect for those who want a simple, non-space consuming and very fun layout to have during the Halloween.
It features an oval track looped several times with all the creepy houses and figures in the middle to match the theme.
The layout uses Lionel train models and tracks as well as Lionel the RC or remote control system.
Find out more about this Halloween themed train model layout below:
10. Joe's South Jersey – Lionel Rail Transport Model Train Layout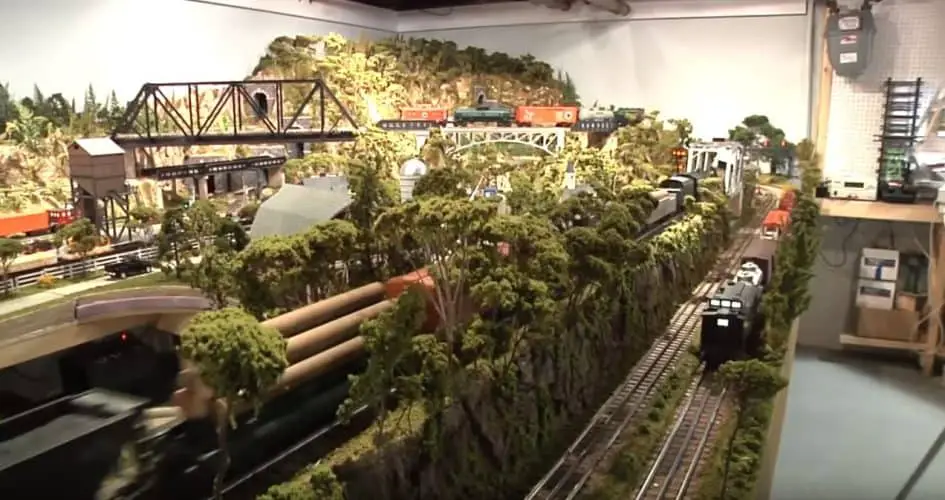 Image Src: abkvideo
The Joe's South Jersey Layout features a detailed scenery of trees and shrubs on a mountainous setting.
You'd see tall bridges and multiple loops all across the entire board or layout.
They have spent an enormous amount of time trying to make all the tree and shrub details look realistic.
The rocky mountain tunnel is also covered with green trees and shrubs.
This train layout features different O-gauge Lionel train model and different Lionel train cars that run simultaneously.
It also uses compatible O-gauge tracks and a Lionel RC.
This is a fun and entertaining layout but would require a lot of patience and time.
For in-depth details, check the short video below:
11. PAL Model Railroad Heaven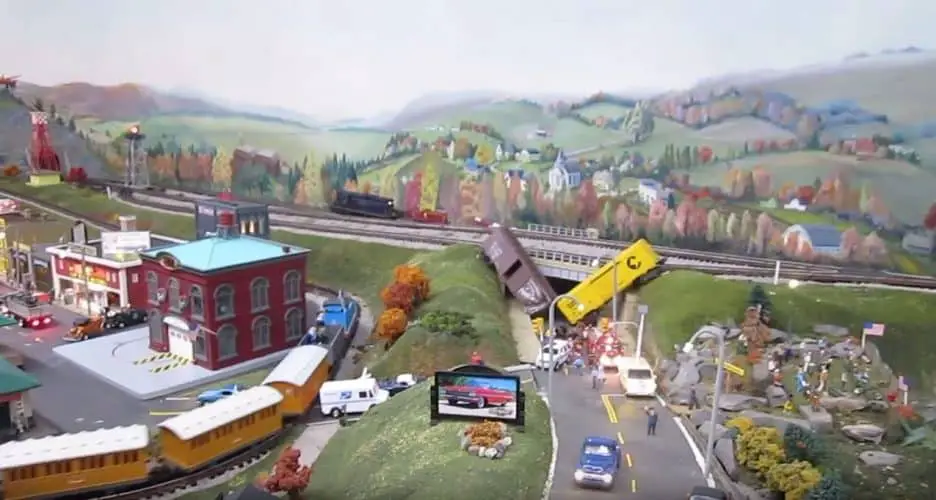 Image Src: KBL1886Turtle
The PAL Model Railroad Heaven is a classic, retro-themed train model layout that uses different Lionel train models and cars.
It features a collapsed bridge and a train accident area swarmed by medical and police mini figures.
The layout also features a lighted tower, buildings, ambulance cars, fire-truck and many more.
It has multiple loops of tracks and different train models simultaneously running on tracks.
To watch the whole magnificent train layout scenery, check the short video below:
12. LIONEL TRAINS CHRISTMAS 2013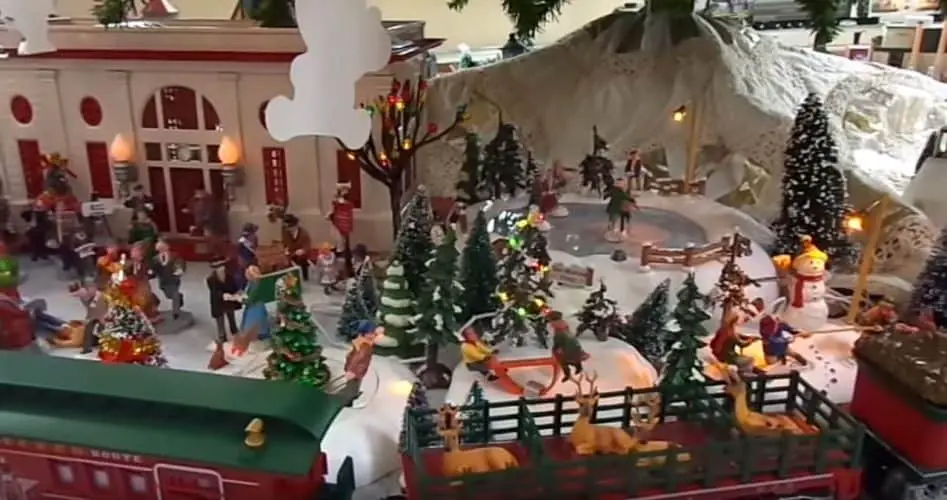 Image Src: alstrains60560
One of the best things you can do with a Lionel Train Layout is to create a magnificent Christmas themed set.
Lionel usually has a model train you can use for different holidays such as Halloween or Christmas.
This Lionel train layout will provide long hours of fun for you and your family on the holiday of giving. It would also be a wonderful view for visiting relatives and/or neighbors.
The layout is large but just about the right size to fit in your living room.
It's also great for other occasions such as birthday's or kid's party.
Here's an amazing full view of this Christmas themed Lionel Train Layout:
For other more kinds of layout, check out some amazing model train layouts here.