There may be a lot of model train scales and gauges but one of the most popular of them all would be the HO scale. Furthermore, there are lots of HO Train Layouts you can refer to in building a wonderful and mesmerizing model train scenery or layout.
Beginner model train enthusiast doesn't really understand about scaling and sizes. Fortunately, choosing an HO scale would make it easier for them to collect and build due to the popularity of the scale. Most model train brands and manufacturers have abundant stocks or supplies for this scale.
An HO scale train is about 1:87 scale. That's ranging about 3.5mm to 1 foot in size. It has a railing space or size about 16.5mm apart. This is a great model train choice for all skill levels, from beginners to professionals.
There are countless layout possibilities you can build upon if you choose an HO scale model trains. Compared to lower scale model trains, you'd be able to assemble things easily. You'd worry less about intricate parts and accessories due to sizing issues.
The first thing that you would want to do is to decide what scale you're going to use for your layout. Either way, some layout can be used on different scales as long as you can measure the difference proportionally.
Deciding which scale to use is easy. However, you need to consider the availability of the parts, pieces, and accessories you need to use to avoid any mishaps such as delays and incompatibility with the overall layout.
The scenery comes after, which would be a bit harder since you'd either want to go big for your first layout (for beginners) or you would want to go less or simple.
To help you out with the conundrum, below are some of the best and amazing HO train layouts you can use:
11 HO Train Layouts Below ⇓
1. Theresa's HO Model Train Layout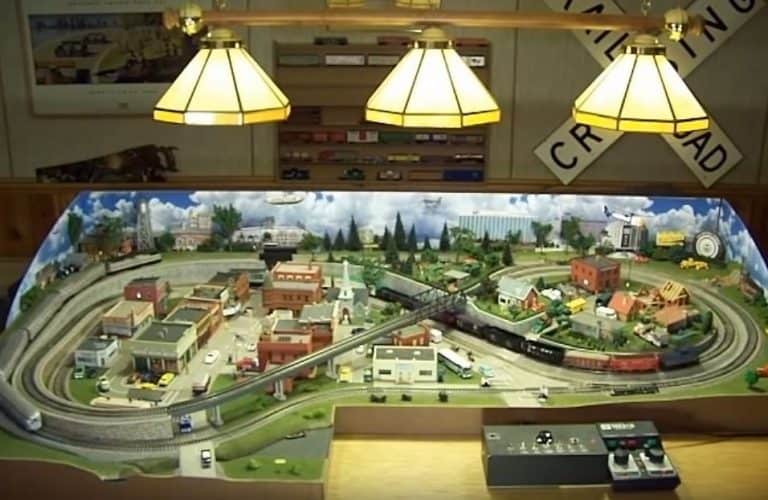 Image Src: Musicalcraft
HO trains are much larger compared to N-scales and other smaller scales. However, it doesn't mean that you need to build a large train layout for it to be reasonable.
A simple 8-figure layout could work well with an HO scale model train. You just have to be creative with your work.
This features a simple layout but built with detailed scenery that includes buildings, model cars, bridge, trees and an image background of a small city.
It also features an RC and speed controller to make the model train manageable for the user.
This is great for home display for you and your kids or relatives during the holidays.
For the full view of this HO scale layout, check the short video below:
2. HO Scale BN Model Train Layout
Image Src: craigm111
The BN Model Train Layout is a large scale model scenery built for HO scale trains.
In fact, there are several model trains running simultaneously on different tracks that are placed across the entire layout board.
It's just not small-length train models but a very long one. Each running train model set comes with so many train cars that it's just like watching a winding snake moving on tracks.
This is not really an ideal model layout at home but you can at least get some idea out of this model scenery.
There are many people involved in creating such awesome and amazing scenery. Each person assigned with a task has dedicated their time and passion towards creating a realistic and detailed model railroad scenery.
For the full view of this HO model train layout, check the short video below:
3. US Model Railroad Layout
Image Src: PILENTUM
The great thing about model trains is that you can either make it long or just settle with a short train model length to use.
There are different train model used to create this layout, all of which makes it fun and awesome to look at.
This HO train layout features three different and exciting landscapes that cover the entire layout board.
The details of each part used and combined to create a magnificent scenery is lifelike and realistic. It is a great model layout that showcases a 90's city train life and adventure.
It is a medium-size layout that can be created as something you would want to have in your home during gatherings, events or holidays as well as something you can use for an exhibit or to showcase some creativity, talent or passion with model trains.
Below is a short video of the entire layout:
4. M DO – HO Model Train Layout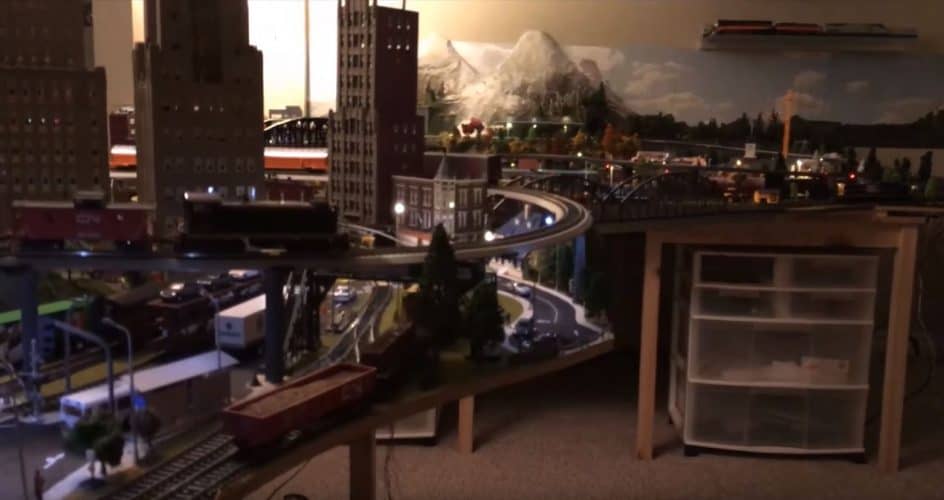 Image Src: M DO
This layout overview features two electronic HO scale train models running on different tracks, all at the same time.
The layout or scenery includes mountainous tracks, bridges, buildings and city nightlights.
For two simultaneously moving electric trains, this layout is fairly large. You can actually add a few more train models if you'd prefer.
This is a large train model layout that could be done at home. With the right amount of passion for the craft, this would look great in your living room.
Check the short video below for the full details of this mountainous, large HO scale train layout:
5. York Railway Modellers – HO Scale Layout
Image Src: Need4Life
This very large layout didn't come to life if it weren't for a group of people working together at York Railway Modellers Club.
This was built with the combined Mainline and Wayfreight layout.
This is actually a representation of the operation and practices of both the Canadian Pacific Railway and the Canadian National Railways in Ontario, Canada.
It was set to look most likely the same back during the Golden Age of Steam when trains were really one of the best means of transportation and trade.
Take a quick look of the whole layout in this short video below:
6. The Ultimate HO Train Layout
Image Src: Rex Smith
Seeing how clear the image, you'd think that it's just because it's a closeup look. However, even if you'd view it afar, the details are highly realistic.
From the model houses, cars, trucks, human figures and other things that make up a wonderful train layout scenery, the details are phenomenal.
It just simply shows that the train layout was built with great passion and dedication.
It took a lot of hours and patience to build this train layout, and each part was not made cheaply. It is a personal layout made for the sole purpose of providing a wonderful, fun and exciting train model layout you can use for your HO train scales.
It might not fit your living room but at least you can have an idea how it would a model train layout would look like if you'd just put some time and passion into the craft.
Watch this amazing and highly detailed HO train layout below:
7. Rich Melconian's HO Scale Union Pacific / Santa Fe Tehachapi Model Train Layout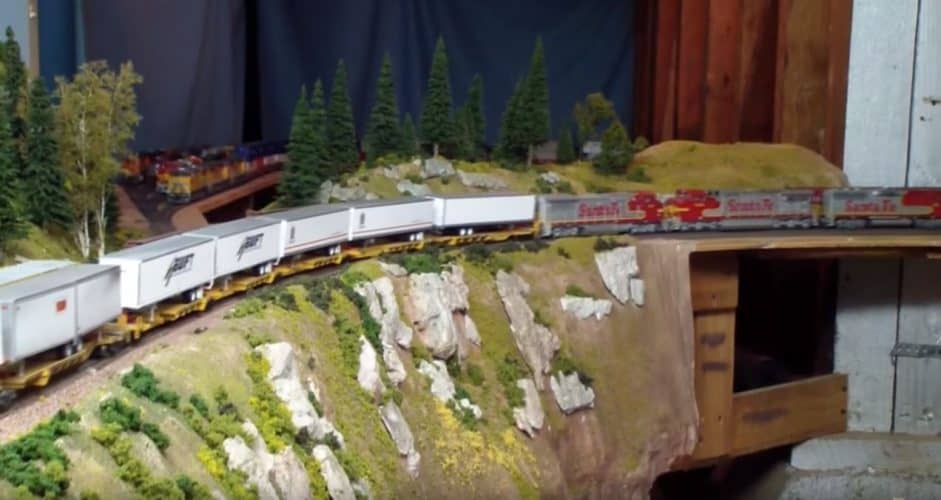 Image Src: Railway World
This HO model railroad layout features 2 of the famous HO trains, the Santa Fe Tehachapi and the Union Pacific
These two model trains have been a popular choice and one of the most collected HO model trains in the industry.
The layout was built way back in the early months of the year 2014.
It's a rocky, mountainous layout with amazing details with the landscapes, trees, and shrubberies.
It features long winding tracks for both trains which means that they run simultaneously across the entire layout board.
For more details about this wonderful HO train layout, check the short video below:
8. Tom Holley's Huge HO Train Layout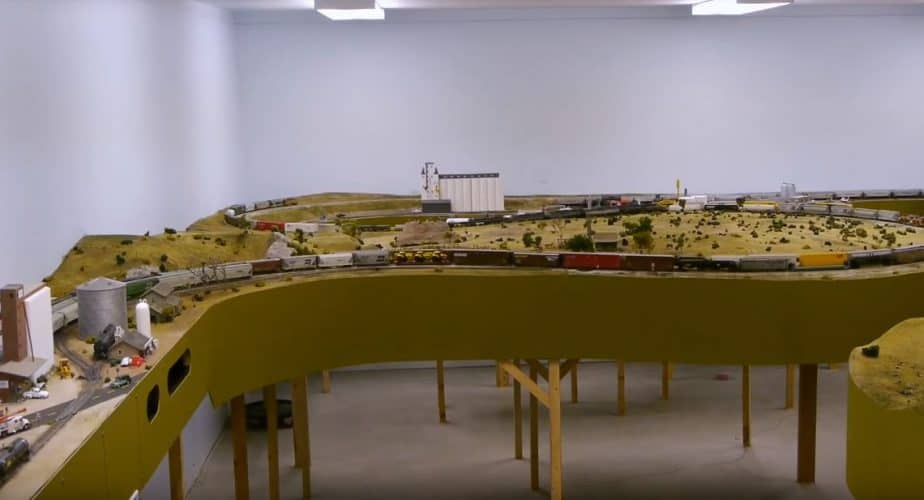 Image Src: Toy Man Television
This is no ordinary HO scale train layout. There may be some large-sized layout but this one is just huge!
This would just be a great reference for those who want to have an amazing layout at home or wanting to do something closely the same.
It wouldn't just fit any normal living room in your house as it takes up a lot of space.
It uses a very long set of train cars and model trains which makes it fun to look at as it zig's and zag's around the tracks.
Watch the full details of this huge layout below:
9. Coos County Model Train Layout
Image Src: Aldrick GMC
This model train layout was built for the train model show in Pony Village Mall in North Bend, Oregon a few years back in 2016.
The great thing about this layout is the creativity and imagination when building the scenery.
It includes not just your normal mountains and bridges but it also has a docking area for boats and a seaside town.
It brings back memories in the early '90s where the town's greatest means of transportation and trade are trains and boats.
You can actually see right away that the scenery settings are from the classic years because of the model cars, model boats, and model houses that have been used.
Check the video below to see the whole view of this layout:
10. HO Scale Mountain Layout
Image Src: 1100jts
This rocky mountain HO train layout is something that really attracts the classic feeling of the old train life way back in the early years.
The layout is not just set as a rocky, desert, mountain to save materials and some money with the details because the details are highly and very realistic.
You'd see grass and shrubs growing around the rocks and sands. It also features a river with a figure fishing on it.
There are old houses, train cars and houses all over the entire board.
People usually think of rocky, mountainous or deserted scenery is something far easier and cheaper to build compared to other types of scenery but it's not really the case as making it realistic requires not just budget but also great passion and patience.
Watch the full rocky and mountainous train model layout below:
11. Layout with HO Model Trains and Slot Cars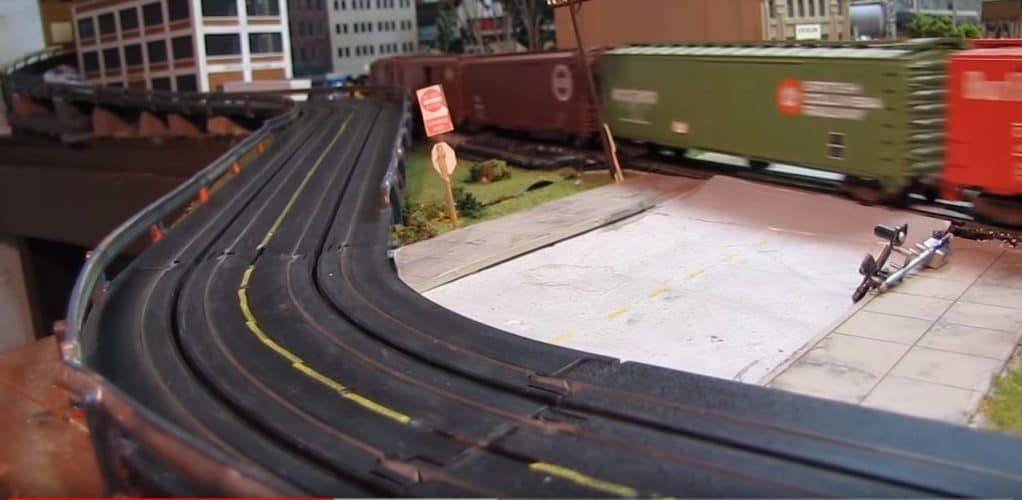 Image Src: lakesuperiorvideos
Lastly, this is a unique HO train layout. Not only that it includes model trains and tracks, but it also has slot cars and tracks.
You can actually have this one at home for you and the kids to enjoy. You'd see model trains pass through as your kids play around with slot cars and race each other out.
The layout required creativity and imagination, combining two tracks of slot cars and model trains into one.
This is something you'd really enjoy having built at home.
Watch the full HO Train Layout below:
Related Article: