Different model trains come in different scales. The N-scale train model is just one of the popular choices when it comes to model trains.
The scale or ratio of the train, depending on what country it was manufactured, ranges from 1:148 up to 1:160. Most people don't understand the difference between scale and gauge.
Gauge is the distance of the rails wherein N-gauge, would mean about 9mm. Scale, on the other hand, is the ratio of the model train from the original prototype.
There are so many model train collectors all around the world and once you've had enough model trains in your threshold, you'd start to think about building a model train layout.
In this case, it is highly advantageous for some to start building an N scale layout because it is easier to handle and more convenient when it comes to space. N scale model trains belong to the smaller models which means you could easily build layouts and allow them to fit in most areas of your work or leisure space.
The hard part would be testing out your imagination and creativity in building a layout. Some would start fair and simple. Some would go big on the first try.
It's certain and sure that whatever the result, it would be satisfying to have accomplished a train scenery starting from scratch.
To help you out, below are some of the top N scale layout you can try or refer to:
10 N Scale Layout Below ⇓
1. Rasch N scale Model Train Layout

Image Src: Rasch Model Train Layouts
This is a custom build N scale layout that features a peaceful town with multiple running trains operating simultaneously. It is small but very neat, discreet and so clean to look at.
There are multiple loops and 3 to 4 bridges placed on water. It realizes an actual train running on river or lake bridges.
It also has realistic figures and landmarks made such as the statue of liberty, model houses, trees, grasses, and mountains.
It's not really for beginners but anyone can work their way to building such an amazing layout as this.
Check out the full model layout in the short video below:
2. Midwest N Pioneer Model Railroad RR Club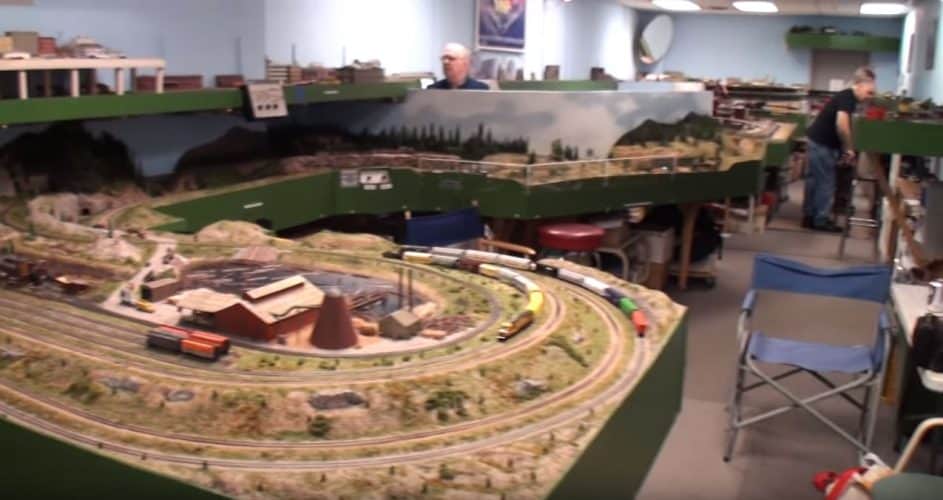 Image Src: Lou Costabile
N scale model trains may be small and are great for saving space but it doesn't mean you can't build a very large one if you want.
This n scale layout is one of the largest ever built. The layout uses over 7000 model train cars. Imagine how many collections you'd actually use.
The largeness of the layout doesn't affect any quality of the scenery. Each of the figures, trees, rocks, stones, mountains, grass, have been built with realistic details and qualities.
It features several tracks mainlines and a few loops to make some twist and turns.
Below is the full video detail of this amazing n scale layout:
3. Rasch Model Train Layouts – N scale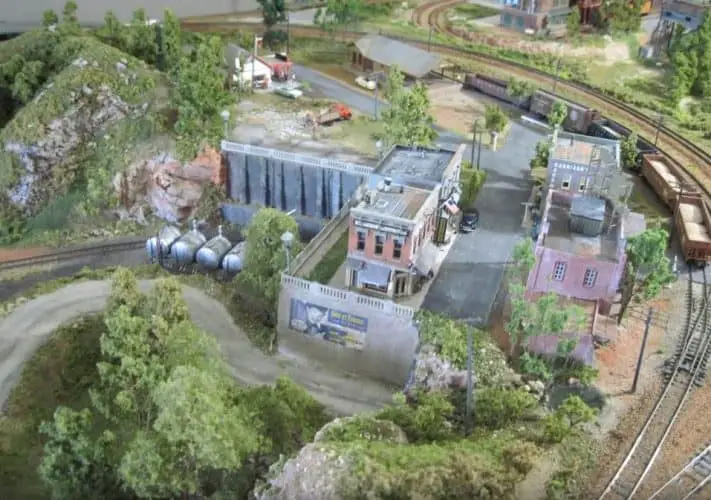 Image Src: Rasch Model Trains
The amazing thing about this layout is the details of the scenery itself. All things combined create a magnificent view that just brings out a satisfying feeling just by looking at it.
Each piece of trees, shrubs, rocks, mountain, river, and houses you'd see very realistic. The sand alone can be seen all over the tracks as if it got blown away by a passing train.
This is one of the N scale layouts you'd want to build for yourself at home.
Check the short video below for more details about this layout:
4. Micro Trainsportation – 4'x8′ n scale layout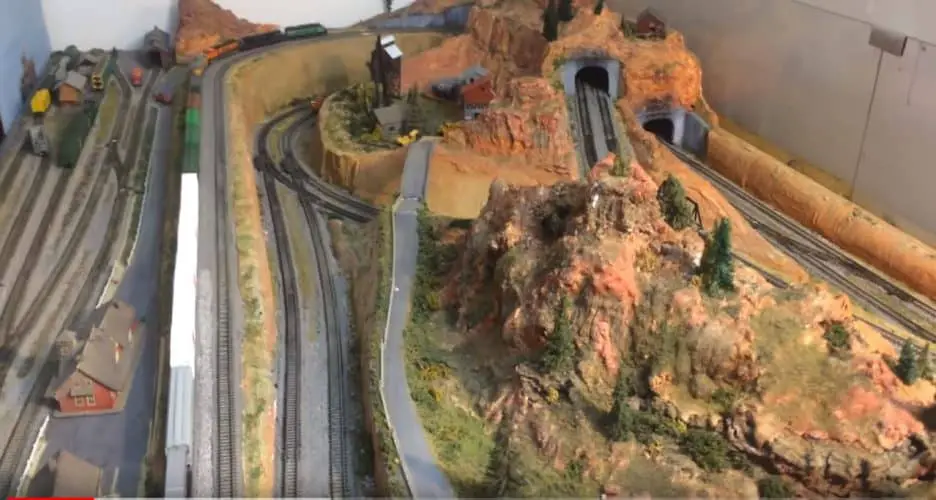 Image Src: Micro Trainsportation
The 4'x8′ N scale layout is a medium size layout that could possibly fit in your living room if you want a layout of this magnitude.
Thinking about its size, this would be best as layout for different holidays and or occasions with family, kids or relatives.
It features minimal houses, trees, and figures due to the mountainous scenery the layout has.
Train models and cars pass through different tunnels and simultaneously runs on different tracks.
See the video below for the actual size of the 4'x8′ N Scale layout:
5. Kato Atlas – Bobs Toys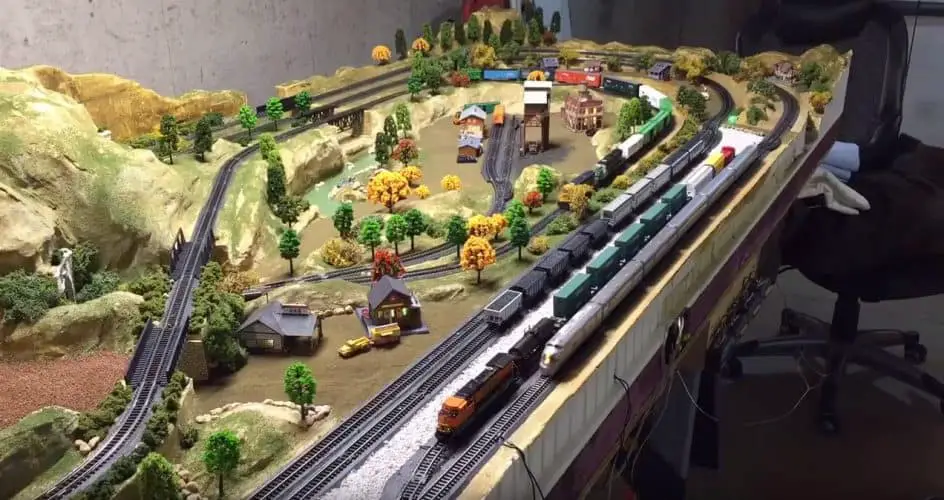 Image Src: Bobs Toys
This layout is actually fairly easy to build when we're talking about the tracks. It features a few 8 loops, allowing 3 to 4 model trains to run at the same time but on different tracks.
The hard part would be building the scenery itself. It has a lot of trees of different colors from green, brown, and yellow. It also has a small lake at the center of the layout.
There are several detailed and realistic houses as well as a large mountain that showcases a tunnel for the train models to pass through.
Find out more about the Kato Atlas N Scale Layout in the short video below:
6. WESTERN PACIFIC/RIO GRANDE
Image Src: Rasch Model Train Layouts
This wonderful model train layout features 2 famous model trains, the Western Pacific and Rio Grande Model trains.
The layout was built for different N scale model trains. You can use other model trains from different brands or manufacturers as long as it is on the same scale.
It features several train track loops across the entire board that makes it fun and exciting for people of all ages.
The layout also has multiple areas in the center part of the board covered with water and bridges.
The details are realistic but it focuses more on the rocky mountain setting. The details of the houses, electric post and other more are just fine or fair.
It is a great layout for those who want to go big with their first model scenery.
Watch the short video for a detailed view of this N scale layout:
7. N Scale CP Canadian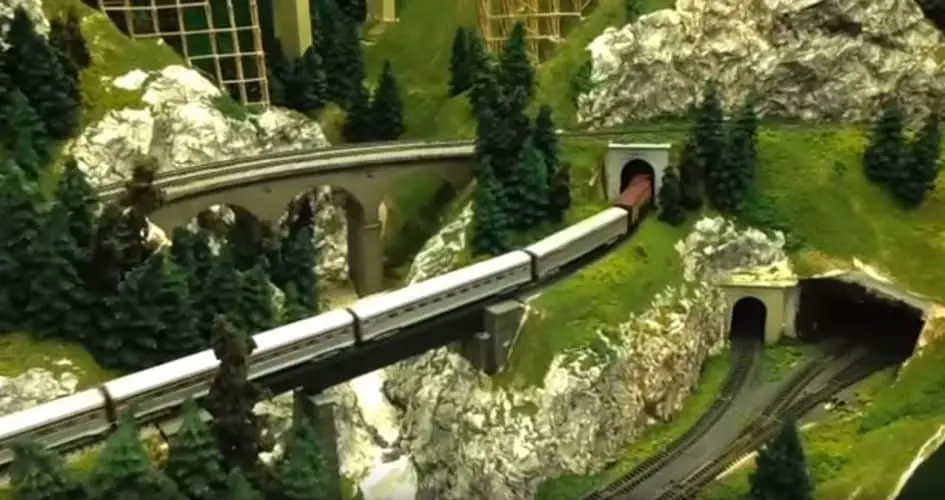 Image Src: CPWindsorsub
This huge n scale layout is actually just a home layout of one of the members of WMRC.
Seeing how large it is, it could barely fit itself in one room but regardless, he managed to make space work and pulled off a large, and long n scale layout for him and his family to enjoy.
This literally shows how CP runs on tracks back in the days using an n scale model.
However, he only used basic loops but that is to make it more realistic. In mimicry, trains don't usually go through tracks with unreasonable loops. That's just for fun and display.
Track loopings on this layout are based on an actual train running on tracks.
It also features several trains and a small town which the train passes through. It has tons of green trees, fields, and mountains.
Watch the full details of this ridiculously large n scale layout:
8. LIFE ON THE SV&GS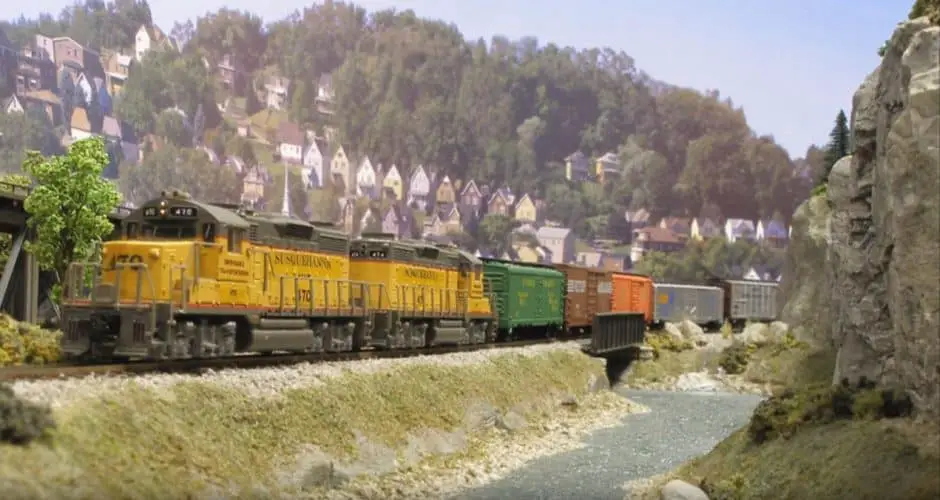 Image Src: privprac48
Seeing the image, you'd actually think that it is a real model of a train passing through. However, it is just a closer view or a closer shot of the N scale model.
The details from trees to grass to rocks, rivers, and bridges are all so realistic.
This layout has been made with lots of love and passion for the craft. It's not that easy to make but highly rewarding once you get to finish it.
The scenery and the models involved, bridges, houses, tunnels, are placed and made neatly. There's no overlapping colors or details that shadows the other.
This is one of the best n scale layouts you can build if you have the passion for it.
Find out more about the Life on the SV&GS layout below:
9. Blue Ridge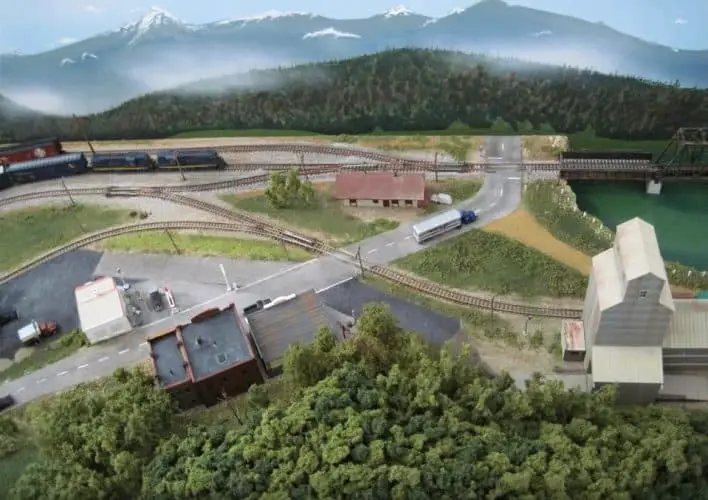 Image Src: Rasch Model Train Layouts
The great thing about Rasch Model Train Layouts is the cleanliness and the neatness of the scenery's details.
The layout features a classic and old railroad scenery. It has been made by a few enthusiasts of Rasch Model Trains.
It is a fun and cool layout build where it showcases realistic details of model trees, houses, and model cars.
There are several loops, tunnels, and bridges on this layout but in general, it's a simple layout built with passion.
It is great for beginners or moderately skilled model train layout builders. This could really provide you with some fun and happiness at home.
See more about the layout on the short video below:
10. Cascades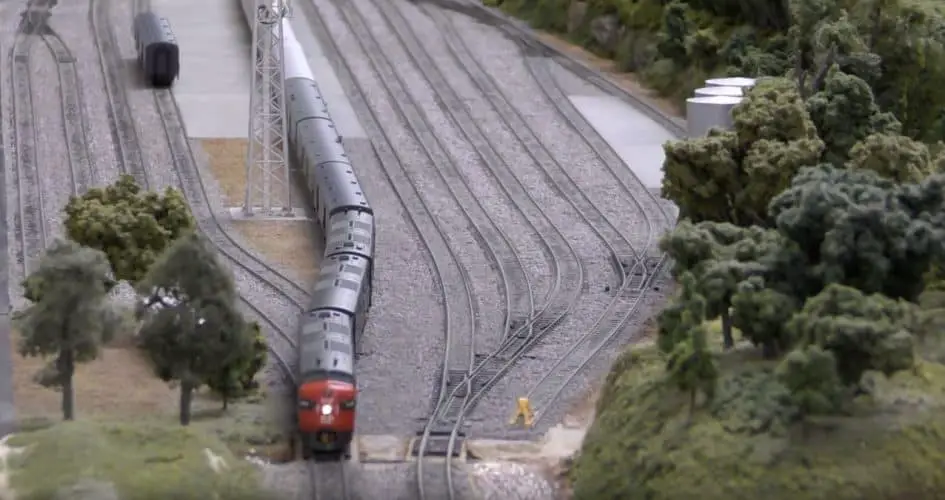 Image Src: Southern Pacific Lines – N Scale
This N scale layout from Southern Pacific Lines is somewhat large for newbies or beginners.
Although the layout is fairly simple along with the model houses and other details, the scale would fill up the entire space of a room.
Considering that there's no issue with space in your home or workspace, this would be a great layout to build for starters.
There are several loops that make it fun and exciting for the model train's movement.
It only has a single model train running, unlike with those other layouts with multiple model trains that run simultaneously across different tracks and loops.
With passion and dedication, this layout would provide great joy and satisfaction after building.
Watch the video below for the full view of this N Scale Layout:
Related Article: Lionel Train Layouts
Related Article: Model Train Layouts