Christmas Holiday is just right around the corner and buying gifts or purchasing Christmas home decors can be quite a task or endeavor. Instead of trying to dive into an endless choice of possible things your family would love, why not save a great deal of time and effort and look into the wonders of trains? The question you would possible raise is what kind, type or brand of trains as there are still so many to choose from. Fortunately for you, this is a comprehensive guide and a gallery of the best Lionel Christmas Train Sets available in the market. This will greatly narrow down the scale of your search and use your valuable time, looking only for the top quality and best train products most people likely choose during Christmas.
Train toys or sets are a fun thing to explore. It is considered to be an entertaining and educational toy. It allows them to create a wonderful and joyful memory. Those memories can be their stepping stone or building to project a better future, focus on what they love in life, pursue their dreams and more. Most of the times, trains discreetly tries to educate your kids and influences them to build a better career. That is why most parents buy them these kind of toys rather than giving them a toy gun as it can promote or trigger violence if not looked out carefully. 
25 Best Lionel Christmas Train Sets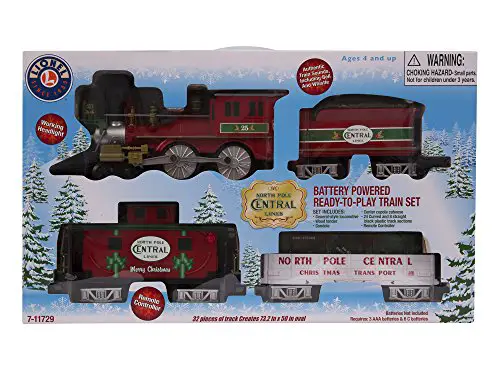 Lionel North Pole Central train set is a ready to play, right out of the box Train Set is 22.9 inches in diameter and has a highly detailed remote control. The battery requires triple A for controller and also six C cell batteries for the train. This set is ready to play that highly suitable for kids and adults who love are train. The remote has an easy to use button where you can control the train and sound the whistle, and ring the bell.
This is a Lionel Santa's Christmas train set. This set is 18.4 inches in diameter and made of plastic and metal with the joyful color of red and green. Lionel Santa's Christmas train set is controlled by a remote that allows the kids to control the movement with speed control knob. This set is perfect for Christmas.
Lionel Polar Express Remote Train Set – O-Gauge is 18.4 inches in diameter. It is made of die cast metal, plastic molded parts and bodies. The item weight is 15 pounds and has a color combination of black and blue. It has a forward and reverse speed control knob that easy to use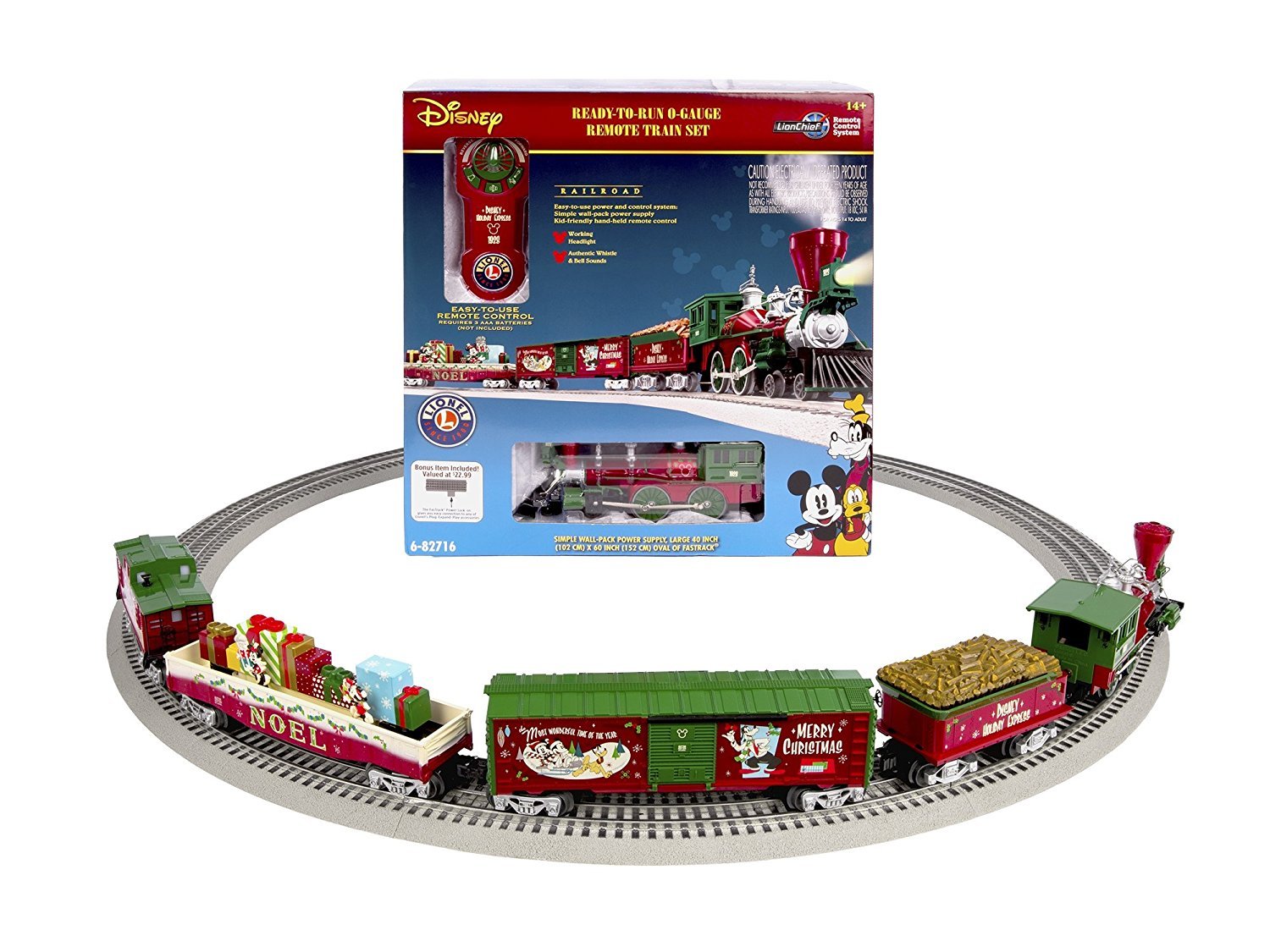 Lionel 682716 Mickey's Holiday to Remember Disney Christmas Train Set is 23.2 inches in diameter. It is made of plastic and 3 AAA batteries required. This set is user friendly, a highly decorated Disney boxcar and no hassle. It is easy to play with your family.
This is Lionel Polar Express Train Set – G-Gauge. It is 22.5 inches in diameter weight of 2.2 pounds and made of plastic. This set has a passenger coach with two opening doors that makes this set fun and exciting. This set is easy to assemble with RC remote controller that allows kids to explore and learn.
Lionel Silver Bells Train Set is 22 inches in diameter with the weight of 13.8 pounds. This item is made of metal and plastic requires 3 AAA batteries and has background sounds. It is easy to use for young and old best for Christmas.
This is Lionel Trains Frosty the Snowman. It is one of the few g scale model trains of Lionel. It has RC remote control requires 2 AA batteries designed for easy to use. It made of imported metal and plastic with the mix color or white and blue. This set enhances children's imagination with its majestic story and most loved songs.
This is an O Scale Silver and Gold Christmas Mint Car from Lionel trains. It is 10 inches in diameter weight of 1 pound suitable for ages 14 and older. This set is painted with the mix color of red, silver and gold.
This amazing Lionel Christmas train set is made of a die cast metal with operating couplers that includes a ladder, platform and a handrail on top. It does not have any train engine car included. It is however, compatible to be connected with other Lionel model trains or Lionel Christmas train.
It is a nicely detailed Lionel train Christmas set. This set's design is remarkable. The sharp dark blue colors and the snowflake prints bring out the Christmas spirit out of the train set. It has stimulated bells inside that add effects as the train moves.
This is an above average price Lionel Christmas steam adventure train set that features the great product, Coca-Cola. It includes a cupola caboose, boxcar and a tender. It produces authentic sounds such as bells, whistles and announcements. The boxcar has an opening door as its loading feature.
This Christmas Lionel train set is with great aesthetics and sharp colors. It is a locomotive with a coal tender included. It puffs authentic smoke and can be controlled remotely. The train set includes a baggage car, observation car, combination car and a working or operating headlight.
O gauge Lionel train Christmas cars for sale during that long awaited holidays but this here is a complete set for an affordable price. Buying individual train cars would probably cost you more and with less features compared to this one. It includes fireman figures, opening door boxcar, and illuminating caboose, operating headlight, tender, remote control feature, smoke feature and more.
If you're looking for a Lionel Christmas steam adventure train set then this Gingerbread O-Gauge Junction train set will be a delight for you, your kids or your family. It is a Gingerbread inspired train with design that is appealing to the eye. This is a full packed train set that includes, a steam locomotive, candy cane flatcar, gondola, fireman figures and more. It is highly durable and has a stable train track movement.
This is a great train collectible for Christmas. It is a train of strong construction, efficient functionality and Disney inspired. It is one of those remote controlled Lionel Disney Christmas train that enables you to control the train's movement and sound features. It is an average priced train with chuffing sounds that syncs with the smoke it puffs out.
Some of you might already have a great Lionel train set for Christmas and most of those have only two or three box/train cars included wherein this amazing limited edition Coke Boxcar can be added to your existing set to extend the joy and fun as it compatible to connect with most Lionel train products.
It is one of the little known Lionel o gauge Christmas train set you can purchase. There were only a number of this train set that was built and it was later on discontinued. You can have this as a collector train item or ideally to those adult train hobbyist or enthusiast.
This is a high quality steam locomotive from Lionel. The picture above indicates how well detailed the design is. The combination and the quality of those sharp colors, red and white build an awesome and remarkable train look. It puffs out real smoke, battery operated and an operating headlight. The remote control feature can control the movement, forward and back as well as the sounds.
The Lionel lines Christmas train set never fails to include their polar express train as it is inspired from the movie itself that aired back in 2014. This train's sound feature is actually based or is from the movie itself. It is built with great details and design and can run along tracks for a long period of time due to its reliable durability.
Of course, frosty the snowman train never leaves the Christmas train scene. The complete set comes in an expensive price but it is guaranteed to be loved by most people of different ages. It is a jolly, smoke puffing train with a powerful train power and great train stability as it roams around the train track. It has user-friendly remote features that include sound system features as well.
This is the Thomas Kinkade Christmas Train Set. It includes a train locomotive and a coal tender. It can be controlled remotely, including its sound features. The sound can be heard in great synchronization with the smoke it puffs out. This train can be a good play-set for kids but is ideally intended for adult train lovers.
This is a limited Edition 10th anniversary train set. It is the perfect gift for your family, friends and relatives who loves trains for this Christmas season. It includes 2 passenger cars and an observation car. It is a diesel locomotive train with an operating headlight that can be controlled remotely.
This is a good Lionel Christmas train sets starter set as it can be used right out of the box. It is very easy to set up and assemble. It is battery operated train set that produces authentic train sounds such as bells and whistles. It is an affordable train set with remarkable details and a working or operating headlight.
The Peanuts Halloween train is a great Halloween train set that may add a little flavor to your home decoration during the holidays. It is intended to be a train during the Halloween but it can actually also be a great Lionel peanuts Christmas train set that goes nicely under your tree. It still has its chugging sound and announcement that can be applicable to any season or holidays.
Another great Frosty the Snowman train set from Lionel. This is a Lionel Christmas train set g gauge created and inspired by a frosty the snowman design. It is a great starter train set for kids. It is fun, attractive, affordable, durable and built to withstand a beating of a child. It includes a normal sized train track and requires minimal assembly effort. It is a ready right out of the box train where you and your kids can instantly enjoy after purchase.