People who are passionate about trains often talks about train things, stuff, comparisons, updates, and more. You'd see a lot of hobbyist and enthusiast share some thoughts and ideas on forums, blogs, social media, etc. But it really does make a change if there's a train magazine getting published from time to time to bring you news, updates, new product arrivals, testing, and more fun and exciting things about trains. There are only a few companies and private organizations that dedicate their time and effort to bringing us what the train model world has to offer. Fortunately, Model Railroad Hobbyist Magazine or MRH Magazine and the people who founded it strived hard to provide us with all the information we need about model trains.
The company, MRH Magazine works hard, gathers information and conduct their own reviews, experiments, and analysis of model trains. They publish different scale model trains and railroad content on their online magazine for free to all, especially model train enthusiast, hobbyist, and railroaders. They really just want to get the information out there. But of course, a company wouldn't sustain free content, data, and information without any revenue. Instead of making a profit out of other hobbyists, the company offers people the chance for their own thoughts and ideas be included in the content or through advertisements, but that's just optional. In general, it's up to people whether or not they would want to or just keep getting the information for free. Of course, subscribers(who pay regularly at a very reasonable price) gets to have bonuses such as bonus download every month, get discounts to MRH stores, get access to tips and tricks, and other features.
They have a lot of ways to share news and information. The magazine offers a guide to different train related things and activities through their podcast channel, tv channel, youtube channel, social media pages and more. You can also discuss some of the recent trends in their forums and they are actually interacting as much as they can to their subscribers. The magazine also has an app available for both apple and android devices to keep yourself updated at all times through your smartphones.
The magazine greatly hopes and advise advertisers and vendors to think about considering to advertise in MRH, as they greatly act as a portal to get the information out there.
Model Railroad Hobbyist Magazine
History
The magazine is a free, advertiser-supported company that aims to be the greatest place to learn, ask questions, seek out advises and guides, check out what other new trend and inventions are there, keep yourself updated with what others are doing and more importantly, sharing the knowledge about model railroading. With their current, up to this day's effort, MRH have reached a lot of their goal have been continuing to do so and serve a lot of scale railroad hobbyist and enthusiast.
The online magazine was founded in early 2009 by Joe Fugate and some of his friends and crew. Since then, they have been the most popular online magazine that talks about model railroading. All of their contents remain free with more than 20,000 pages, tons of videos, guides, recordings, podcasts downloadables and more. They also offer you shop or store guides, complete with email addresses, contact numbers, website information and operating time, to locate the most convenient, trusted and authorized dealers of scale model trains and accessories.
It is the most reliable, fast-growing, and interactive model railroad information and data hub available on the web. It gives you the power to learn and take out information within the reach of your fingertips.The magazine can be a good resource for all levels of model railroading. Beginners, intermediate level, expert, professional and veteran train hobbyist and enthusiast can greatly benefit to the pool of information about train models.
You can simply check out their website for more information about their products and services here.
Model Railroad Hobbyist Podcast
The goal of this is to provide information to different types of media. Podcasts are something you can download on their site and something you can listen to at any time. You can download it to your laptop or phone and listen to it while doing other things. It's great that they are providing downloadable podcast audio. Not all people have the luxury of time to spend watching a video or reading a guide with pictures and infographics. MRH podcast recording of their monthly magazine is updated every month. You'd have free audio access to their month's magazine content as well as added podcast audio recordings about guides, tips, and other casual podcast recordings.
Also, they sometimes feature some people in their recordings. Expert and veteran train hobbyist sometimes discuss guide, tips, and tricks about model railroading which could be very useful for most hobbyist. That's really something we all would want and something we use as a good resource for our own experience and model railroading projects.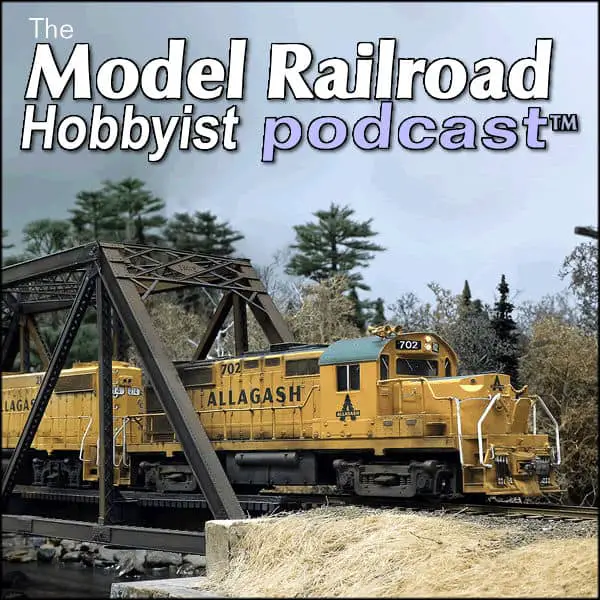 The podcast is hosted by none other, Paul Gillete which also has a podcast recording available on Apple iTunes. One of their recent podcast recordings, April 2018, talks about an intellectual level conversation about train models with guests from Sipping and Switching Societ of North Carolina, a dedicated group or band of HO scale modelers that usually set up few of the biggest and badass model train shows in the Southeast and Mid-Atlantic.
Featured guests usually give a detailed guide on how to improve your modeling skills, creativity, imagination and bring good and useful knowledge that you can use to your benefit so that you can work your skill level to improve a notch or two. The recorded material is something unique and only available at MRH, for free.
You can follow up and check out all of Model Railroad Hobbyist Magazine podcast recording here.
Model Railroad Hobbyist Magazines – Recent Issue
It may sound unnecessary as the new world's technology makes magazines, tabloids, journals and other written material seem obsolete and irrelevant. But a digital magazine can come really handy for many people. MRH doesn't really publish an actually, paperbound magazine. Their issues are all digital. You can download all of it on their website, including their archives. And what makes it useful is that you can store it in your computer, phone or laptop, consuming very minimal space which you can choose to use a resource whenever you feel you need to read it again or use it as a guide for a model railroad project you're doing.
Being a railroad model hobbyist, you would want a lot of resources you can get. There's only a finite amount of useful and accurate information about model trains available. We can barely see books for dummies or website that could really bring you useful guides, tips, and information about model trains and railroad. MRH gives you the opportunity to either read online through their website, download the file and even share it with your friends. The nice thing about them is that they don't really care if you share the information. They're not strict with their copyright issues as long as the contents you took from them are being shared for free as that's what their ideal has been all about, to keep train model hobbyist and enthusiast informed without spending as much as a penny.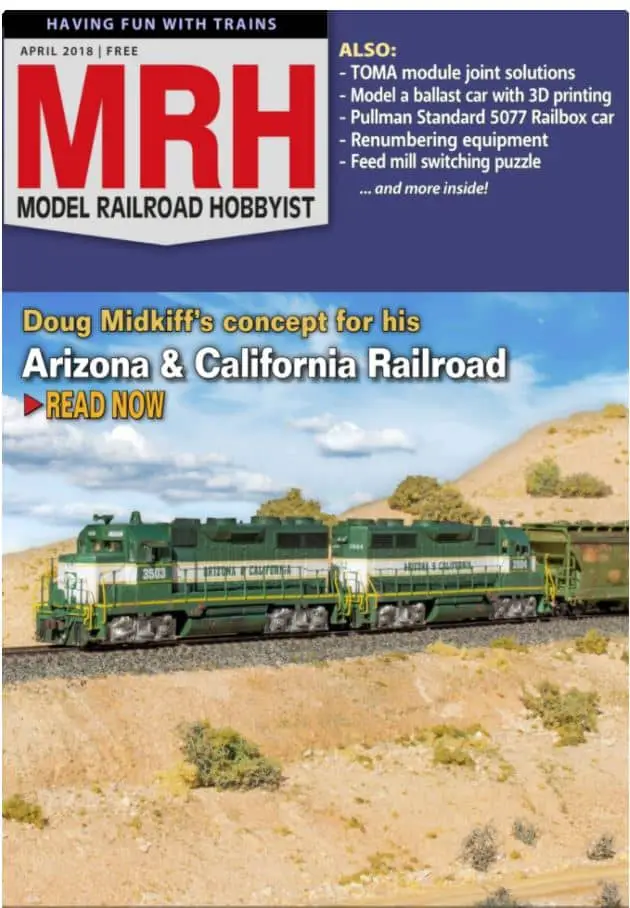 MRH usually hands out one consistent magazine issue per month. Since 2009 when they have first started, they have stayed consistent when it comes to a monthly magazine issue. One of their latest magazines came out this April of 2018.
You can check out their latest magazine issue here.
Apart from the current issue, you can also access the site's archives of the magazine issues from past months or years, provided that you register to the website. Registration may be required but it doesn't mean you need to be a subscriber. It's free. No need to pay or there's no payment required during your registration. Once registered, You can choose to read online or download the file depending on your preference.
Read through their model railroad hobbyist back issues here.
Model Railroad Hobbyist – Youtube Channel
The cool thing about MRH is that they are adapting to the current and latest trend of giving out information. Radio broadcast through Podcast and digital magazine can be boring for some due to the fact that you'd either listen or read. Some people prefer a guide or a good resource that they can visualize. That's why MRH have started their own youtube channel years back when youtube videos started to become a trend.
They have many useful videos that you can greatly benefit being a model train hobbyist. One of their recent videos available was released April of 2018. It discussed all the latest events, news and what's neat in model railroading.The video is hosted and recorded by Ken Petterson. He is a columnist of MRH and usually in charge of creating videos for their youtube channel.
https://www.youtube.com/watch?v=HS_rppYV36Y&t=298s
The April's video issue talks about:
John Parker's BNSF Fall River Division
Replacing lettering on equipment
Attaching grills without a mess
BTS sawmill project update
CADRail 10.2 with Kevin Ruble
Drone footage, great runbys, and more …
It's the same as their digital magazine issues, the videos are free and as for youtube, subscribing to their channel does not require any payments. You are also free to use and share the videos but copyright rules also apply to their video channel. You need to share the videos or use it on your website without charging anyone who views or downloads it. They stand firm in their ideal to provide free train model information to all train model lovers out there.
Feel free to drop by and subscribe to MRH youtube channel here.
Model Railroad Hobbyist – Facebook Page
Like with any other website, a social media page is usually linked to it such as a Facebook Page. The page can either be a medium for introducing products, businesses, services and more. But the concept of MRH is to build a community and establish a group that shares the same interest which is the model railroad. People can freely and openly discuss their thoughts or ask questions through the page. You can either send a private message or post to the group page if you have some railroad questions that need to be answered or you can even comment to a certain post and express your opinion about the same matter.
In addition, MRH also keeps the page updated. They share contents from their website to the page to keep people informed about the contents, magazine issues, podcast, youtube videos that they have recently added and made. MRH also keeps photos and videos on the Facebook page and it's free for anyone to access. The page already reached a 50k milestone earlier this year, 2018 and have been still growing since. People are getting more familiar with Model Railroad Hobbyist Magazine and it's really nice that regardless of their success since the first day they launched in 2009, the information they provide still remains free up until now.
Feel free to check, like and follow Model Railroad Hobbyist Magazine Facebook page here.
Model Railroad Hobbyist – Forum
MRH has a forum. The same as any informational website does. It is a place or part of their website where people could post and talk about the issues of the day. The topics are all related to model railroading. A certain person  can post an inquiry where people in the community of the forum can discuss the issues with him, help them out or give the advices. A person can also seek answers and guides to the moderators regarding their issues.
Adding to that, moderators can also choose to control the content being posted. They can close a thread, remove replies, ban a registered member, etc. To avoid any of these, simply read on MRH forum rules and enjoy talking to the community.
You can visit MRH forums here.
Model Railroad Hobbyist Staff
The Railroad Magazine was founded by Joe Fugate. He is also the main publisher, the chief editor of the magazine. It has been almost 60 years since Joe started having a great deal of interest with model trains. He is a well-known author about model railroad. He also has a deep background in web developing and video editing. That's one of the factors that possibly motivated Joe to build the digital magazine, create a website, provide photos and videos, and more.
Joe Fugate – MRH Founder
But Joe Fugate isn't just the one running the show. He and the crew of amazing people such as Charlie Camstock, an award winner railroad model photographer back in the days, Marty McGuirk and Bruce Petrarca, editor and columnist, Richard Bale for news and events content, and other more. All of whom shares the same passion for getting all the train railroad model information out there for the people and for free.
Find out more about the stories of where MRH Magazine all began here.
Conclusion
There's no doubt that all of us are happy and thankful that there are passionate people that work non-stop and effortlessly tries to gather all the information into one pool for us, enthusiast and hobbyist, to learn many new things in the railroad model world. The content they try to provide is highly relevant to the model railroad trend as there are only a few resources available in library books or on the web.
The chance to locate most of the train model related resources in one place is low but thanks the Model Railroad Hobbyist Magazine, people have been learning and improving their modeling skills since then. The website doesn't just gather resource, they also test new stuff and trend so that they can impart what they think about a certain layout, model train scale, design, brand, etc. They are flexible and the information is available in social media, forum, youtube, podcast and your daily monthly magazine issue.