If all of you should know, our kids growing up, will eventually demand or ask a thing that could help or assist in making use of their time as they have plenty of it to spare. This will probably be a story book, a toy, an art kit and more. Depending on your chosen preference, it is important for a certain tool chosen to be educational and to be more practical, not at all boring. You would not want to waste an amount of money knowing that after a short while, they would not play or spend time with it anymore.
In addition, children's story book will also require you your time as most kids at a young age cannot read on their own and needs great adult supervision. The most ideal choice for parents would be getting their kids a toy. The most ideal, commonly known, fun, entertaining and highly educational toy would be to choose from a variety of train sets for kids. It is considered to be a practical investment because it can highly entertain kids for a long time while trying to discreetly bring about some knowledge and skill enhancement.
There are so many tools you can choose from but a train toy's longevity and the amount of time your children will be caught up playing with it is what you would want. Not to mention the educational and skill benefits they can obtain from it. Your kids can learn about the different dynamics at play as the try to build their train lay out, connecting each pieces and identifying the shapes and colors. Some of these amazing train toys also offer sound and music which can help young minds familiarize words and phrases.
The benefits just keep getting better and better. The only downside of purchasing a train toy would be choosing in a vast number of products which could cloud your judgment and might end up getting a low quality toy. That is why we have decided to give a complete and comprehensive list of the best and highly rated train sets for kids which have been reviewed positively by customers who have had an actual experience of the product.
32 Train Sets for Kids
We want to set off on an amazing kids train set from Kids Destiny. The set has a total of 100 pieces, complete with all the necessary train accessories, triple-loop tracks and a total of 16 trains and cars. The set includes a well-illustrated manual to help with our kid's assembly and will only require you minimal supervision. The set has a built-in design but it is highly versatile and is able to adopt with the imagination of your kids. Your children will have loads of fun and countless possible train layout using this set and it is all for a great and affordable price. Most of the pieces are made of wood and there are no motorized engine but could still be able to entertain your kids at a longer time.
The next an ideal kids toy train is an affordable set, much cheaper than most train sets with a motorized, batter operated train engine. The set comes in 22 pieces and that already includes an oval train track that measures approximately over 10 feet. The train is made from a combination of metals and durable, non-toxic plastic.
It offers light and sound features for an additional entertainment as the train moves around the tracks. The train can be controlled to move forward or reverse. The motor requires a few pieces of batteries which is sadly, not included in the train set.
If you would want a cheap but entertaining train toy product, then this train right here would certainly be a considered as one of the viable kids train toys. The train set has a motorized, batter operated train engine. The design and details of the train engine car and other freight cars are realistic. The set includes an 8 pieces train track consisting of 2 straight and 6 curved that forms an oval track. The product is certified by ASTM for safety and quality assurance. This train set is greatly recommended for children with ages of 6 and higher.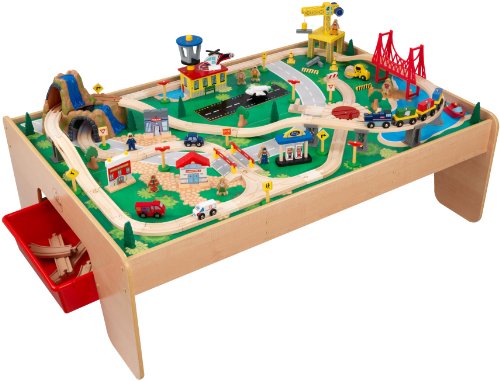 Here is the best train set for kids as it comes with a large and spacious train table. This product is a bit costly but is definitely worth it. it has a table with a dimension of 48 inches in length by 34.38 inches in width and 16 inches in height. The set also has tons of wonderful train tracks and train pieces. All your children's train needs to build their own train layout. In addition, the pieces stays on top as they play due to the elevated edges built around the corners of the table. The set includes 3 pieces of durable plastic bins for easy organization and transport.
MOTA manufactured one of the best kids train set for people targeting a low and affordable budget. It is a ready to run play set that includes a train track and a motorized engine, complete with the necessary train cars that your kid needs to have an ideal train set layout. This toy has been featured several times on FOX television. For an easy price, the set can be a great gift during the holidays or all throughout the year. You may also find it useful as a decorative train on Christmas as the design and aesthetics are intended for the occasion.
This kids toy train set from Lionel is a popular choice. The set features a Polar Express train set. It is ready-to-run and complete with the necessary train cars and tracks to keep it fun and entertaining. The oval track has a fairly wide dimension of about 50 inches by 73 inches. The train is fully packed with sound and remote control features. With the slightest touch of the button, you can make the train go forward or reverse as well as play the sounds through the remote. The train requires a total of 9 batteries to run consisting of 3 triple-A for the remote and 6 C-cell for the train.
Just for an added fun, we will show you a short video clip of what a Lionel Polar Express looks like if you completely assemble the train set:
Completely assemble, connected and seeing the train realistically run on tracks will make you more excited than ever.
If you are looking for nice kids wooden train set at a great price, then this mountain, bucket top train set from KidKraft is the most you can look for. The set includes a total of 61 pieces, complete with tracks and the necessary accessories such as infrastructure, mountain terrain, cars, landing field, airplane, helicopter, figures and more. It opens a whole new door in your children's creativity and imagination. The set has so many possible layouts depending on their chosen preference. It can really work out their brain and at the same time have loads entertainment.
One of the large and the best train set for kids you could get is from Melissa & Doug. This train set consists of a 130 plus pieces of durable and long lasting accessories that your children need for their wooden railway system. It is complete with sections and track supports. There is some nice and stable elevation at some various locations on the track. It also has remarkable size and dimension. The set can actually cater several kids playing around it. It can be a practical investment for a house having several kids as the set, at an affordable rate, can keep all or most of them entertained.
The next is one of the classic train sets for kids. This toy is from Liberty Imports. It features a classic train set consisting of 13 magnificent and wonderful pieces. The design comes with great and comprehensive details. The colors of each set vary upon the shipment of the product. It can either come in green or red.
The pieces already include a train track. There are 8 curved tracks and 2 straight tracks, all of which have great construction and sturdiness. It is complete with life-like train features such as headlights, sound and smoke-puffing unit.
There are actually so many train set for people with a limited budget but still expects a quality product for the price that they hope to achieve. This adventure railway track from Paw Patrol will give your children the train fun and entertainment they need, all for a great and affordable price. It is a small set with figures, tracks, train cars, a rock slide, station and more. The great thing about this set is that it has a motorized train engine car. The downside would be compatibility as it cannot accommodate or connect with other train sets or brands.
Another simple but complete and strong looking kids wooden train set from KidKraft. This set features a figure-8 shape train tracks, complete with figures and wooden train cars. It uses standard wooden tracks to allow or enable your children to add or extend by purchasing an extra set of wooden tracks. The train cars also use magnetic couplers, the most type of couplings wooden train cars use.  There are 38 pieces in total, included in the set. It also has a firehouse and a gasoline station at end to end. Each piece is highly versatile as it can connect with Thomas, Brio, Chuggington and other major wooden train toy brands.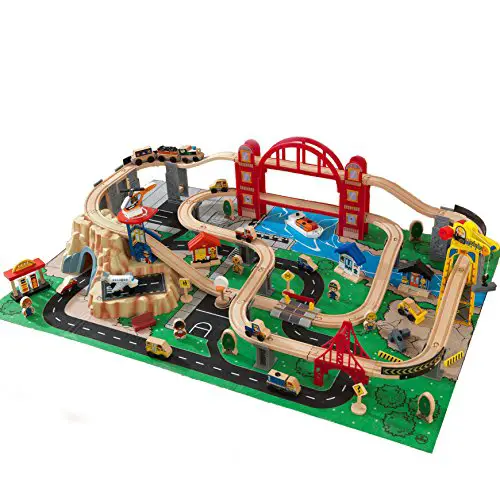 This is a great kids train toys made out of real and durable wood from Kidkraft. It features a Metropolis train setting, complete with a play mat and other accessories. The package is loaded with train delight and entertainment, consisting of 100 pieces. The design is slightly complex but thanks to an included detailed manual, it made it easy to assemble, connect, dismantle or transport. The set also offers a tier-2 bridge, a mountain, airport and tunnel. All this, as seen in the picture, is all for a great price.
The next kids wooden train set is brought to you by Kids Destiny, it is actually a collectible rather than a set. It does not have any tracks included but it does come in a great wooden frame, consisting of 12 pieces of wooden train car. Having this for your kids, they could have great and wide options of train cars to choose from depending on the theme of their wooden railway system.
In addition, the set of 12 is not at all costly. It can be easily obtain for a short and great price. Each train toy is highly compatible with other major brands of wooden train toy.
If you want a complete set from top to bottom, all for your kids, then you might want to take a look at one of the best train set for kids from KidKraft. It is a ride-around themed train set that comes in a set with a train table. It is all for a reasonable price but you will definitely get more of what your money deserves. The large train set layout goes perfectly nice on top of the wooden train table with a built-in play board on top. The table can also work as a recreational or activity table, doing homework or assignments if your kids are not in play.
This is not like any other normal train set. It is a toy with an intended design of educating kids. The set offers a small tracks and a large train engine car, carrying around an animal. The train toy set is not compatible to run with other train sets but it can be a great stand-alone toy. The set has a motorized engine and produces authentic train sounds. It only requires 2 pieces of double-A batteries to run and to produce the sound but sadly, the batteries are not included in the set. It also includes decoration set such as traffic signs and buildings.
The next kids train set is from Ginzick. It is a full-featured pack set at a low and affordable rate. It comes with a remote control to enable movement and direction control and a large train track that could fit two or 3 kids within. The train also has light and sound features. There is a smoke-puffing unit installed on top that puffs out real, non-toxic and health safe smoke. The set comes in 35 pieces with trees and warning signs to add more details to the layout. The train is of a fair length, it has a passenger wagon, a train locomotive, a coil and cargo wagon. There is also a ready-to-run transmitter.
This is a kids wooden train set that features a farm train layout. The set is brought to you by KidKraft. There are 75 colorful and brightly made train pieces that is crafted delicately and with full attention to details. This set is great for gifts or presents to your kids or young relatives who has great enthusiasm when it comes to train. It has a long winding train track that offers a variety of layout options due to its versatility. The tracks have a standard measurement that makes it easy to connect and fit with other wooden train railway systems.
This is a Backmann Train, ready-to-run train set. It features a Thoroughbred HO-scale train set. The train cars and the train locomotive is larger compared with the previous train set on the list. It has an F7 diesel train locomotive with 2 freight cars and a caboose. The train engine car or locomotive has a bright and fully operational headlight. The set also comes with its own oval train track, having a dimension of about 47 inches by 38 inches.  It is built with a speed controller and a reliable power pack. There is a well-illustrated manual inside that is very handy in terms of assembling and troubleshooting.
One of the best train set for kids and a complete set is the 60 pieces train set from KidKraft. It has all the necessary train toy equipment, tools and accessories your child needs to build his or her ideal train system. The set includes a crane that moves to lift up or lower the cargo. There is a helipad, airplane runway, buildings, figures, different types of vehicles, mountains, tunnels, bridges and more. There is a step-by-step assembly manual included as the set will be slightly difficult to set-up without any guide. Each piece in the set is compatible with most wooden railway track system.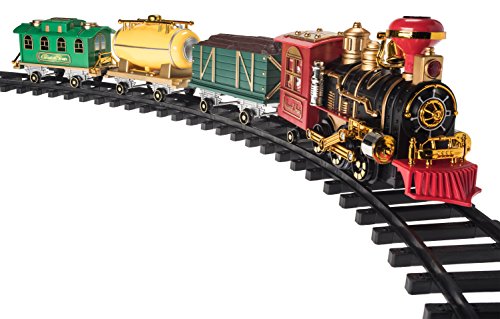 This amazing kids train set features a Christmas train that is perfect to be set or laid under a Christmas tree during the holiday. Of course, being a decorative train is not the only purpose of this set. It can really entertain children and adults during gatherings or any special occasions. It can also be a perfect gift, preset or a play-set for your kids. The set is complete with a smoke-puff system, sound, headlight and remote control feature. It includes a train locomotive with a Santa figure, playing as a conductor, a passenger car, cargo car and a coal tank, all of these at an affordable rate.
If you are aiming for a large set, complete with motorized, battery operated train engine car, light and sound features for a highly reasonable price, then you can opt to purchase this wonderful, detailed design train set from Apontus. The train set comes with 6 pieces of train cars having a larger size and a longer length compared to other train cars. However, the parts and pieces are mostly made from durable plastic. The set includes 8 pieces of straight and 12 pieces of curved tracks. The toy is recommended for children with age, 3 years or higher.
Taking you for a brief moment, away from that large and monstrous train set and taking you back to a great kids wooden train set. This right here features a classic figure-8 train set from Melissa & Doug. The set includes 22 pieces of train cars and accessories, all made of hard and durable wood. It has its own wooden train track with an elevated cross track in the middle that forms the number 8 figure. There are 2 pieces of wooden train cars included with magnetic couplings to enable compatibility with other major brands of wooden railway toys.
This is a Disney inspired train set, a Mickey Mouse, ready-to-run, Lionel trains set. It is designed with all other characters from the Mickey Mouse series such as Donald Duck and Minnie Mouse. The large size set includes Disney themed train cars, a train engine car, a boxcar and a caboose. The set includes an oval track with dimensions of about 50 inches by 73 inches wide. The tracks are a total of 24 pieces curved tracks and 8 straight tracks, all made of hard and durable plastic. It offers a remote control feature with buttons that allows the train to go forward and reverse. The RC also includes sound controls. The train requires 6 pieces of C-cell batteries and 3 pieces triple-A batteries for the remote.
The next one is a wooden kids toy train from Kids Destiny. The wooden train set is of a fair size and has a total of 50 pieces, all of which are compatible with Thomas, Brio, Chuggington and some other wooden railway train system brands. This wooden set is made from beech wood. It is perfectly smooth and is handcrafted with great precision and sharpness. The set has comprehensive details and will go nicely on top of a play-board or mat which is unfortunate because it is not included in the set. This has been tested to be a child-safe train set and maintains US standards or requirements.
There are only a limited amount of stocks left of this wonderful racer track from ManaToy. The set features a Bullet Train running across a Twin Loop tracks with length of over 13 feet. The set includes 3 pieces of train car that requires 3 pieces of double-A batteries. Of course, batteries are not included in the set. It is highly affordable, very durable and with the highest quality. The tracks can be easily assembled. It is designed with assorted colors to make it more fun and attractive. It is suitable for kids with age of 3 years and up provided that parents can allot minimal supervision.
If all of the previous set on our list wouldn't pass in your budget cut, then there is still hope for you to provide your kids with an educational and entertaining train set from Melissa & Doug. This is a wooden kids train toys that includes 12 pieces. It is a small wooden railway set with a small circular track consisting of 8 durable wooden tracks. The set also includes 2 animal carrier train cars and 2 animal figures. This can be a temporary set and can be later on expanded to be a large set. Each piece is compatible with other wooden train toys which makes it easier for you to add few pieces from time to time.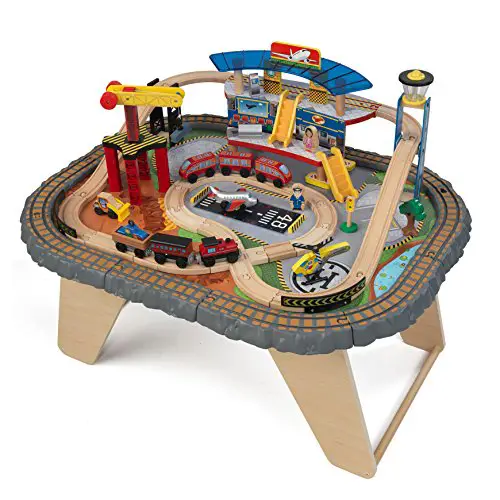 Leaping from an affordable set to a large, semi-expensive set, KidKraft brings you a kids wooden train set featuring a transportation station. The nicest thing about this set is that it comes with a train table. It is actually very practical. The table can be used for other activities such as arts and crafts, doing homework or assignments. The set has a total of 58 pieces. There are cranes, train cars, bulldozers, runway and an airplane, helipad, escalators and more. This wooden railway set is compatible with other major brands. Your kids can have multiple layouts or design, limited to their imagination.
The next one takes us to an educational train sets for kids or toddlers. It features a train toy and cars with wonderful and fun colors. The set comes in 6 pieces. It is great as a gift for toddlers or for kids aging 12 months and above. The set requires no batteries at all. It uses bright and vibrant colors, each with different styles. The downside of this toy is the compatibiltiy and versatility. It cannot be paired or connected with other train sets. It does not run on any train tracks and as your toddler ages, they tend to become bored. The intent of the set is to educate and enhance the skill of toddlers in a brief moment. It is more of a starter set.
Here is a large set but still being affordable, the 100 pieces wooden train set from Best Choice Products. This kids wooden train set features a fine, hand crafted toy set, complete with cars, trees, bridges, buildings and more. The set includes 4 pieces standard train cars with great compatibility. It is technically complete and for a great price, makes it a practical investment. The train tracks are large and could have multiple possible layouts. It can also be expanded depending on your children's choice. The set is approved and certified by ASTM and CPSC, a standard and safety regulation committee.
Make haste and grab this limited stocked, Polar Express train from Lionel. It is one of the greatest deals of train sets for kids you could possibly have and the finite amount of stocks left makes it a limited item in the market. The train set is easy to assemble, ready-to-run toy based on the official "The Polar Express" movie train. It also features the actual and official sound, "all aboard the polar express" sound clip. It has a working headlight, smoke-puffing unit, train character figures, remote control and a nice assembly manual. You should take note that in order for the train to have power, the train tracks must be properly aligned with each other. You can provide minimal adult supervision during assembly.
There are so many best train set for kids and this one right here is a close example of the label. This is a Retro Express train set that features a battery operated, train engine locomotive. The set comes with a simple oval train tracks that are very easy to assemble. It consists of about 7 curved tracks and 2 straight tracks, built with a proper length and width, making it strong and sturdy. The train cars have realistic design and authentic train car styling. The set has a total of 16 pieces and requires 2 pieces of double-A batteries which is not included in the set. It can be availed for a low and highly attainable price. It is built to last long and serve your kids with great fun and entertainment.
Our last item in a long list of kids train toys is the Santa Fe Flyer train set from Bachmann Trains. It is an HO-scale train featuring an EMD FT diesel train engine locomotive with a bright and fully functioning headlight. The set comes with 2 pieces of freight cars and one large and detailed caboose. It has a free train track that measures about 36 inches. The set comes with a power pack and reliable speed controller with all the buttons needed to function accordingly. The set has a mediocre price but with an exceptional quality that could last to serve your children for years to come.