Train toys or sets are a common play tool for children. It is also something adult train enthusiast or hobbyist opts to collect and even play with. The fun, entertainment, peacefulness, tranquility and knowledge, people of all ages achieved through train toys are highly beneficial. The only thing you need to bother yourself in obtaining such wonderful toy set would be what kind or brand of train toy to look for as there are so many manufacturers with claims of having the best model trains in the market.
To assist and aid you with that tiring endeavor, we decided to give you a list or a gallery of all the best-selling Bachmann Train Sets available in the market. It should narrow down your search, at least to only look for a viable product and disregarding other unnecessary train toy queries. Although there are some model trains guidelines that only includes a few Bachmann train m
Bachmann Train Sets
In the long list of bachmann trains, here is the Santa Fe Flyer. It is an HO-scale train set featuring an EMD-FT diesel train locomotive with a bright and fully functioning train headlight in the front. The train set includes 2 freight train cars and an off-center, averaged size caboose. It also has its own power pack.
You can easily operate the speed of the train via the speed controller. The set has its own train tracks with a size of 36 inches in dimension and uses an E-Z, snap-fit track system.
This is the Thoroughbred HO-scale train toy from Bachmann. The set is a ready-to-run train featuring an F7 diesel train engine locomotive with a simple headlight. The set includes a vision wide caboose, 2 pieces of a fair length freight cars and an average size train track that measures to about 47 by 38 inches wide. The track forms an oval shape that uses a snap-fit train tracks. It includes a speed controller and a durable power pack.
This is one of the many amazing Bachmann train sets in our gallery. The train toy brings to you a 0-6-0 steam train locomotive with a short length tender and a working headlight. The train is affordable but with great quality. The details are realistic. The set includes a bright and yellow caboose, 2 normal size freight cars and train tracks.
It is actually a nice starter set as you do not need to exert an effort in searching and purchasing separate train tracks to fit. The size of the free track is about 36 inches. The instruction manual with visual details is also included.
This is a ready-to-run, Chattanooga train set. The train is that of an HO-scale. It includes a 0-6-0 locomotive and a train tender with a bright and durable headlight. This train set actually has a working smoke-puff unit. It has a longer length compared with other sets as it includes 3 pieces of freight cars and a lengthy caboose. The set, overall, has about 132 pieces of train accessories, including the tracks. You or your kids have a wide option of how to lay out your ideal train setting using the Chattanooga set.
One of the expensive but totally worth it set of a Bachmann HO-scale is the Overland Limited train set. It is just right with its price due to the number of train cars included. The set has a total of 12 train car pieces consisting of 8 freight cars, a vision wide caboose, a Union Pacific steam train locomotive with a tender and an operating headlight and more. The length of this set is very long. The train's engine is also powerful enough to drag around all the freight cars with no excessive effort.
The Night before Christmas is another great Bachmann model trains. The set may not be that long or large given its expensive price but the details and distinct color of red and green is exceptionally on a higher level. It includes a Christmas Steam 4-6-0 train locomotive, gondola and a caboose.
There is also a figure of Santa to where you can place it inside the train engine car to be the train's conductor. Deliver gifts from point to point of the country with this amazing Christmas Train.
This train set features a Thunder Valley, EMD-GP40 diesel train locomotive, installed with a bright and long lasting headlight. The set includes a wide-vision, lengthy caboose with 2 large size freight cars. The train tracks included is small, about 24 inches in dimension. The circle shaped train tracks uses an E-Z, easy fit tracks made of nickel silver. It has its own user-friendly speed controller with a directional button and a heavy duty power pack.
The next among the many sharp looking Bachmann train sets is the Digital Commander. This set is packed with two train engine cars, a DCC, EMD-GP40 train locomotive and a EMD FT-A train engine locomotive. Both of each are compatible and could connect easily with the freight cars and caboose which are also included in the set. It comes with a wall pack and a thick plug-in wire. There is an averaged train tracks that measures to about 56 by 38 inches.
 If you are a fan and a collector of Bachmann Industries train sets then never miss the chance to have and own this monstrous Golden Spike Electric train. It is a train with a high-tech Digital Command control system, a speed controller with a directional button and more. The set also include a strong and sturdy train tracks that is a perfect fit with the train engine and train cars. Using this train locomotive set, you'd never experience any unnecessary or unwanted stops or derailing with its high quality tracks and heavy duty motor.
This is the Empire Builder from Bachmann trains. The train toy is an N-Scale train set which is fairly easy to use, set-up and assemble. It is technically a ready-to-run train set which is ideal for starters or beginners who are about to have their first train toy experience. The powerful Northern steam train 4-8-4 locomotive can carry and move around 7 freight cars and the small size caboose easily, which are all included in the set.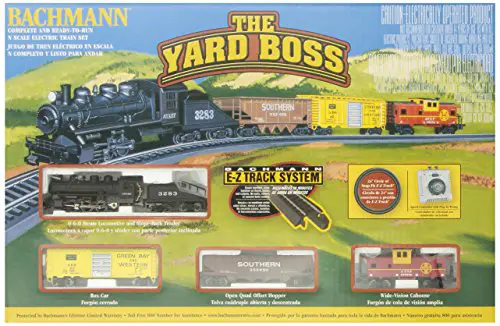 The next is only a few of the simple but detailed quality, Bachmann train sets. The set includes a steam train 0-6-0 locomotive with a small size coal tender, a wide-vision and average size caboose and 2 normal sizes but bright and colorful, detailed train freight cars and a nickel silver track with a dimension of about 24 inches. The train tracks forms only a small size circle but the sturdiness and stability can hold a train so well, you would never see it derail.
This is the DeWitt Clinton, HO-Scale toy train set from Bachmann. It features a classic, small engine train cars, from centuries ago that carries 3 small passenger coaches. The set is has a power pack and a user-friendly Bachmann speed controller.
You can easily move the train forward and reverse, control its speed and turn it on and off with just a few touch of a button. The set includes an oval shaped nickel silver train tracks having a 47 by 38 inches dimension.
One of the best-selling model trains in most marketing website is the Rail Chief. It is an electric, HO-Scale train set that is ready-to-run, easy to set up and assemble. It features an EMD GP40 diesel train locomotive. The train engine car has a bright, working headlight installed at the upper-front part. It uses a steel roadbed train tracks that are highly durable, strong and sturdy. This is a great set for first timers.
Bachmann Industries introduces to you the Durango and SIlverton train set. This electric toy train is an N-Scale, ready-to-run, powered by a 0-6-0 steam train locomotive. The train locomotive includes a small size coal tender, three lengthy train passenger cars with great details and aesthetics. There is a power pack and a detailed speed controller to enable the user with an easy access and control over the train toy. It is a complete set that includes a train track, readily made to cater your need to build your own railroad layout.
This is the McKinley Explorer from Bachmann trains. The set is an N-scale, ready-to-run, easy to assemble and use, electric train set. This features a strong and powerful EMD GP40 train locomotive with a fully functioning train headlight. It is complete with a speed control and a power pack. The set also includes its own set of durable nickel silver tracks with 34 by 24 inches, oval E-Z, snap-fit train tracks. This set has a fair and reasonable price for a super quality train toy.
The next is a Yuletide Special train set. This Bachmann train product is ready to deliver all the gifts and presents from point to point during the holiday. It features and On30-Scale, electric train set that is highly compatible with HO-scale train tracks. The set however, includes its own set of nickel silver train tracks that uses an E-Z, snap-fit train track system. The train track's dimension is fairly large, with an approximate measurement of 56 by 38 inches and forms oval shaped tracks.
A simple but large sized and sturdy train cars from the long list of Bachmann train sets is the Coastliner. It features a GP40 Diesel train locomotive with an all-wheel drive and a train headlight. The set includes two large flat cars with containers and a vision-wide train caboose. The set includes a free circle train tracks that measures to about 36 inches. There is also a Bachmann speed controller and a power pack included in the set.
It is not an unusual to see a train set that features Thomas the train. This is a bachmann ho scale Thomas the train set that celebrates the Christmas holiday. The express train all out and ready to deliver a crate of gift and a large Christmas tree on the special holiday of giving. The Thomas train locomotive has a powerful engine, a moving eyes and a Christmas hat. It uses a hook and loop couplings for a more stable connectivity. It is quick and easy to set up. The set can be a great train toy set or a decorative train set.
This is the Acela Express. It is a Bachmann train that features a DCC equipped train engine locomotive for an added speed, directional steer and lighting. The bullet train includes 3 train cars. One is the Acela Cafe train car and 2 passenger cars, business and first class. The tracks are on a larger and wider scale. It measures to about 81 by 41 inches with an Oval shape and made of nickel silver. There is also a speed controller and a reliably powerful power pack.
The next train item on the list is one of the few G-scale Bachmann train sets. This features a White Christmas Express train. It is a ready-to-run 4-6-0 steam train locomotive fully packed with features such as lighting, sound, smoke and control. The large G-scale train has a smoke puff unit that produces a non-toxic, health friendly smoke to make the train more realistic. It runs on sturdy construction, steel tracks. The Christmas train is perfect to bring out the joyful spirit during the holiday.
This is another amazingly detailed, Christmas train that features Thomas the train from Bachmann Industries. it is a G-scale train set, complete with tracks, a power pack, speed controller, train wagon car and a coach car. The train's length however, is much shorter compared to other Bachmann trains. The oval train track is also a little short with its length. It is also quite expensive due to the limited stocks and availability of the product.
The next is the Rocky Mountain Express bachmann train sets. The set comes in a nice handy box with a handle on top. You can easily store and transport the set if you decide on doing so. It is an On 30-Scale train set that is compatible to run using HO-tracks. The set is electrically powered and runs smoothly, efficiently and fast. It is only one of the few best train model locomotive that features a working headlight, a boxcar, a flatcar, caboose and more.