The railway between Bangkok and Ayutthaya is one of the busiest tourist railways in Thailand, providing access to many temples and other culturally significant sites. Ayutthaya is the ancient capital of Siam, a kingdom that collapsed around 250 years ago. What remains is some of the most beautiful architectural ruins you can see worldwide. This has made it a place of pilgrimage for millions of people, and it is especially significant to those who follow the Buddhist faith.
Here are 25 amazing facts about the Bangkok-Ayutthaya Railway:
Photo source: @richardbarrow
#1 – The Journey from Bangkok to Ayutthaya is approximately 71km long. Although it is a very short journey to and from Ayutthaya, many tourists try to stay the night at least once. There are so many things to see and having to catch a train home again the same day can make the visit feel a bit limiting.
#2 – There are four different classes of trains opened to the public on this railway, each one varying in speed. The four classes are as follows: Ordinary, Rapid, Express, and Special Express DRC. Make sure you know which class of train you are planning to buy a ticket for, as their travel time can vary drastically. It may change your plans if you arrive an hour later than you planned.
Find out the train time tables and pricing here.
#3 – Because there are 4 different classes of train, the travel time can vary greatly. It is almost twice as fast to take the Special Express than it is to take the Ordinary class. Special express can make the journey in as little as 1:15 if there are no delays. The Ordinary class, on the other hand, can take almost 2 hours. The journey is an enjoyable one, perhaps choosing the slow train to allow yourself to take in more of the countryside might be what you are looking for.
#4 – The pricing can vary a lot. It all depends on what class of train you choose and then which class ticket on that train. For example, the absolute cheapest you can travel is the third class on the Ordinary train. This would cost just 15 Thai Baht or about $0.50 US, not bad for a 2-hour long journey. On the other end of the scale is a second class, Special Express, train ticket. Which is going to be about 345 Thai Baht. This is still only about $11.50 US, but it is a big difference. If you aren't bothered by the price increase, take the Special Express trains in second class, as it will be air-conditioned. You will be grateful for it in the hot tropical Thai weather.
#5 – The Ayutthaya train station is almost right next to the ruins of the old city. Once you arrive off the train it is just a couple minutes walk to arrive at some of the main historical sights. If you or someone you are traveling with struggles to walk long distances, hopefully, this will put your mind at ease about how inclusive this day out can be for everyone, of almost any ability.
Did you know that Thailand is home to another famous railway?
Find out 25 amazing facts about the Thai-Burma Railway and the bridge over the River Kwai!
#6 – Most of the trains that run on this railway are diesel locomotives. It is not feasible to have electric trains yet, but over time they will hopefully be able to make the switch to a more environmentally sustainable fleet of trains. Steam trains are also not as easy to use and maintain, they were phased out gradually over time.
#7 – Although steam trains are not used regularly, there is a special event each year that railway enthusiasts may want to add to their calendar. There is a steam train tour from Bangkok to Ayutthaya that stops at all the main sights, such as Wat Mahathat. This journey costs about just under 1000 Thai Baht on average. This is just $32 US.
Find out more about the Bangkok-Ayutthaya steam train trip from respected Thailand-based blogger Richard Barrows.
#8 – 77 Individual trains make the journey to Ayutthaya every day, so there is a ton of flexibility when planning your day out. This is broken up pretty evenly amongst all four classes of the train. So if you are looking to make the journey on the fastest train there is still a lot of different times to choose from. Many backpackers take the fast train to Ayutthaya and the slow cheap one back. This allows more time in the day for activities, and you will be traveling on the non-airconditioned train in the evening on the way back when it is cooler.
#9 – Ayutthaya estimates that they have 10,000-12,000 passengers pass through their station every day. That is about 3.75 million people a year. To just give you a scale for how crazy that is, the entire population of the city is less than 60,000.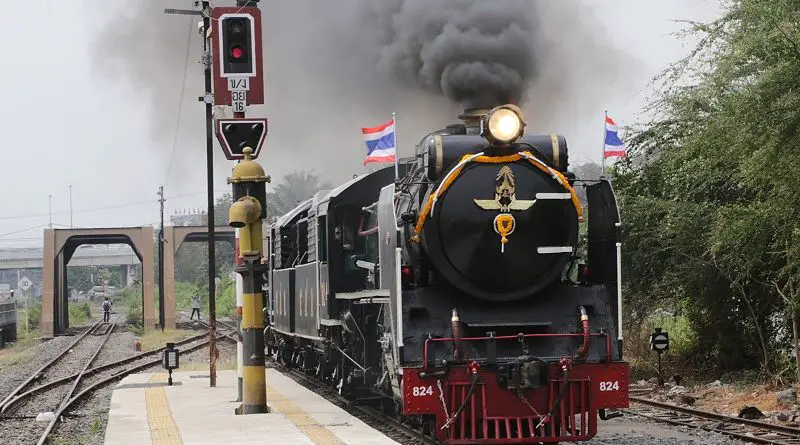 Photo source: Thai Travel Blogs
#10 – The Royal State Railway of Siam (RSR) was founded in 1890 and this was the same time that the Bangkok-Ayutthaya Railway was constructed. The railway was not easy to build, as it was the very first in the area. It was a learning process for the RSR, but they must have done a good job as their rail is still there today.
#11 – Construction of the railway took just four years. This may sound like a long time for just 71km of railway, but it is very impressive. The jungle had to be cleared out and the ground needed to be reinforced in areas to hold the weight of the trains passing over it. The fact it only took them four years to build their first railway line is no small feat.
#12 – The railway opened to the general public for the first time on the 26th of March 1895. For many people living in this area, this was the first time they had ever been able to ride on a train, or even see one for that matter.
Here's the source for many of these dates and stats.
#13 – The Royal State Railway of Siam has since had its name changed to The State Railway of Thailand. It's a shame it lost its historical name, but it does make sense to have the name changed as Siam doesn't exist as a country anymore.
#14 – Ayutthaya station was originally built under the order of King Chulalongkorn. The original station was rebuilt in 1921 as a reinforced concrete building braced with metal. So you won't be able to visit the exact original station, unfortunately, though the station you will visit is almost 100 years old.
Here's a video of the steam locomotive pulling in Ayutthaya Train Station:
Video Credit: John Cruickshank – Click here to watch directly on YouTube
#15 – Hua Lamphong station is the Bangkok station on this railway. It is a nice open plan station with lots of food to offer, good for getting a snack before the train journey. Many people don't realize but you may need a passport to buy tickets, even though you don't leave the country. Don't get caught out with no passport, it may spoil your day
#16 – Originally this railway was made with standard gauge (1,435mm), but later switched to the smaller 1,000mm gauge that the rest of Thailand uses. Luckily, it was only a short amount of track that needed changing out. Otherwise, it could have been very expensive and time-consuming.
#17 – Bangkok station see's about 60,000 passengers per day. Considering that Ayutthaya can see as many as 12,000, that means that around 20% of all of Bangkok's passengers are making their way to Ayutthaya. It is an incredibly busy line.
#18 – Bangkok station is due to be closed in 2021. It will be converted to a museum and the main station will thus be moved to Bang Sue Central station. The station lasted over 100 years, which is a pretty good run in the modern world.
#19 – Although Bangkok station is known unofficially as Hua Lamphong, this is not its real name. It will, however, become its real name when the station is closed though. It will be known as the Hua Lahmphong Museum.
Photo source: Thailand Photo Map
#20 – Although it is only a short walk from Ayutthaya station to the main attractions, many people avoid walking. You can step off the train and almost directly into a tuk-tuk, whose driver will happily take you on a tour around all the sights and help make sure you make it back to your train on time when you leave.
#21 – Most of the railway around Bangkok is a single track, but not the Bangkok-Ayutthaya Railway. It is far too busy for just one line of track. Actually, it is one of the only double sections of track in the whole area.
#22 – The new line from the Bang Sue station had its progress stopped during the 2014 political crisis. The military government halted its progress until a new civilian one would be able to get the project going again.
#23 – Japan has committed to providing Shinkansen tech to the government of Thailand. There are plans for a $420 billion (Thai Baht) high-speed rail network across the country, with a section of track between Bangkok and Ayutthaya too.
#24 – This new planned high-speed railway is expected to be built during the 2020s, but it is currently stalled due to funding issues from private investors. Considering it is expected to make a profit from 50,000 passengers a day onwards, and with Bangkok station already serving 60,000 alone, it should be a sure thing. Only time will tell.
#25 – During 1890-1968, it was possible to take an electric tram through Bangkok to the station and then transfer onto Ayutthaya. Danish engineers helped develop this futuristic technology in Thailand before Denmark had even built their own electric tram network. Copenhagen's electric tram network only opened after Bangkok's had been completed. Many people suspect that the Danish government wanted a trial run in another country first so they could use what they learned to perfect their own network.
The Bangkok-Ayutthaya Railway has a wonderful history and huge tourist follow for such a small section of track. This is by far the best way for you to visit Ayutthaya and if you get the chance to Bangkok, you absolutely should. It can cost just 50 cents, which is well worth it for the incredible history you will get to experience first hand.
You might also like the following facts about the best railway journeys in the world: