The Orient Express is one of history's most romanticized journeys, and for good reason. While initially the Orient Express might have been exclusively available to the super-rich, by the end of its service, it was more within your means than you might realize.
Here are 25 amazing facts about the Orient Express:
Photo source: Wikimedia Commons
#1 – The Orient Express is actually only the shorthand name of a journey with the full name being "The Venice Simplon Orient Express". For obvious reasons, the shorthand name is used almost exclusively. It connects London to Istanbul!
#2 – There is a common confusion between the Orient Express and the Oriental Express. Whilst the confusion with the names is understandable, they are very different trains: the former travels throughout Europe, while the latter goes through Southeast Asia, from Bangkok to Singapore.
#3 – You can choose whether to take whatever length of the journey suits you, from just one day to several. The most popular journey, however, lasts just 2 days and 1 night and is the trip from London to Venice. One of the reasons this choice is so popular is because it is an affordable option for many people. Traveller will get to experience what the Orient Express has to offer and then be able to fly back to London from Venice instead of making the return journey.
#4 – Every season, each train may rack up as much as 100,000 miles. Because of the heavy use that these trains endure, they must be meticulously maintained, needing to be properly serviced every few weeks at most. The Orient Express has much higher standards for cleanliness than your standard train, and 100,000 miles adds up to a lot of wear and tear that must be dealt with.
#5 – Each month two couples become engaged on the Orient Express! I told you it was romantic! Because of how common this is, the staff often keeps a bottle of champagne on hand specifically for the new happily engaged couple to celebrate in style.
#6 – Many people think that each cabin has beds and seating areas, but this isn't quite true for most cabins. Because of how small the cabins are, each morning the attendants must come and transform the beds into seats, each evening they transform them back into beds. It may be a bit annoying for the guests but that's the price you must pay to have somewhere nice to sit!
#7 – In 1988, a rich Swiss tour operator arranged for an incredible one-time journey on the Orient Express. They began their journey in Paris and ended it in Hong Kong. This was truly a once in a lifetime opportunity, but it cost each passenger US$ 20,000! Quite a pretty penny to become part of history, but most of the passengers would probably tell you it was certainly worth it.
#8 – Because of just how often each train is used, they accumulate around two and a half million miles on the clock by the time they retire. If they kept them on much longer than that, they'd start to become a safety risk. There are only so many repairs and replacements that can be made over a train's life before it becomes better to just move on and build a new one.
#9 – The "original" Orient Express used to entail taking two ferries on their journey to Istanbul. The first ferry was from Romania to Bulgaria across the Danube River. The second one was from Varna to Istanbul itself. Eventually, the company managed to secure a direct line to Istanbul making the passengers' lives easier and the journey far more relaxing. They could charge more too!
Photo source: Wikimedia Commons
#10 – Working on the Orient Express is hard work for your legs. During each journey from Paris to Istanbul, a car attendant may walk as much as 34 miles! That is almost the entire length of a Marathon. If you aren't in top physical condition when you start working there, you will be by the time you finish your journey…
#11 – You may have heard of "The Murder on the Orient Express" novel by the famous mystery writer Agatha Christie. But did you know that there is also a cocktail onboard named after her? This drink contains 12 secret ingredients to represent the 12 suspect characters in her book. This cocktail is the most popular choice of drink on board. (The more recent 2017 Murder on the Orient Express movie, starring a whole host of famous actors, is worth a re-watch.)
#12 – "The Murder on the Orient Express" is somewhat based on a true story. It wasn't the murder though: in 1929 the train was severely delayed by snow and ended up being stuck in Turkey for several days. In Agatha Christie's book, she changed the location to Croatia to keep things different and give her more creative freedom.
#13 – The oldest car in the Orient Express fleet is No. 3309, which was first built and put into service in Belgium 1929. It will soon enter retirement and be replaced with newer and better-designed cars like all of its predecessors before it.
#14 – In the early-mid 1900s, the King of Bulgaria Boris III, became a huge train fanatic and would regularly journey on the Orient Express. Whenever the train travelled through Bulgaria, he would use his considerable royal power and influence to make the conductor bring him to the driver and allow him to have a go driving himself.
Experience the Venice Simplon Orient Express train ride through this video:
Video Credit: Flying the Nest – Click Here to watch directly on YouTube
#15 – Every year, the staff of the Orient Express prepare the same foods and prepare the same drinks. They serve over 12,000 croissants and pour over 1,500 bottles of champagne. It may sound tedious but that is the classical French standard that the train has set and it must continue to meet that standard for fear of disappointing their customers.
#16 – There isn't an official dress code on the Orient Express (for the passengers), though it is expected to be dressed smart-casual throughout most of the day and during the evening time many people chose to treat it as a black-tie affair and really put the work in to look their best.
#17 – Unlike some other long train journeys, the Orient Express doesn't have any showers onboard. Even the most recent of modern cars, showers have been excluded from the trains to save space. Instead, each room has a small sink for washing your face and brushing your teeth. Many people are glad to see a shower by the time their journey is over.
#18 – A 24-hour London to Venice train ride on the more modern faster trains can cost as much as 4,000 US dollars per passenger! There are of course cheaper options available, but it is still an incredible price to pay for a train ticket, even if it is for the luxury, class, and style of the historic Orient Express.
#19 – It is possible to make the trip solo, but the price per cabin is extortionate. Even the single person cabins can be as much per person as the double ones. It is impossible to book a double cabin for yourself except on the incredible off chance that one is made available last minute, in which case you would have to pay the price for two people to stay in a two-person cabin on your own.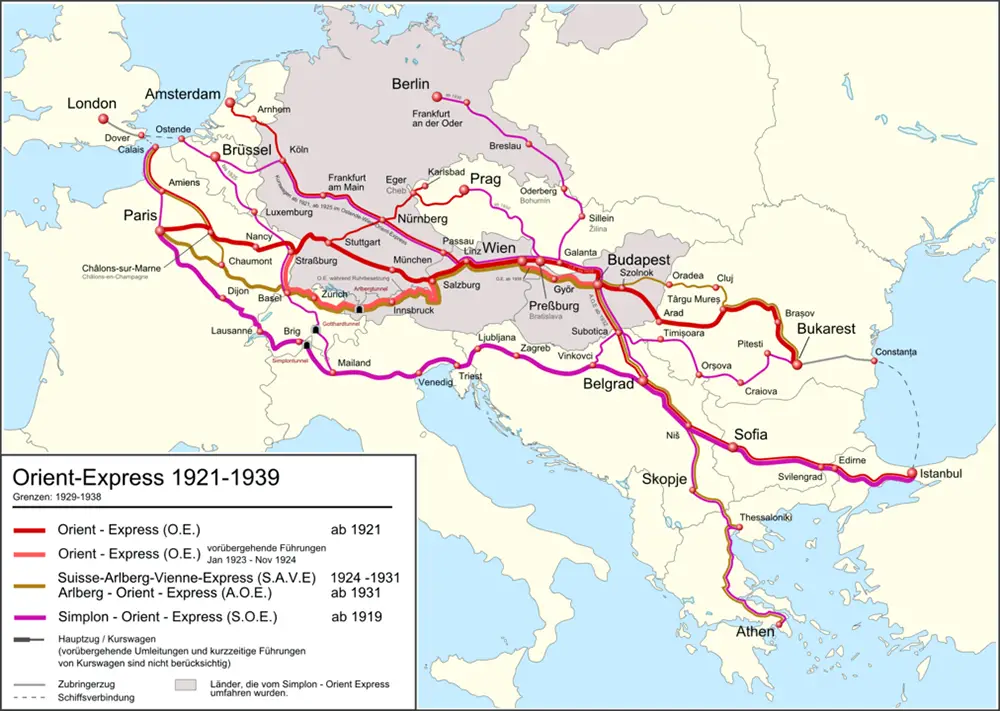 Photo source: Wikimedia Commons
#20 – Just like on a plane, the Orient Express has strict rules about how much luggage each person can bring. You are allowed at most one carry-on sized bag, one suitcase, and one suit or dress hanger. Unlike on a plane, it is quite impossible for regular passengers to bring extra luggage, there simply isn't room in the cabins to accommodate any more than that.

#21 – To keep to its historic roots, the Orient Express even today doesn't have any wifi connection or cellular data service provided. You are welcome to use your phones inbuilt cellular data but you may have spotty service at best in some of the more remote parts of the train's journey.
#22 – The Orient Express, unlike some other famous railway services such as the Trans-Siberian Railway service, does not allow any "economy" passengers. It is meant to be used exclusively as a luxury train service and, for this reason, does not operate as regular public transport.
#23 – The restaurant and dining car on the Orient Express is truly top of the line, boasting five-star food, five-star service, and a five-star bar! You really do get what you pay for: the meals are luxurious and prepared with true attention to detail. Their chefs can compete with any chefs in the world, and when you consider that these chefs have to work on a moving train, it is even more impressive
#24 – Technically, the real Orient Express ran up until 2009. Since then The Venice Simplon Orient Express has run in its place. Although they share so much of the same history, carriages, and traditions they aren't quite the same thing.
#25 – If you plan to take the Orient Express from London, you actually have to get off the train and take the ferry too. Originally, there were night cars on the night ferry across the English Channel but that service stopped in 1980. Other than this, the Orient Express to Istanbul does not require you to depart the train at all.
It may not be exactly the same train as in the old days, but it is pretty darn close. The Orient Express is a true taste of luxury that few people are ever lucky enough to enjoy. If you do ever get the once in a lifetime opportunity to go, I highly recommend it. Getting to experience Europe's most famous and influential cities via rail is truly incredible.
You might also like the following facts about the best railway journeys in the world: