The purpose of model train sets actually varies with the size. You might want to consider checking out the scale or the size of each train gauges. It is the factor that sets each model trains apart. The size or the scale of a certain train gauge must go proportionally with your train tracks, design, layout and not at all times, your scenery. The most common and often used gauge is the HO scale or HO gauge train model set. The question you would first try to ask your self is, how big is ho scale? Why do you want to know it and why it is often used by train modelers, hobbyist, and enthusiast?
There are a lot of train model sizes but the HO scale has been a popular choice. Actually, back in the days, it wasn't. Larger scales such as the G-scale, O scale, and S scale have been commonly used in the early years of train modeling. There's no doubt as you would want a train model that is large, detailed and will look more alike with an actual train when it comes to size. Also, normal people at homes couldn't afford a space or the price of these large scale trains. It is often just used when trying to lay out a design where for an actual railroad train would be built and deployed.
However, as years passed by and train railroad modeling starts to become a trend, smaller scales have been made so that it could accommodate common people at home who would want to dive into the trend and build their own layout at home. People have become enticed with the recreation and hence HO, N, and Z scale were introduced to the public. Adding to that, a realization by most train railroad modelers, enthusiast and hobbyist has concluded that smaller scale train is much more fun and easy to assemble, build and layout compared to larger scale model trains.
How Big Is Ho Scale?
An HO scale uses a ratio scaling of 1:87. That makes it about 3.5 mm to 1 foot. Imagining that, it's a fair size for a model train. That size is actually derived from an O scale which is exactly twice the size of an HO scale. It uses train rails and tracks of 16.mm apart and it is used as the standard track gauge for HO model trains.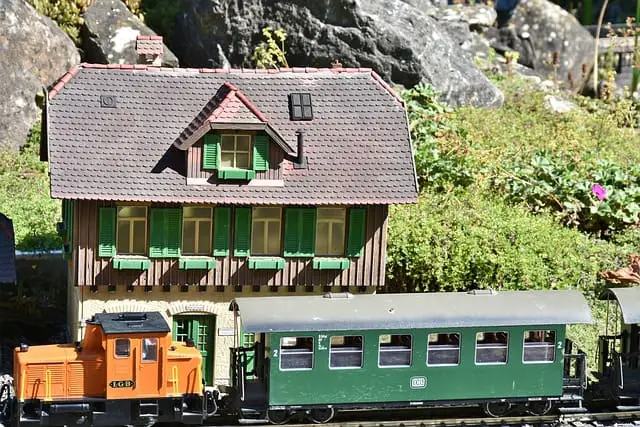 Before HO gauge or scale started came to public, Germans have actually started marketing and selling tabletop model trains and railways to the public for several years but haven't yet found the perfect size to make it a standard modeling scale for tabletop train models and layouts. Back in the days, the scale was called either an HO or an OO because they have a minor difference in their sizes. An OO scale measures 4mm to 1 foot, a very slight difference in comparison. The first generation of HO or OO scale trains were using a clockwork design in order to move around the tracks and was later improved to run on electricity as electric trains started to come out. Thereafter, accessories for model trains such as the things you need to build for a wonderful scenery, train table design, model scenery layout, etc., have also started to roam the market.
Below is a short video guide to the different model train gauges:
The firsts of the many HO scales or OO scale train set came out in the UK. Of course, that wasn't because they wanted it. It was a good alternative for an OO scale train model set due to economic struggles caused in the 1930's. However, HO scale train has made a breakthrough as it is reached the US. It became the most popular scale of model trains in just a short amount of time.
Today, however, train modelers, hobbyist, and enthusiast have a different set of taste and does not usually go along in the same trend. To them, it doesn't matter how big is HO scale anymore. There are HO scale groups, S scale groups, O scale groups, and more. Not like in the early years where one type is usually the trend of all. The possible change of taste when it comes to model train sizes is the people's access to information. People can now read the pros and cons of each scale before actually engaging into one. Not to mention the availability of the product today is limited. The bright side, on the other hand, is that you can purchase a certain model train scale at almost anywhere.