Train tables offer an opportunity for your kids to have fun while learning and sharpening their motor skills as well as enhancing their creativity. They offer a good opportunity for kids to learn new things and figure out how different things work. Having the best train table will ensure that the kids actively engage their young minds while creating healthy levels of excitement and activity for their developing brains.
Dismantling their toys and any other items that come their way is also part of their learning process as they try to figure out what is inside of these toys and other objects that they come across. This curiosity is very healthy but sometimes can be very expensive if it results in a lot of damaged items around the house as well as misplaced parts.
Train tables play an important role in learning play as they provide a stable surface where the kids can place their train sets off the ground where they risk being accidentally trampled. Some train tables come with storage spaces which enable the kids to put away their sets or pieces that are not in use to avoid loss or damage. Some train tables also have landscape designs that complement the the train sets giving a more realistic feel to play time.
Train Tables For Beginners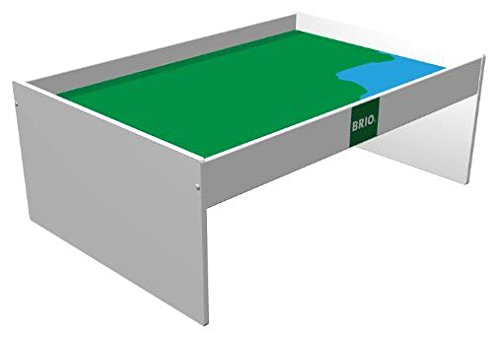 The Brio Play Table is designed to be used by children ages three and older. The Brio Play Table is a simple and durable table constructed of solid wood making it very sturdy. This table is also very easy to assemble and take apart when needed. The design of the table makes it easy for children to access their trains from all angles.
The top of the play table is decorated with land and water images as a backdrop for train sets, give an authentic feel to playtime. The table is sanded smooth with rounded corners and is finished with multiple coats of non-toxic paint for a chip resistant, vibrant finish.
The Brio Train Table is available at Amazon.com for about $200.00 with free shipping.
Pros
Easy to assemble.
Made from solid wood making it durable.
Finished with non-toxic lacquer paint that makes it chip resistant.
Cons
This table represents good value as it is made of solid wood making it durable and is designed in a way that the kids can easily reach their train sets without much difficulty. The initial investment is by no means small but looking at the bigger picture your kids will be able to use it for a long time.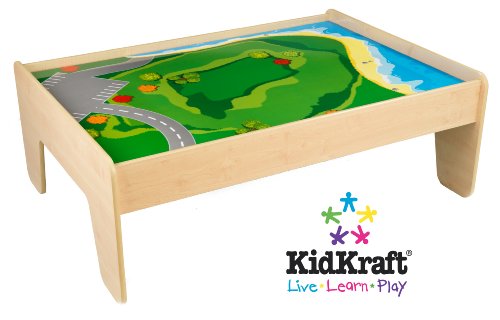 The Kidkraft Train Table is a kid-sized table designed to provide a sturdy surface where kids can place their train sets and enjoy playtime while keeping their trains off the floor. This table is wide and features T-molded edges to prevent chipping, curved edges for safety, a silk-screened landscaped table top, and a one-inch lip to keep toys from falling off the table edges.
The KidKraft Train Table is available at Amazon.com for about $160.00 with free shipping.
Pros
The table is easy to assemble and sturdy in construction.
The table is equipped with a rolling storage system
Has large surface area to handle numerous toys and large train sets
Cons
The table is constructed of pressed wood.
Overall this is a good budget train table and offers a large enough space for the kids to build the train sets and gives them a good storage area for their accessories and other toys. This would be a good buy.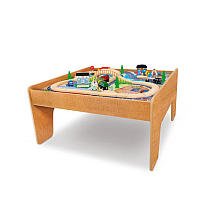 This train table comes with an included 55 pieces that completes a train set. Given its price, it is a train table ideal for starters or for parents who wants to set their an amazing train journey for their toddlers as it is a complete package that is ready to play train table set right out of the box. The table is also built with such reliable sturdiness and durability. It can be set both indoors and outdoors as it can withstand certain outdoor weather conditions.
The train set and table is intended to open up your children's mind to a fun and interactive play style. This could heavily inspire young minds to learn discreetly while simultaneously have fun.
Pros
It is made from high quality, hard and durable wood.
The train table includes train pieces and accessories which makes it ideal for beginners or starters.
It enhances certain set of skills and promotes an interactive and imaginative role playing game.
Each train pieces is made of durable and non-toxic plastic.
Cons
The train piece that adds to the total price as it is included is unnecessary. It is a train set with no motor, engine or not powered by electric or battery wherein sooner or later, your kids will get bored of those train pieces and will require you to get a new train set.
The train table has no storage, drawer or bins included for those train pieces included.
This is in general, a great train table as with its moderate or mediocre price, you can give your child a complete, ready to play set. The table will also last for a long time as it is crafted with great skills using high quality wood.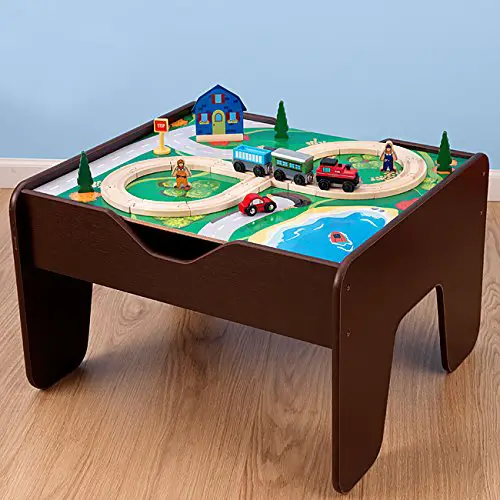 The nicest thing about KidKraft table is the overall appearance of how it is constructed. It looks simple but very sharp, neat, elegant and with great aesthetics. Most of their train tables is built with an elevated edge or has curved edges for safety purposes. The elevated edge acts as a wall to keep all your children's things, play tools and accessories secured on top of the table. The curved edges will keep your children safe in case of bumps or falls during their play. Not like with most train tables with a pointy edge that could cut or injure your children during accidents.
This train table is built with finesse, class and reliable construction. It uses high quality wood, non-toxic paint screws that could hold a pressure and weight. The surface is with great proportion which gives your train set stability. The train pieces and toys do not tip off or derail.
Pros
This amazing train table comes with 30 pieces train set made of strong and durable plastic. Non-Toxic.
All corners have curved edges for safety measurement.
The overall dimension of the train table measures to about 25 by 23 by 16 inches.
It also comes with a free activity table with 2 sides of different designs to where you can set-up your train.
This train table is large enough to cater 2 to 4 children. It offers a nice space to cater your children or your kid's friends.
It requires minimal assembly and comes with a detailed instruction manual.
Cons
It does come with a free train pieces and accessories but no storage bins, cans or drawers to where you can place it all in one side.
The train set is non-motorized. It is only made of plastic where growing kids will get bored easily.
In addition, the train set is non-essential for people who only look for a train table or with an existing train set. The train set is not free and is added on the overall price of the table.
This is one of the best-selling train tables of Kidcraft. It is reliably strong and durable. The train table has a nice non-toxic paint color. It guarantees a long and fun play-time for your children and could also work as an activity table and not just for trains.
Train Tables with Storage Bins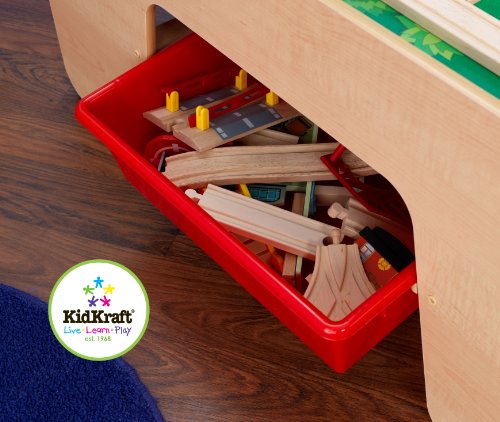 One of the things we could hope for in a train table is something where we can place our children's play-set and accessories. It is something that could help in the organization of things and promote a non-stressful, scatter-free play environment. It could also help in avoiding losing or misplacing things.
This train table is very large and spacious. The table set includes 3 pieces or large red, non-toxic, plastic bins to keep your children's things organized. This table is ideal for accommodating several kids as they play, given the size and dimension of the table. It has a silk-screen play-board on top to where you train set will have a nice green, mountain, bridge and city setting.
The table is built with great construction. It can carry certain amount of weight from children leaning on and the train set. In addition to its construction, as most KidKraft table, safety is a priority. The edges on all corners are curved and not at all pointed. This is to avoid any injuries in case an accident occurs, especially when your child falls or bumps the corners of the table.
Pros
The table is made with elevated or T-molding edge to keep all the things on top of the table and avoid chipping.
The total dimension of the table measures to about 48.75 inches in length, 34.38 inches in width and 16 inches in height.
It has a built-in landscaped play-board on top. The table is ready to be used for different train sets.
This comes with 3 pieces of durable plastic bins that is fairly large and is made from non-toxic plastic materials.
The table may look to have been built with thin pieces of wood but it actually has reliable durability and sturdy construction. It will last longer that with most tables and can easily handle children's rough play or beating.
It includes a train set and a track. This is actually a ready to play train table and set with storage bins, ideal or perfect for toddlers or younger kids to start their amazing train experience.
Cons
The laminated board or table top tends to peel off after a few months of using or playing with the table.
It compatibility of the board and the train tracks included are limited only to a few types of train set.
This is a slightly expensive train table with a ready-to-use train set but could greatly give your children long hours of fun and entertainment. It requires minimal assembly effort and can actually enhance your children's set of skill during connecting and assembling. It is a lovely train table and train set to have for a reasonable price.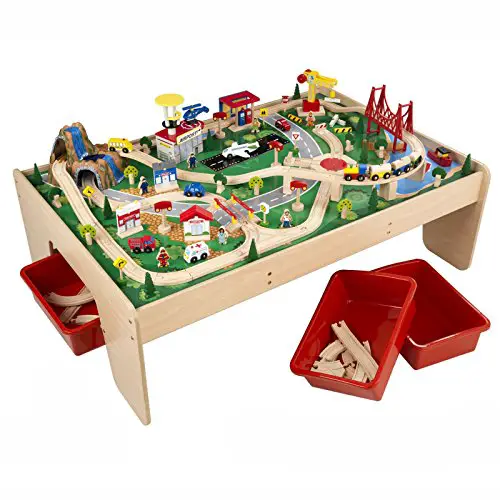 This is another great train table with storage bins from KidKraft. It is one of the popular KidKraft table and train set in the market. This is intended to where you lay out your train set but this table can also work great for and learning activity for kids. This can open up your children's creativity and imagination. It promotes a healthy and fun, interactive play style. The table is guaranteed to provide your children long hours of imaginative role playing.
It has a size built for your child but enough to also accommodate his or her siblings or friends as it is fairly large and spacious. The table set includes train accessories and important train pieces, all of which are made from durable plastic with bright and vibrant colors. The set will require your children some assembly but the fun starts upon the puzzle of connecting each piece. With minimal supervision, your kids will discretely enhance their set of skills such as logical and hand-eye coordination as they assemble the set.
Pros
The table includes 120 pieces of fun and durable play set. It is divided between train tracks, train cars, infrastructure, trucks, cars and figures.
It has a built-in, surface table play-board with flowery green setting, perfect for the included train set and any other train set.
This set can bring out the engineering side of your children. It will enhance their creativity and imagination as they try to build their play town or city with train tracks set out all across the play-board.
The table comes with a nice, 3 pieces red, durable and non-toxic plastic bins that is perfect for storing all the train pieces included and other kinds of learning play-set your kids have.
It is built with strong and sturdy construction. The screws fits nicely on each table holes and can support the weight of the play-set on top and the weight of your children as they lean on the table.
Cons
The train cars and train engine car is not built to have any motors installed. Your child needs to push it around the tracks in order for it to run through. The table is by far great and unquestionable but the train set and pieces included adds to the total price which makes it unnecessary for people who just want to purchase the table and not the set.
Assessing in general, the train table itself is fascinating and will definitely give you the right worth for your money or even more. The train set, somehow is ideal for toddlers and for young kids but sooner or later, the kids will get bored of it and will demand for a new set to be laid out, especially a train toy set running on motors.
To get a better view of this amazing train table for kids – here is a short video about how this table actually looks like mounting a train set:
The kid in the video is having a fun and great time with a spacious table and playing with his train set. Much more like your kid if you plan on buying! 🙂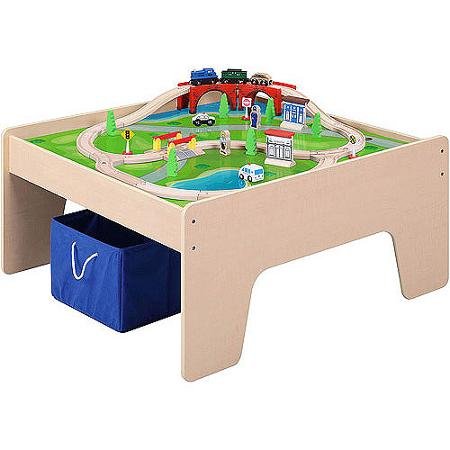 This nice square and large activity table is made and brought to you by Maxim. The table comes in 45 pieces of train tracks, train set and accessories. A nice thing about this set is that the tracks are compatible with the well-known train sets, Thomas and Friends and Chuggington train sets. It is made of simple but strong construction. Maxim used a nice quality of durable wood to build this, slightly tall and spacious train table.
The train table with its freebies of train set and accessories amazingly comes in an affordable and reasonable price. The set also includes one, but large storage bin to where you can place all those train pieces and organize them properly.
Pros
The train set is with great versatility. Its tracks and other accessories can be used for both Thomas and Chuggington train sets.
Maxim uses durable wood that does not break, wear or tear easily.
The table includes a detailed design play-board on top or on the surface.
The train pieces (45 pieces) come in a large blue-colored storage bin and provide great organization.
It can withstand weight and certain conditions. The table can be set if your children or kid wants to play outside or indoors.
Cons
The table is made of thin wood. Failing to supervise a good play environment, your children might have the weight and strength to break the train table.
It includes 45 pieces that forms your train set but does not have remarkable details and are also made of thin plastic.
The train table is ideal for toddlers and younger kids. It is affordable and easy to assemble, making it perfect for beginners or for people who have the need to rashly purchase a train set and table for their kids.
Train Tables with Drawers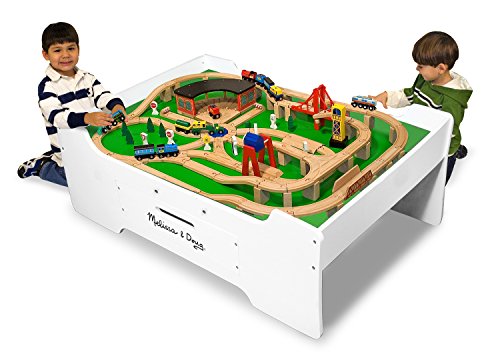 The Melissa & Doug Deluxe Wooden Multi-Activity Table is an all-purpose play station that is designed to for use by children ages three and older. The table features a double-sided play board as well as a built-in drawer for convenient storage of train sets and accessories. This activity table is ideal for trains, blocks, puzzles and other kids' activities.
This table is easy to assemble and has a large surface area. The play table is 16 inches tall and is conveniently sized for young children, making it easy for them to play with trains on the table while either kneeling or sitting on the floor.
The Melissa & Doug Deluxe Wooden Multi-Activity Table is available at Amazon.com for Prime members for about $110.00 with free shipping.
Pros
Large and sturdy wooden table.
Easy to assemble.
Has large storage area.
Cons
Takes up quite a bit of space which may pose a problem if you have small rooms
This train table offers a quality play surface as well as a large enough storage area where the kids can store their toys as well as train accessories to avoid lost pieces. The price is also budget-friendly making this a good buy.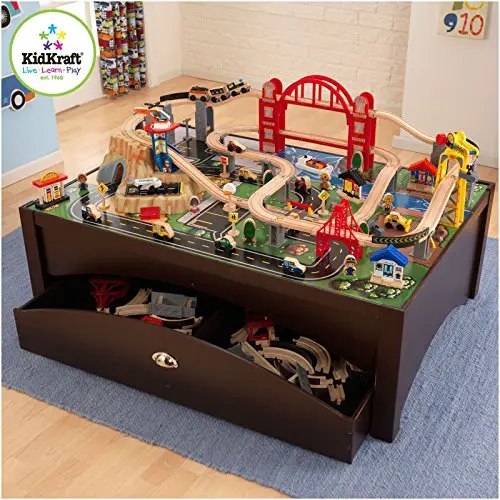 This is the KidKraft Metropolis Train Table. This is one of the most large sized train tables with train sets in the market. The table is elegantly designed and painted with a perfect finish. It has an average or mediocre price but of a top notch quality table. You'd see that the table is neatly crafted with a laminated play-board on top. The play-board along with the train pieces included has a high-grade detail.
On the other hand, this is not like with the previous KidKraft table who uses bins as a means of storage. It has underneath it, a built-rolling trundle or drawer. The downside of this would be its table top. The top or the surface of the table has non-elevated and not at all, curved edges.
Pros
The greatness of this set does not only end or focus on the table. Each included pieces of train pieces and accessories are all with great detail and is loaded with fun and interactive features.
Table is coated with a fine and high quality, espresso finish.
KidKraft uses a fine and solid wood frame that could withstand a rough beating of a child.
Train pieces counts to up to 100 pieces and includes a tier two bridge.
The train table and set, all 100 pieces of it, laminated play-board, storage drawer, etc. are all of a great and affordable price.
This can also be used for any learning activity.
Cons
The edges of the table are not at all curved. It can cause injuries in case of any accidents.
Table surface or table top has no elevated edges. Train parts or pieces that always tip off the ground and scatter into places of the room.
The added drawer is actually of a larger scale. It replaces 3 pieces of storage bins into one storage drawer. It makes organizing more neat and pleasing. The drawers of the table are usually dependent on the dimensions of the table itself. The larger the table, the more storage capacity the drawer has.
This is considered to be one of KidKraft's Best train tables. The size is totally amazing. A table size is the biggest factor that makes a table set fun. The large space given to you by a large table can trigger an imaginative and creative play as children will have the tendency to innovate in order for them the consume the space provided. A smaller size or a table with lower dimension will limit your children's imagination in building and assembling their train sets.
This amazing, limited edition, train table on a waterfall-mountain setting is a wonderful train table for you and your kids. It has a built-in drawer underneath, enough to store all of 120 pieces of train set and accessories. It totally saves you the trouble of looking for a large bin to be placed underneath and to act as a storage unit.
Pros
It has a total of two mediocre size drawers. One on each side.
This is actually a must-have train table as it is only limited.
It comes with a manual with great details on how to connect each table and train set pieces requiring you and your kids, minimal effort in assembling.
This table is made with sturdy construction and uses high grade quality wood.
The table has a total dimension of about 48 inches in length, 32.7 inches in width and 15.7 inches in height which makes it fairly large and tall compared to other train tables.
It is compatible with wooden Brio and Thomas and Friends train sets.
Cons
Expensive as it includes a train set. It does not give you an option to only buy the train table.
Coated with a nice silky finish but uses a non-attractive color.
If you are looking for a the best train table that has it all, from storage, safety and security, sturdiness and loads of fun train pieces, then this limited edition, Waterfall-Mountain, KidKraft Train Table is the most appropriate for you. It is an all-in-one train table and train set.
Conclusion
There are numerous train tables available on the market but the Brio Play Table stands out based on the quality of the materials used and the advantage of solid wood construction. The cost of this train table is slightly on the higher side but the quality of this table guarantees you durability making this a good long-term investment.
If you are restricted in terms of your budget then the Melissa & Doug Deluxe Wooden Multi-Activity Table is good alternative though there is a notable difference in quality as compared to the Brio. However the table still serves it purpose and saves you quite a bit of money.
If you are looking for a less expensive table than the Brio, but still want the landscape image on the table top, the KidKraft Train Table is a good option.
Buying a Train Set Table – Everything You Need To Know
Sturdiness/Durability
First and foremost, you need to take into account the sturdiness and the durability of which the table is made of. The intention of the purchase is to cater young minds or children and as we all know, children can sometimes play rough with their play-set. The possibility when you fail to give supervision during their play of them stepping or standing on the table is more likely to occur and a table with a small sense of sturdiness or durability will leave you with a broken play-set.
Adding more to the weight being pressed down, a good or best train set table must be able to accommodate the train set made of heavy and strong materials, adding more to that, few children might gather around the play-set and lean on the table as the train goes around or as they play.
Size/Dimension
Another thing you need to think of is the size. If you have only 1 or two kids, then an average or mediocre size can do the trick as they both can enjoy the table space on each side. However, if your kids have the usually habit of inviting friends or neighbor kids over to play with them, you might want to have a large or full scale train table to cater several children.
The train table size and dimension must also be appropriate for the toy train set you have. It will be a waste of money to buy a large table set having an expensive price if the train set or the train tracks consumes only half or 1/3 of the large table set.
In some cases, there are tables that can also be used as an activity or learning table wherein a large scale train table could work just fine. A space can offer great comfort if your children are into arts and crafts. Bumping around delicate art materials that will cause spills and stains such as glue, water color, paint, etc. is less likely to happen if they have a huge space to move around.
Materials
You need to check out the materials of a certain table product if it suits your desire or preference. An ideal train or activity table is made of hard wood as it is very strong and sturdy. But there are some table products that comes affordable and is made of plastic at an expense of having a low durability or will easily break as the weight of the person leaning or the play-set being placed on top goes higher.
Price
The price only varies when you are having a tight budget or setting a line of how much money you're going to spend for a table. If financial reasons are not of any issue, then it is all up to you to decide.
Usually, the best train table is those that come at an expensive price but try to conduct research or do some canvasing as there are moderate priced train table and set products that could compete or comes close to an expensive set.