Finding the right set of healthy and non-violent play toy or set offers an open-wide variety of choices and options. How would you feel if you'd know that there is a play set for your kids that offers not only that but also serves to educate your kids while being able to have loads of fun at the same time? That type of play set would point you to the path of purchasing the best wooden train sets for kids as they are entertaining, fun, educational, skill-developing toy, durable and designed to withstand and cater different play-style of children. It has strongly survived the test of time and has been long used or played with by parents and kids for generations, and still continues to do so to this current time.
Trains are highly beneficial, especially the wood ones. There are no chemicals used to create it. They last longer compared with plastic toys. The wooden toys compared to plastic are hard and can withstand breaks, falls and a rough beating of a child more effectively compare with plastic. It is practical as most of it is cheap and affordable but having an outstanding quality. The play area does not create a mess and wooden train accessories are very easy to clean up as you can be picked up and stored in a bin. It is also healthy in terms that wooden train toys are hypoallergenic. In addition, wooden toys are more closely like wooden blocks where both helps in the development of their imagination, creativity and skills such as numeric identification, sensory, logical and hand-eye coordination skills.
That is why we decided to come up with a list of the best wooden train set for kids to give you a better view of the top and the most viable products you can choose for your kids.
24 Best Wooden Train Sets for Kids
The Metropolis City Life train set from Pidoko Kids made it to the list of the best wooden train sets for toddlers due to its higher compatibility with other wooden train sets. It works perfectly and able to connect with Brio, Melissa and Doug, Thomas and Friends and Chuggington wooden railway system. This set is large enough to accommodate multiple children. Your kids or their friends can choose different spots around the train track and spend time playing with all 70 pieces of train figures, accessories and set. It highly encourages an imaginative and creative play. Each pieces are made of natural wood and hard non-toxic plastic. It is durable enough to survive a beating of a young mind's play style. You can have all the pieces of the set for a great price, given that the set also have a close-to-perfect rating in most marketing websites.
This is a perfect wooden toy train set to go along with your wooden train track layout. The product has good counts of satisfied customers and a whole loads of good reviews and recommendations. It is possibly because of the reasonable price and the set could get your children a large collection of train toy cars. It gives them a chance to expand their world of wooden toy train set and tracks. Having this set, you and your kids could also decide on expanding your train track layout as you can easily purchase an expansion set because the wooden train car set is highly compatible to fit and run with wooden Thomas, Brio, Chuggington and more of the major brands.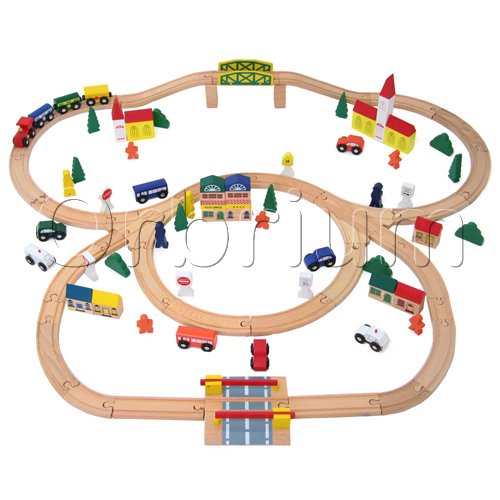 Orbrium Toys have so many best wooden train set reviews. They have been in the train toy industry for quite some time and have continued to build up their reputation, more to the positive angle. This is their triple loop train set. It is built with good standard of versatility. It can connect well with Thomas and Friends, Brio and Chuggington wooden train sets. This set includes 100 pieces of highly detailed and colorful accessories. It is very fun to play with due to its triple loop design or layout. It can actually accommodate several kids playing as there are so many imaginative ways to play with it. The train set includes many figures, cars, trees, buildings and wooden train tracks, all you need to complete a city theme set. You can also have this easily laid out on top of a sturdy train table for a more secure play.
This wooden train sets for toddlers is made and brought to you by Kids Destiny. Each of the pieces included in the set is made and constructed from beech wood and some are combined hard wood and durable plastic. The train cars and tracks, as well as the accessories such as bridges, station, buildings and figures will go nicely with other wooden railway toy sets. It fits with popular brands such as Brio, Thomas, Chuggington and more. This quality train wooden set will last to provide your kids with fun and the succeeding generations as well. The wooden toy train set is far more durable than plastic train toys and the ones built on thin steel or metal. The set consist of 50 pieces in total with all the necessary accessories you and your kids need to start building up your train set and track layout. It is perfect for starters and it comes for a very cheap and attainable price.
This is Melissa and Douge Deluxe wooden train sets for toddlers. This set is much larger compared to other train railway wooden set and the design or layout of the track is slightly complicated but adds more to the total fun. Assembling the set will require you to supervise your kids as it can confuse them of which part is for which. The set has a total number pieces of 130 plus. 100 pieces are designed for building the train track sections and other things that supports it and over 30 plus pieces for the train and other accessories. It has an average price which is attainable. The set is actually practical due to the size and durability. You can have several kids in your household to play with a single set. The set also has great sturdiness and durability. It could provide long time of learning and fun.
What defines a best wooden train set is not only the quality and economical-price. Completeness is also an important factor where you can base your assessment in defining the best train set. A good example of a product having all those traits and factors would be the Speedy Surprise Drop from Fisher-Price. It features James, a Thomas and Friends train character engine and a bulky coal tender. The set is complete with durable wooden train tracks, train cars and accessory. It is basically ready-to-run set with all parts compatible to be expanded as it fits popular and major brands of wooden railway toys.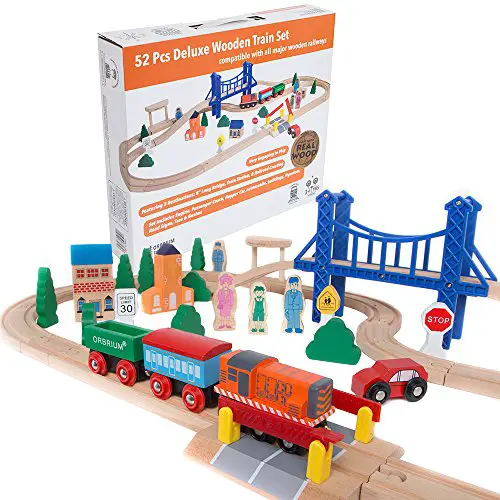 Putting to comparison with the previous sets, this amazing Orbrium Deluxe Train Wooden set comes in 52 pieces of detailed and durable accessories that completes the set for a low and affordable amount. The set is engaging and fun to play with. It includes a bridge where the tracks elevate and allows the train to pass through. It provides them with a simple set up where they can easily maneuver and follow the route. It also includes wood crafted figures, train station and a crossing, all complete with signs and warnings. The entire set could also be an added accessory set to your existing wooden railway train system. This product is approved and passed different standards of safety from CPSIA and ASTM. The set is well packed in a box with a handle.
This is Kids Destiny's one of the many best wooden train sets for toddler. It is fairly large which will require your children to do some assembly. It comes with a good instruction manual that will help and will only require you to do minimal supervision during your children's train assembly. Connecting each piece can stimulate their brain to be more active and build up some of their skills such as logical/reasoning. The complete set or package accounts to about 100 pieces. Your kids will have a full time role-playing or be more imaginative in how they play as there are many train pieces included such as cars, figures, school-bus, two set of trains and miniaturized infrastructure of house, bank and post office.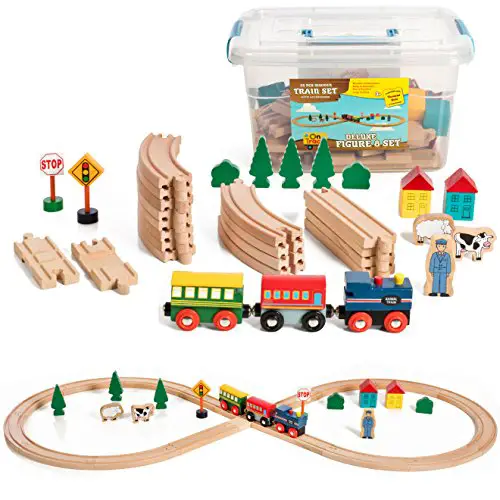 One of the many cheap wooden train set you could look for is the Deluxe, wooden trains that features a simple figure-8 track. Although cheap, it sustains a good quality product which is made from the finest, premium wood available. The set consist of 35 pieces, distributed among a number of train tracks, 3 pieces of train cars, animal figure, conductor figure, road signs and more. It is a starter train kit where you can eventually expand by adding train tracks and a collection of train cars. The set fits all major brands and would be a perfect gift for your kids or for your young loved ones. It also adds up to the credibility of the set, ASTM F963, safety test.
If you find some of the wooden trains a little bit expensive and goes beyond your budget range, you can opt for this figure-8, cheap wooden train set from Melissa and Doug. Although affordable and cheap, this actually is one of their best-selling train sets. The quality is superb. The price may have been cut due to the number of train pieces and accessories included and not with the quality. The set only includes 22 pieces. The pieces come with a bridge to have an elevated track, a wooden train engine car and a wooden coal-car. It is called a figure-8 train set because the tracks combined and connected forms a simple 8 figure. In addition, the train tracks can be extended to a figure your kids desire, given that you purchase extra tracks and of the same standard size.
An ideal train toy for kids does not mean it is the most expensive – Below is a video that features one of the best wooden train set at an affordable cost:
The simplistic design and route of the train is great for starters. Purchasing a very intimidating train set with so many train pieces to connect and requires assembly skills will be less exciting for kids.
This is another affordable set you can have from Melissa and Doug. Have your children's train adventure set on a more nature and animals. The animal toy wooden trains includes a train engine car and 2 animal train cars. There are two animal figures, one of a cow and one of a horse included and to be loaded unto the train car. The set is built on strong and sturdy wood pieces which makes it highly durable. There are also magnetic couplers installed on both ends if you plan to extend or connect it to other train cars. It is compatible with most popular wooden railway train brands. The set includes free 8 pieces wooden tracks that form an average size circle. It is simple, fun and good for children 24 months in age or higher.
The next set would bring us to a more viable and attainable product. This is one of the many best wooden train sets for toddler from Maxim Enterprise. It is crafted and manufactured from real hardwoods. The price range of this small wooden train set is also close to your budget as it can be bought for a small and reasonable amount as well. It does not have any elevations and only comes with 40 pieces of fun accessories. The set have wooden carved trees, figures, house and train sign. It uses standard tracks which is compatible with different popular wooden train track brands such as brio. This set will greatly enhance your kid's imagination as they picture out a wonderful train setting and initiate an active role-playing game.
This is rather new to some of you. The wonderful wooden train set is from Conductor Carl. Conductor Carl is actually a company that manufactures children's educational play-set and this is only one of their many produced or manufactured train sets. This train set has a unique train layout that of a clover-like shape. It is complete with accessories to give details to your kid's train setting. It sums to about 100 pieces and uses a durable wooden track which is compatible and could connect with other popular wooden train brands. The product acquired different certifications from CPSIA for passing the safety test and other regulations. The single pierce construction of the wooden track gives it more stability and security. It does not have any dangerous loosed pegs. This set is large and spacious enough for several kids to play around.
The Maxim Enterprise has some collectibles which could be added to the current or existing wooden train set of your children. This is an animal train set but without any train tracks included. The set includes a train engine car and 3 pieces animal cars. Each car, including the train engine have magnets installed from both ends for a more convenient and easy connection. The set can run thoroughly on a wooden train track without experiencing any derails as they go. It fits perfectly and crafted to a standard size of a standard wooden train track. This can be a great add-on to a current wooden train set your kids have or they can play around with it without the tracks, depending on your or their preference. They can have a great adventure and be more imaginative as they role play a safari train experience.
This wooden train set Melissa and Doug, is filled with colors and blocks. However, due to some small pieces, this set is not advised or recommended for children under 3 years old as their reflexes might cause choking. The wooden farm set features a cow and milk, giving it a farm-like train adventure. Your kids can enjoy a good time loading and unloading the cow and some other cargo on the train. It is very cheap and affordable but with great sturdiness and quality construction. This is actually a great tool to allow your kids to learn all about they need to know about animals, counting, color identification, farm and more. The train cars does not have any magnetic couplings and could hardly pair with other train sets but could efficiently run through standard size wooden railways if you plan on having them for a train track set up.
This is a unique type of figure-8 train track and train set from Maxim Enterprise. Half part of the wooden train tracks are strategically elevated which makes it more fun and exciting for kids as their train set will have more room to wonder around. The set features 3 train cars, a wooden engine car and 2 wooden train cars. The set includes all the necessary accessories to complete a city train adventure. The tracks run through two different bridge and two short tunnels. It includes signs, police figure, fireman figure, trees, police station, hospital, warning signs and more, all of which are made and crafted from real hard and durable wood.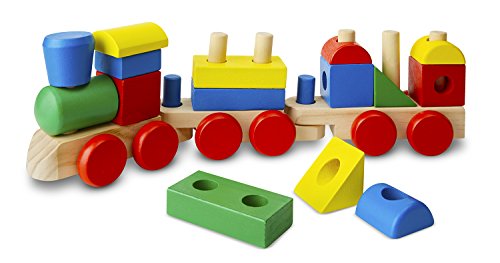 As seen in the picture, this is Melissa and Doug's best-selling educational wooden train. It comprises of different sizes and shapes of blocks. This ensures a proper learning and enhancement of your children's skills. They can improve greatly in logical and reason as they try to find out what shape would fit and stack up on each other. It improves their imagination on a greater scale as they can think about different block combinations to form their train. Each piece of blocks and the train locks by sliding it down to the pole in designated parts of the train. The total set accounts to 18 pieces of blocks and train car. It is recommended for children at a young age of 2 years old and up as each block is large and not at all choke-hazard to kids.
It really doesn't matter, in terms of expansion, whether or not you have a large or small toy wooden train set for starters as most wooden railway set uses standard tracks and couplings. The most common coupling used is the magnetic connectors. It is efficient, easy-to-attach and makes the train cars run smoothly. But purchasing a large set for a reasonable price could save you time and money. This Deluxe wooden express train set from Childcraft consists of large number of train track pieces. All made from real wood and has 7 train cars with different designs. The set also includes trees, human and animal figure, road sign, shed and other accessories that makes the set more realistic and promotes a healthy, imaginative role-play.
This is the same with the previous Melissa and Doug Zoo wooden train set. Although the design and concept is the same, there is a difference in the appearance of the train, color and the types of animals used. You can actually integrate this and the previous animal zoo wooden train set if you want a longer fun for a very reasonable price. Each train car have magnetic couplings installed at both ends which makes it perfect for your plan of extending. All you actually need to add in having this set is a wooden train track. It is compatible to run with any standard wooden tracks and with those from popular wooden train brands. The wooden animal figure included in the set is a tiger and an elephant. Both of which can provide a great time for your children as they load or unload them on the set.
This would end up to be the most expensive set but still at an affordable and reasonable priced wooden train set brought and made for you by Maxim Enterprise. The entire track and some of the wooden train set pieces and accessories are made of real, hard and solid wood. The set has a total of 145 pieces of strong and durable train set and train track parts. The overall design or layout of the set is slightly complicated for kids to assemble and will require you to offer your assistance or supervision. The set has a bridge, animals, figures, infrastructure, loops and all other accessories your child will need. There are only limited stocks left of this in the market so get your child a set while you have time.
A small wooden train set guarantees great joy and wonderful educational entertainment for kids, how much more with a fairly large or medium set, complete with all the train necessities your kids need? It features a bridge, a mountain top elevation, a rocky and icy wooden track path and more. It also features Thomas the Tank engine. It works perfectly with other Thomas and Friends train engine cars but could also do just fine with major brand, train wooden toy products. The set is cheap and affordable but are parts are made from durable and high quality wood which could last for quite some times.
This is from Cubbie Lee Toy Company. It is a 70 pieces premium wooden toy train set, all with figures, cars, train, house and some more. All the necessary accessories for a fun and entertaining train set that could widely open up your children's imagination is included. The train track's design is a figure-8 layout with simple elevations in some strategic places. The track measures to about 43 inches by 36 inches in dimension. It is crafted from sustainable and durable hard wood and to fit standard wooden tracks. You can simply have all these for your child for a low and reasonable price.
You might consider this to be a simple hardwood train toy. There are 12 pieces of this blocked trains included in the set. This will allow your child to create their own design for the train they want. The train have rolling wheels which could run on a wooden track but it does not have any connecting features that allows you to attach it with other train cars. The whole part, except for the wheels, is made of solid block of real wood. The concept of this train is to stimulate your kid's mind and enable him to foresee different designs using their creativity. All of the parts and pieces included are safe, all are made from non-toxic and durable materials.
This last product on the list would be the most expensive among all the previous set shown. It may be a little higher on the natural price range but this set is actually practical. It would save you the trouble of purchasing additional wooden tracks to make your kid's track a little more complex as it has its own tier two elevation track layout. In addition, the whole set includes its own train table from which you can use for other learning activities. There are also two large bins where you can store all the train pieces if your kids are done playing. It will save you more in the long run than trying to purchase one set at a time. This set is an all-in-one package of a fun and educational train toy.
Summary
The list shown is all the best-selling product of different wooden train toy manufacturers or companies. Regardless of their difference in price, they are most likely to have the same high quality standards, good reputation or credibility and have been in the service of providing young minds with toys that could guide or walk through with them as they grow for so long.
There are actually tons of fun and educational toys you can opt for your children. The best wooden train sets for toddlers are the usual choice because it greatly attracts the heart of your kids. We can surely relate to that as most of us seeing a train gets reminded of how fun and lively our childhood was and we end up reminiscing those times. That nostalgic feeling the train toy gives actually triggers our parental side to implement the same healthy play environment for our kids. We would want them to build a joyful childhood foundation and at the same time help in their development. By doing such, we could actually point them to the right direction and give them a brighter future. 
We eagerly hope that what we made here would help in your precise search for the list of the best wooden train sets for kids and narrow down a possible long list of unnecessary, noncompetitive, non-durable and unhealthy toys for kids.