One of the many fundamental and educational toys, many children want is a train set. It brings out a whole new level of fun, interaction and entertainment. Children do not get bored easily with it and would not require you to replace it in a short period of time which could cost you more expense. Wooden train set can be easily expanded due to its high compatibility ratio. It could be paired or connected with other wooden train tracks, especially those that are crafted and manufactured by major brands. This will provide you and your children, unlimited train track layout, design or concept.
Expanding a train track design or layout can highly stimulate a child's imagination and creativity. This is one of the reasons why train sets and tracks are highly educational and benefits children in most aspects of skill improvement and brain development. You can look and conduct a research about the best educational toys but a train set, tracks or toys will always be included in the list of the most viable learning toys in the market.
There are actually different types of compatibility in train toy tracks. You could choose between a stacktrack, a train set that is made of die cast, non-toxic materials. It is a combination of plastic, rubber or metal which makes each part of the set a little more hard and durable. You can also choose to have scaled trains, G-gauge, O-gauge, N-gauge, so and forth. These scaled trains are usually large in train size and tracks, motorized or electric, complete with remote control and sound features but comes in a great price. It is usually very expensive which makes it a non-ideal toy for kids. Not only that it won't be appreciated much, it is not designed to withstand a beating of a child which makes it very fragile to young train lovers.
Breaking a scaled train set would cost you so much in replacement or repair. Lastly, we have the wooden train set that runs smoothly and comfortable on wooden train railway tracks. This type of train set is very affordable, highly durable that it could survive and serve kids of different generations. Some wooden train set also uses motorized train engine car which adds more fun to the set. It is highly compatible. The wooden train set could connect at almost every wooden railway toy set. You can also easily extend the train tack layout because of so many expansion pack being sold at a lower and very cheap price.
41 Wooden Train Tracks
Planning on expanding a wooden train track layout has never been more attainable, for a great and affordable product price, Right Track Toys gives you a 100 pieces pack. It is complete with different types of wooden tracks such as curved, straight, switch track, short and long. It is all made from 100%, premium wood. The track set it compatible with many wooden railway brands of train set and tracks.
The next wooden train tracks expansion set is from Kids Destiny. This is a deluxe set of real wooden tracks of 100 pieces. It is highly durable and can withstand harsh outdoor and indoor conditions. It can fit with most major brands such as Melissa and Doug, Chuggington wooden trains, Thomas, Brio and more. For a great price, this could be the easiest and entertaining way of trying to expand your children's current train track set.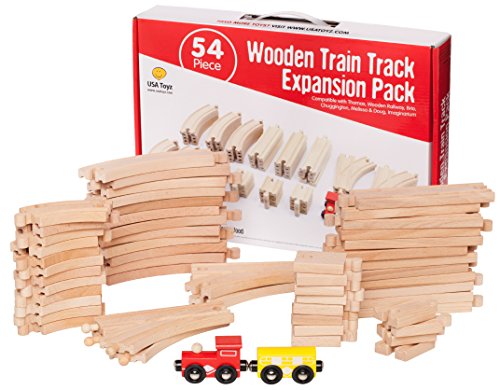 There is an ultimate fun and entertainment with playing with a battery operated train for a wooden track but it is best for you to know that a wooden train tack can have unlimited layout and can be easily expanded to fit your desired train track preference. All thanks to USA Toyz, this wooden track set that comes in 54 pieces is very cheap and affordable while maintaining good quality. The tracks being connected are very strong and sturdy. It is all made from hard, durable and real wood. It has passed certain safety standards from ASTM, very safe and secure for your kids.
If you find the previous wooden train track accessories to be intimidating due to the large number of pieces, you can opt to choose this smaller set from Orbrium Toys. The set only includes 8 pieces of short straight tracks made from beech wood. It is beautifully made and crafted. Each piece is very strong and sturdy. It a kids train set with great durability to be able to serve and entertain them for a long time. The set can be availed at a very reasonable price.
Showing you how wonderful the outcome of expanding a wooden train track designs, Here is a video of a fantastic layout:
Your kids will not get bored of the countless options they have in building their own preferred track layout.
Here is a wooden train track, compatible to be for your Thomas the train wooden track layouts. This is the 52 pieces wooden track pack from Right Track Toys. This could greatly work with different brands of wooden railway train set and tracks due to its high and remarkable durability. It uses standard size and connectivity which could most likely make it fit to any wooden train tracks. For a very low price, this is actually a great way of expanding your children's wooden track layout.
Are you looking for a train track layout with a wooden train track bridge? Then here is your chance. This 110 pieces expansion pack from Orbrium Toys. It is a multi-level expansion pack that offers a wide variety of train layout options. This could really provide you with the necessary track pieces you need to create your ideal layout for you or your kids. There are 17 wonderful types of wooden train tracks included in the set and have stabilizers for track risers.
You can choose to expand or extend your toy wooden train tracks with the use of this 54 pieces expansion pack from USA Toyz. It is a deluxe set consists of assorted wooden tracks, all built from hard and durable wood. It fits different major brands such as Thomas wooden railway, Melissa and Doug, Brio, Chuggington wooden train set and tracks and more. It is crafted from beach wood and has a smooth natural finish. This product passed standard and safety requirement of ASTM.
Having a motorized train for wooden track won't be that great if you have a limited train track layout. With this 56 wooden train pieces from Orbrium Toyz, it will provide you more layout option and can easily expand your track layout to fit you or your child's preference. It is made of premium beach wood and comes in assorted pieces. It also includes a tunnel and train track adapters to add more inter-activeness to your set.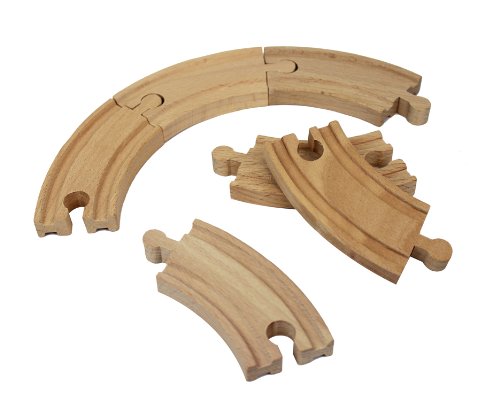 The next is a small set that can be a great Thomas the train wooden track pieces. The expansion pack or set includes only 6 pieces of curved tracks. It can either be used as a main track as it forms a small circle and can also work great to help expand your existing wooden track set. Each piece measures to about 3 and a half inches in length and is made from reliable and durable premium wood. The set is made by Right Track Toys and will provide you the easiest way to start expanding your set.
We want you to see how awesome a Thomas wooden train track looks like if you expanded your layout. Below is a video of a wooden train track design with multiple elevations.
This layout also provides your kid a chance to experience a train race, having two train engine cars making their way to the finish line.
Another wooden track expansion set that could highly be a Thomas wooden train track is the 6 Arches Bridge from Orbrium Toys. This set can enhance your children's play-ability and will provide you more options to your track layout. Your kids will have more interaction as they move the train up and down the Viaduct Bridge. The wooden tracks have some additional lovely details or decors. The compatibility works great for most major brands of wooden railway tracks.
The next product from Conductor Carl is one of the best expansion sets to build different wooden train track designs. It includes 56 pieces of high compatibility train tracks made from real durable wood. The set has different types of tracks consisting of straight, curved, switch and more. This set will allow and provide you with endless possible wooden railway track combinations. It will also enhance your children's logical skills, creativity and imagination, hand-eye coordination and tremendously increase cognitive skills.
If you are looking for some great wooden train track connectors, then have a look at this wooden track expansion set from Playbees. The set or pack includes 59 wonderful pieces of real-wood made tracks. It easily fits with other major and minor brands of wooden railway system. This is a fun and entertaining way of expanding your children's current train track layout. `Each wood piece is crafted with the highest quality of craftsmanship. It includes several pieces of different track types, all for a great and affordable product price.
Having a wooden train track plans but with a short and few number of wooden track pieces would get you far from your desire. Thankfully, Kids Destiny have made it possible to acquire a large expansion set for a sustainable price. The expansion set sums up to about 110 pieces, each made from hard and durable wood. It also holds nice compatibility and could connect with most major brands. This super deluxe train track expansion set consists of several types of tracks.
A large train track expansion set could definitely make your wooden train track plans come to reality. The video will give you an outlook of an expanded train track layout.
This is actually just a simple kind of expansion. You could choose to add more complexity to your layout as the design is limitless, depending in your imagination and creativity.
This next expansion pack set could really get you going in learning how to make wooden train tracks design and layout. It will provide you or your children a variety of option and will greatly enhance creativity and imagination. It will also give your children a great amount of entertainment as they connect each piece and build their preferred layout. The set includes many types of wooden tracks as well as a ship dock that could cater most ships and some magnetic cranes.
Right Track Toys has never failed to impress. This next product is a garage track set where you can display 5 different train cars. It also works as an easy expansion set but has limited amounts of wooden tracks included. You can easily connect this garage track set with all major brands which makes it perfect for your wooden Thomas train tracks design or layout. The set is made from reliably strong beach wood and can be availed at a very reasonable price.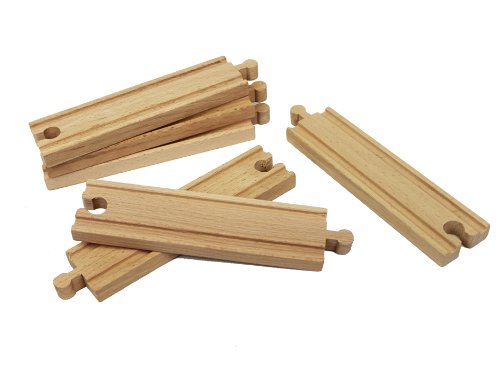 Having a small wooden toy train track with a few number of train cars, you would probably want to expand on a smaller scale which makes it perfect for this wooden track pieces of 6 from Right Track Toys. The set has 6 pieces of straight tracks, all of which are 6 inches in length. It is perfect for parents or children who desire lower expansion of their current layout. This set of tracks can also work as replacement tracks for those who have lost or broken wooden tracks.
All of this set are practical. Most of the products here in the list cheap wooden train tracks but built with remarkable quality to give you a chance of expanding your layout or design. Here is a sample video that shows a fantastic expansion.
The compatibility of a wooden train track is not only limited to other wooden railway tracks. There are some plastic tracks that can also be integrated as seen in the video.
Going from small scale to large scale expansion, the next wooden train track parts from Right Track Toys will do the trick. It is a set of 100 pieces, all packed with different train track types, sizes and length. It is all made from premium, hard and durable wood. It works great with all or most major wooden railway brands. The track set provides you the chance to easily expand your track layout to whatever you see fit.
A wooden train track expansion pack with a lovely storage goodie back is more than you can ask for. It does not only expand your track layout with its 60 pieces of wooden track pieces, it also provides you a neat way of organizing your train tracks if ever you plan on disassembling them. You can easily put them all inside the bag for transport or storage. There are a number of straight, curved and switch track included in the set.
This is the Fisher-Price wooden train tracks. The expansion pack is enough to build its own small figure-8 track layout but each piece also works great for expanding existing train track set. It greatly works with Thomas and Friends wooden railway system but can also fit with different wooden track brands. The tracks have realistic designs and carvings. Each piece is easy to connect and assemble. This small set can be yours for a great price.
Are you looking for a double curved wooden train track to replace some of your wooden train tracks or plans to extend but needs a switch track to carry out your desired layout? Then this switch track set is now possible to have from Right Track Toys. It is preferred to people who is looking for specific parts and not to buy set with unnecessary track pieces which could save you some money.
Another specific wooden train track accessories you can have is this 8 pieces curved switch tracks from Orbrium Toys. The set or pack includes 4 pieces of male-male-female switch tracks and 4 pieces of female-female-male switch tracks. It is to our wooden train lover's advantage to have sets like this. It would be much of a pain if you need only a specific track type and only have an option to buy an assorted type of set.
The next set is an amazing toy wooden train tracks is from Maxim Enterprise. It is an expansion wooden track set that is made and crafted from premium real wood. The set includes different types of tracks that come in several pieces. It is highly compatible with Thomas and Friends wooden railway set and Brio but could also work great with other major brands such as Chuggington wooden trains, Melissa and Doug and more.
What a lovely double pack of 8 from Obrium Toys. The twin pack total piece count is 16 pieces consisting of 8 pieces of M-M adapter tracks and 8 pieces of F-F adapter tracks. This is the best option for those wooden train owners who is expanding their track layout and is looking for a specific pack which contains only the desired type of tracks. This is also wonderful for people who are looking for adapter replacement.
If you find your motorized train for wooden track not that fun anymore, then you might need to have your track layout extended or expanded. This pack from Conductor Carl, offers you the option to have significant amount of layout or design for a very affordable price. The pack includes 100 pieces of wooden tracks. There are several types of tracks, all comes in many pieces. This set is enough to cater your train track needs.
How adorable it would be for a motorized train for wooden track to have so many loops and circles. The video below will show a child having a great time with her new expanded train track layout.
The multiple loops, circles, twist and turns would provide more entertainment to counter boredom. The fun will last longer than it's supposed to.
This is the Bigjigs wooden train track connectors. It is an expansion pack that includes only T-junction connectors. This is a set of two that contains specific piece to complete your desired train track layout. It could act as a replacement for your lost or broken Junction track or can be used to provide you with more layout options. It is fairly cheap and affordable while being able to maintain a strong and reliable durability.
The same with the previous garage wooden toy train track, this is from Kids Destiny can also fit 5 cars. It has different external design as with the previous one in our list. The design is sharp and elegant. The beautiful colors of blue and red adds some more fun to the set. This garage track is compatible with most major brands. It will enable you or your children to use multiple train cars, all at once. It is actually practical as you can make use of all the train cars you have.
Not everyone wants a large expansion set. Fortunately, Tiny Conductors offers a set of wooden train track parts that comes in 15 pieces. The pack has 3 different types of train tracks consisting of 8 curved tracks, 4 short straight tracks and 2 long straight tracks. As a bonus, the 15th piece is a train car. Each train track is reversible which means it is double sided. It actually makes connectivity easier as you do not need to align the side accurately.
The next wooden train track parts is a bump track from Maxim Enterprise Inc. It is a specific set that contains 2 pieces of bump tracks. The set is very much compatible with Brio wooden train sets and Thomas and Friends wooden railway set. It can also fit most brands of wooden train tracks and toys. This is perfect for people who only need a targeted or specific type of wooden train tracks for expanding or replacement. This is also very affordable and easy on the pocket.
A wooden train tracks does not necessarily mean a large pack when expanding. In some cases, you might need to have a smaller set like this pack of 8 from Conductor Carl. It consists of 4 M-M adapters and 4 F-F adapters. This set is for some people who look for a specific train track pack. Buying a large expansion set is impractical if you plan on using just some types of wooden tracks. It can save some amount of money for some practical spenders.
Another specific set of wooden train track, the switching and crossing train wooden track from Maxim Enterprise. It is a rectangular switch and cross track made from real, strong, hard and very durable wood. The set or pack only includes one piece of switch/cross track but comes very affordable. It is great if you plan on expanding and adding some movement options to your layout. This pack also works great if you lost and needs to replace a switch or a cross track.
This is a wooden train track risers from Fisher-Price. The pack includes 10 pieces of 2 types of wooden railway tracks. It consists of 8 pieces of high-track risers made of plastic and 2 pieces of wooden track pieces that measures approximately 3 inches in length. Although made of plastic, the high-track risers are highly compatible to be attached with wooden railway tracks of all major brands. This is a perfect way to add some innovation to your design as it is very cheap and affordable.
The next toy wooden train tracks is from Jesse's Toy Box. It is a single T-track switch junction. You can choose to have this strong and durable piece made from premium wood for a very affordable rate. It works great for someone who is looking for a specific type of train wooden track. This will give you a chance to have a practical purchase because a large expansion set does not necessarily mean you are going to use all the pieces.
Fisher-Price always brings out the goodness in most of their set. This wooden train track connectors provide you or your children a variety of train layout options for a low and short price. The pack or set includes straight and curved tracks of different lengths consisting of 8 pieces straight and 4 pieces of curved. It also holds realistic train track design. It is very much compatible with most wooden railway set and very easy to connect or assemble.
This is the Brio expansion starter pack. This pack holds 5 different wooden train track designs. It can be used as a main track layout or an expansion set, all depending on your choice. This box of real wooden tracks comes at a great price. It is compatible with all Brio wooden railway sets as well as most major brands. Give your children a chance to have loads of added fun by expanding their set with this amazing starter pack.
Featuring train wooden tracks expanded on top of a strong and sturdy train table. Here is a video on how lovely a train design or layout with a train table.
It is actually to you or your child's advantage to have a train set with a train table to provide protection, security and organization.
This is a small wooden train tracks set that includes 2 pieces of male adapter and 2 pieces female adapter. It is brought to you by Right Track Toys and surely, like most of their expansion packs, are very much affordable, cheap and easy on the pocket. This gives you a chance to cheaply add some loops and expand you or your children's train layout. At a small expense to pay, you can really bring about to your kids a new set of benefits from wooden toys.
A nice wooden train track accessories is a track support. This will give your elevation layout some support underneath. It is perfect in setting up a bridge. The set includes 6 pieces of support tracks and comes at a cheap price. Although affordable, the support tracks are very much durable. It is made of thick wood which makes it very strong and sturdy. This is crafted from high quality wood, very easy to set up and install.
This curved wooden train track will add more turns, twist and pivoting capability to your children's train track layout. It also motivates them to be more creative and imaginative as the track set expands. This is perfect for Thomas and Friends wooden railway set but it also works with other major wooden train track brands. Like with most Fisher-Price track set, it has realistic design and details. This is affordable and cheap while maintaining high quality of sturdiness and durability.
It's not every day that you could get to see and purchase a V-shaped toy wooden train tracks. Thanks to Right Track Toys, this V-Shaped track set has now been made available for you. It is great to give your track expansion plan some options and alternative to which direction you want your train toy to go. The product is made from premium, durable wood. It is compatible with other tracks by Right Track Toys and most of other major brands. It is a high quality product that comes cheap.
Switch track wooden train track connectors are parts and accessories of a train set which are hard to find. Most of it being sold comes in a large pack wherein you cannot buy it individually if you only want specific parts of the track. Thankfully, Fisher-Price now offers you many specific parts and accessories to provide you with the convenience you deserve. This Switch track can be bought for a very low price. It is made from high quality wood and comes in a set of 2 pieces, perfect for expansion and replacement.
Another product from a long line of specific parts and accessories you look for in your wooden train track designs is this Bifurcated Track. Other wooden railway manufacturers does not give you a chance to buy a specific piece of wooden train track component but thanks to sets like this, it is now possible. The materials used to craft this piece are from natural wood and carved with great crafting skills. The train piece is very cheap but is reliably strong and durable.